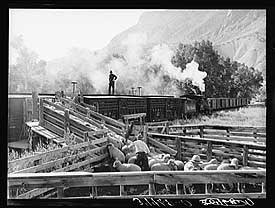 A LIVESTOCK SHIPPING HUB
As the mining boom declined, ranching took on greater significance in Cimarron history. Both sheep and cattle were run in the open lands of the Cimarron Valley and surrounding hills. Cimarron became a major livestock shipping center, with corrals covering over 7500 square feet adjacent to the railroad siding. Local ranchers would typically drive their stock to Cimarron and timed their arrival to allow immediate loading of animals; there were no feeding facilities at the corrals here. Shipment of livestock was concentrated in the spring and fall, with animals being moved either to market (usually Kansas City), a winter range in the desert areas around Grand Junction, Colorado, or into Utah.
CHANGING TIMES
As technology quickly changed, the narrow gauge railroad became a thing of the past. Improved highways and large trucks gradually replaced the railroad, and the corrals and rail yards of Cimarron grew empty. In 1949, a scenic excursion train ran from Gunnison to Cimarron. This was the last train to travel the tracks through the Black Canyon, and shortly thereafter the rails, ties, and corrals were removed. The depot, roundhouse, saloons, ice plant, and individual homes have also disappeared from the old Cimarron townsite.
Today, the National Park Service maintains a visitor center, campground and picnic area where the railroad town of Cimarron once existed. An outdoor exhibit with loading corrals and stock cars helps visitors understand the importance of the railroad history to Cimarron's ranching community and the entire western slope.
Cimarron Town Map, 1919 and Today » (95k pdf)