Trapping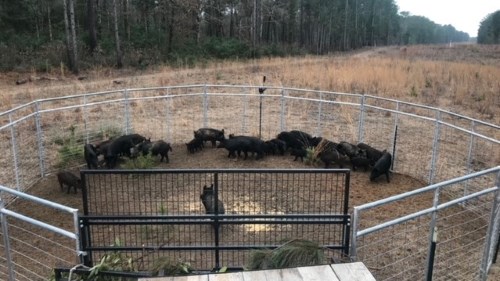 Feral Hog Trapping
Big Thicket National Preserve issues free permits for the public to trap feral hogs in the preserve. Permits for 2021 will be issued first-come, first-served beginning February 1 and will allow trappers to set 1 hog trap per year within designated areas in the preserve.

Hog trapping permits are issued at the visitor center. For any questions, please call us at 409-951-6700.
Hog Trapping Units
Download a map of each unit in either JPG or PDF format:
Find information on seasons, legal methods, requirements, and prohibited activities.
Learn about the preserve's strategies for combating feral hogs.
---
Furbearer Trapping
Big Thicket National Preserve issues free trapping permits for furbearing animals for several units of the preserve. Permits are issued on a first-come, first-served basis through the preserve's Resource Management office. Hunters must have their current Texas trapping license in order to get a permit.

The preserve generally follows the trapping regulations set forth by the State of Texas. Trapping regulations specific to the preserve are listed in the Big Thicket National Preserve Furbearing Trapping Guide and Regulations.

For more information, contact the wildlife biologist at 409-951-6823.
Furbearer Trapping Unit Maps
Download a map of each furbearer trapping unit in PDF format:
Last updated: August 25, 2021