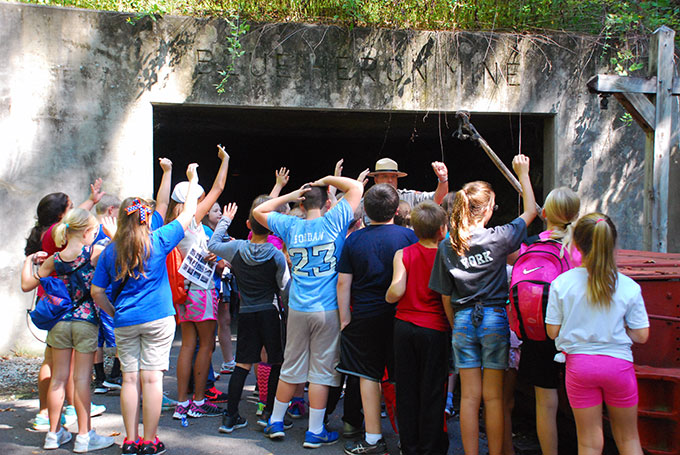 News Release Date:
October 15, 2015
Contact: Christopher Derman
Urban fifth graders from Russell Cave, and Southern Elementary Schools, located in Kentucky, recently completed their visits to Big South Fork NRRA in October. Big South Fork was awarded the Ticket to Ride grant the for this spring.
Following the three-touch approach, park rangers visited both schools in Kentucky. Once there, they introduced the national parks, Big South Fork National River & Recreation Area, and talked about the jobs of park rangers. 
The anticipation of the students climaxed as the rangers discussed the details of their upcoming visit. The idea of hiking in the forest, seeing scenic park vistas, and viewing historic structures were all new concepts for these students. 
The field trips to the park created new adventures and a sense of discovery. Students received a tour of historic 
Blue Heron
, once the students arrived. They learned what a coal miner's life was like, what kind of equipment they used, what kind of coal was found in the mines here, how the coal tipple worked. They also went to the school house ghost structure so they could try to imagine what it was like to go to school here. The students walked across the tipple bridge to view the entrance to the Blue Heron Mine.
Multiple students were overheard saying that it was "so cool" to be in a national park site and there were even a few that said they wanted to be park rangers and work here when they grew up. When asked the students what their favorite part of the trip was there were three very popular answers; walking across the tipple bridge, the coal mine, and the tunnel! 
We are most proud of this program because were able to introduce and engage the next generation of urban youth with their national park, and connect them to the park resources through healthy outdoor recreation and curriculum-based educational programs. For most of these students, it was their first visit to a national park and will be a memorable one.