News Release
Haunting in the Hills Storytelling Festival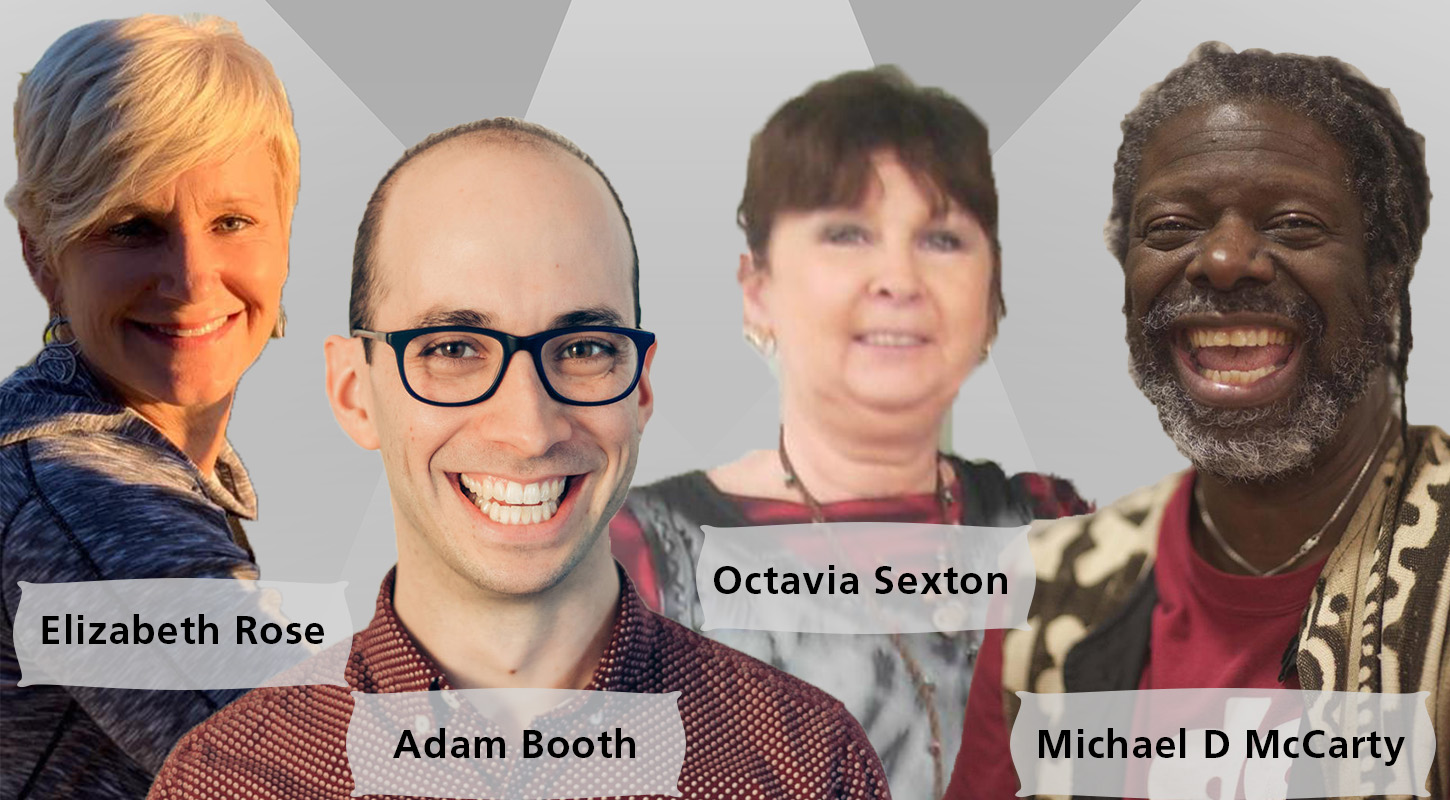 News Release Date:
September 3, 2020
Contact: Christopher Derman, 423) 569-9778
Big South Fork NRRA is pleased to announce the featured storytellers for the 28th annual "Haunting in the Hills" Storytelling Festival.
Adam Booth's
original stories blend traditional mountain folklore, music, and an awareness of contemporary Appalachia. A nationally touring artist, his professional telling appearances include premiere storytelling events across the United States, such as the Timpanogos Storytelling Festival, the International Storytelling Center, the National Storytelling Festival, the Appalachian Studies Association Conference, the National Storytelling Conference, the National Academy of Medicine, and as a Spoken Word Resident at the Banff Centre (Alberta, Canada). He is a member of the Recording Academy and his recordings have received a Parents' Choice Gold Award, two Parents' Choice Silver Honors, and four Storytelling World Awards and Honors. He is a four-time champion of the West Virginia Liars' Contest.
Elizabeth Rose
shares stories with wit, humor and expressive enthusiasm. Her stories include a blend of traditional southern folklore, Appalachian tales, mountain ballads, ghost stories, songs and her own personal stories of growing up in small town East Tennessee. She has the ability to mesmerize her listeners, transporting them through her image-laden tales of other times and cultures. She is truly captivating in voice and presentation.
Octavia Sexton
is a vibrant and engaging professional storyteller specializing in the oral traditions of Appalachia. She weaves tales derived from a number of Appalachian roots, including folktales, the haunted "haint" tales, and Cherokee legends. Octavia draws upon a rich tapestry of stories passed down to her from her ancestors. She is a teaching artist of creative writing, drama, Appalachian culture and early American history. She performs a one woman show as the historical pioneer Jenny Wiley and presents anti-substance abuse assembly programs.
Michael D McCarty
is a multicultural storyteller of African, African American and international olfktales, historical tales, stories of science, spiritual stories as well as stories of the brilliant and absolutely stupid things he has done in his life! His stories inform, educate, inspire and amuse. His storytelling style is energetic and enthusiastic. Michael has traveled to many countries and his travels have reaped a harvest of tales that testify to the unity within the diversity of the human spirit. Michael is director of the GRIOT Workshop, a storytelling collective in Los Angeles and is on the Board of Directors of the National Storytelling Network. He loves his job!
Storytelling predates writing, with the earliest forms of storytelling usually oral combined with gestures and expressions. Stories have been shared in every culture as a means of entertainment, education, cultural preservation, and instilling moral values.
Last updated: September 3, 2020
struct
Cause

struct
ErrorCode
1205
Message
[Macromedia][SQLServer JDBC Driver][SQLServer]Transaction (Process ID 172) was deadlocked on lock resources with another process and has been chosen as the deadlock victim. Rerun the transaction.
SQLState
40001
StackTrace
java.sql.SQLTransactionRollbackException: [Macromedia][SQLServer JDBC Driver][SQLServer]Transaction (Process ID 172) was deadlocked on lock resources with another process and has been chosen as the deadlock victim. Rerun the transaction. at macromedia.jdbc.sqlserverbase.ddcw.b(Unknown Source) at macromedia.jdbc.sqlserverbase.ddcw.a(Unknown Source) at macromedia.jdbc.sqlserverbase.ddcv.b(Unknown Source) at macromedia.jdbc.sqlserverbase.ddcv.a(Unknown Source) at macromedia.jdbc.sqlserver.tds.ddr.v(Unknown Source) at macromedia.jdbc.sqlserver.tds.ddr.a(Unknown Source) at macromedia.jdbc.sqlserver.tds.ddq.a(Unknown Source) at macromedia.jdbc.sqlserver.tds.ddr.c(Unknown Source) at macromedia.jdbc.sqlserver.dda3.m(Unknown Source) at macromedia.jdbc.sqlserverbase.dde7.e(Unknown Source) at macromedia.jdbc.sqlserverbase.dde7.a(Unknown Source) at macromedia.jdbc.sqlserverbase.ddd2.a(Unknown Source) at macromedia.jdbc.sqlserverbase.dde7.x(Unknown Source) at macromedia.jdbc.sqlserverbase.dde7.t(Unknown Source) at macromedia.jdbc.sqlserverbase.ddd2.execute(Unknown Source) at macromedia.jdbc.sqlserverbase.ddd6.execute(Unknown Source) at coldfusion.server.j2ee.sql.JRunPreparedStatement.execute(JRunPreparedStatement.java:101) at coldfusion.sql.Executive.executeQuery(Executive.java:1501) at coldfusion.sql.Executive.executeQuery(Executive.java:1235) at coldfusion.sql.Executive.executeQuery(Executive.java:1165) at coldfusion.sql.SqlImpl.execute(SqlImpl.java:406) at coldfusion.tagext.sql.QueryTag.executeQuery(QueryTag.java:1187) at coldfusion.tagext.sql.QueryTag.startQueryExecution(QueryTag.java:816) at coldfusion.tagext.sql.QueryTag.doEndTag(QueryTag.java:769) at cfSiteService2ecfc475411080$funcGETSITEDATA._factor4(C:\CMSContent\common\components\nps\structureddata\SiteService.cfc:220) at cfSiteService2ecfc475411080$funcGETSITEDATA.runFunction(C:\CMSContent\common\components\nps\structureddata\SiteService.cfc:158) at coldfusion.runtime.UDFMethod.invoke(UDFMethod.java:487) at coldfusion.filter.SilentFilter.invoke(SilentFilter.java:47) at coldfusion.runtime.UDFMethod$ReturnTypeFilter.invoke(UDFMethod.java:420) at coldfusion.runtime.UDFMethod$ArgumentCollectionFilter.invoke(UDFMethod.java:383) at coldfusion.filter.FunctionAccessFilter.invoke(FunctionAccessFilter.java:95) at coldfusion.runtime.UDFMethod.runFilterChain(UDFMethod.java:334) at coldfusion.runtime.UDFMethod.invoke(UDFMethod.java:533) at coldfusion.runtime.CfJspPage._invokeUDF(CfJspPage.java:2830) at cfSiteService2ecfc475411080$funcREAD._factor0(C:\CMSContent\common\components\nps\structureddata\SiteService.cfc:44) at cfSiteService2ecfc475411080$funcREAD.runFunction(C:\CMSContent\common\components\nps\structureddata\SiteService.cfc:41) at coldfusion.runtime.UDFMethod.invoke(UDFMethod.java:487) at coldfusion.filter.SilentFilter.invoke(SilentFilter.java:47) at coldfusion.runtime.UDFMethod$ReturnTypeFilter.invoke(UDFMethod.java:420) at coldfusion.runtime.UDFMethod$ArgumentCollectionFilter.invoke(UDFMethod.java:383) at coldfusion.filter.FunctionAccessFilter.invoke(FunctionAccessFilter.java:95) at coldfusion.runtime.UDFMethod.runFilterChain(UDFMethod.java:334) at coldfusion.runtime.UDFMethod.invoke(UDFMethod.java:533) at coldfusion.runtime.TemplateProxy.invoke(TemplateProxy.java:651) at coldfusion.runtime.TemplateProxy.invoke(TemplateProxy.java:460) at coldfusion.runtime.CfJspPage._invoke(CfJspPage.java:2430) at cffooter_parkFooter2ecfm1541557965.runPage(C:\CMSContent\common\commonspot\templates\includes\footer_parkFooter.cfm:16) at coldfusion.runtime.CfJspPage.invoke(CfJspPage.java:247) at coldfusion.tagext.lang.IncludeTag.handlePageInvoke(IncludeTag.java:736) at coldfusion.tagext.lang.IncludeTag.doStartTag(IncludeTag.java:572) at coldfusion.runtime.CfJspPage._emptyTcfTag(CfJspPage.java:3011) at cfcontentWrap_bottom2ecfm1200839389.runPage(C:\CMSContent\common\commonspot\templates\includes\contentWrap_bottom.cfm:69) at coldfusion.runtime.CfJspPage.invoke(CfJspPage.java:247) at coldfusion.tagext.lang.IncludeTag.handlePageInvoke(IncludeTag.java:736) at coldfusion.tagext.lang.IncludeTag.doStartTag(IncludeTag.java:572) at coldfusion.runtime.CfJspPage._emptyTcfTag(CfJspPage.java:3011) at cftemplate2dbasepage2ecfm961847766.runPage(C:\CMSContent\common\commonspot\templates\template-basepage.cfm:192) at coldfusion.runtime.CfJspPage.invoke(CfJspPage.java:247) at coldfusion.tagext.lang.IncludeTag.handlePageInvoke(IncludeTag.java:736) at coldfusion.tagext.lang.IncludeTag.doStartTag(IncludeTag.java:572) at coldfusion.runtime.CfJspPage._emptyTcfTag(CfJspPage.java:3011) at cftemplate2dbasepage2drd2ecfm306357217.runPage(C:\CMSContent\common\commonspot\templates\template-basepage-rd.cfm:1) at coldfusion.runtime.CfJspPage.invoke(CfJspPage.java:247) at coldfusion.tagext.lang.IncludeTag.handlePageInvoke(IncludeTag.java:736) at coldfusion.tagext.lang.IncludeTag.doStartTag(IncludeTag.java:572) at coldfusion.runtime.CfJspPage._emptyTcfTag(CfJspPage.java:3011) at cftemplate2dunified2dbasepage2ecfm54800924.runPage(C:\CMSContent\cms\sites\nps\templates\template-unified-basepage.cfm:9) at coldfusion.runtime.CfJspPage.invoke(CfJspPage.java:247) at coldfusion.tagext.lang.IncludeTag.handlePageInvoke(IncludeTag.java:736) at coldfusion.tagext.lang.IncludeTag.doStartTag(IncludeTag.java:572) at coldfusion.runtime.CfJspPage._emptyTcfTag(CfJspPage.java:3011) at cfrender2dpage2dmeat2ecfm482299606.runPage(C:\commonspot\render-page-meat.cfm:269) at coldfusion.runtime.CfJspPage.invoke(CfJspPage.java:247) at coldfusion.tagext.lang.IncludeTag.handlePageInvoke(IncludeTag.java:736) at coldfusion.tagext.lang.IncludeTag.doStartTag(IncludeTag.java:572) at coldfusion.runtime.CfJspPage._emptyTcfTag(CfJspPage.java:3011) at cfrender2dpage2ecfm349554857.runPage(C:\commonspot\render-page.cfm:36) at coldfusion.runtime.CfJspPage.invoke(CfJspPage.java:247) at coldfusion.tagext.lang.IncludeTag.handlePageInvoke(IncludeTag.java:736) at coldfusion.tagext.lang.IncludeTag.doStartTag(IncludeTag.java:572) at coldfusion.runtime.CfJspPage._emptyTcfTag(CfJspPage.java:3011) at cfmaster2drender2ecfm9544541.runPage(C:\commonspot\master-render.cfm:19) at coldfusion.runtime.CfJspPage.invoke(CfJspPage.java:247) at coldfusion.tagext.lang.IncludeTag.handlePageInvoke(IncludeTag.java:736) at coldfusion.tagext.lang.IncludeTag.doStartTag(IncludeTag.java:572) at coldfusion.runtime.CfJspPage._emptyTcfTag(CfJspPage.java:3011) at cfuncached2dmaster2ecfm553419735.runPage(C:\commonspot\uncached-master.cfm:222) at coldfusion.runtime.CfJspPage.invoke(CfJspPage.java:247) at coldfusion.tagext.lang.IncludeTag.handlePageInvoke(IncludeTag.java:736) at coldfusion.tagext.lang.IncludeTag.doStartTag(IncludeTag.java:572) at coldfusion.runtime.CfJspPage._emptyTcfTag(CfJspPage.java:3011) at cfcached2dpage2drender2ecfm1105867407.runPage(C:\commonspot\utilities\cached-page-render.cfm:245) at coldfusion.runtime.CfJspPage.invoke(CfJspPage.java:247) at coldfusion.tagext.lang.IncludeTag.handlePageInvoke(IncludeTag.java:736) at coldfusion.tagext.lang.IncludeTag.doStartTag(IncludeTag.java:572) at coldfusion.runtime.CfJspPage._emptyTcfTag(CfJspPage.java:3011) at cfmaster2ecfm849558361._factor24(C:\commonspot\master.cfm:287) at cfmaster2ecfm849558361._factor26(C:\commonspot\master.cfm:14) at cfmaster2ecfm849558361.runPage(C:\commonspot\master.cfm:1) at coldfusion.runtime.CfJspPage.invoke(CfJspPage.java:247) at coldfusion.tagext.lang.IncludeTag.handlePageInvoke(IncludeTag.java:736) at coldfusion.tagext.lang.IncludeTag.doStartTag(IncludeTag.java:572) at coldfusion.runtime.CfJspPage._emptyTcfTag(CfJspPage.java:3011) at cfhaunting2din2dthe2dhills2dstorytelling2dfestival2ehtm432160179.runPage(C:\CMSContent\cms\sites\nps\biso\learn\news\haunting-in-the-hills-storytelling-festival.htm:79) at coldfusion.runtime.CfJspPage.invoke(CfJspPage.java:247) at coldfusion.tagext.lang.IncludeTag.handlePageInvoke(IncludeTag.java:736) at coldfusion.tagext.lang.IncludeTag.doStartTag(IncludeTag.java:572) at coldfusion.filter.CfincludeFilter.invoke(CfincludeFilter.java:65) at coldfusion.filter.IpFilter.invoke(IpFilter.java:45) at coldfusion.filter.ApplicationFilter.invoke(ApplicationFilter.java:495) at coldfusion.filter.RequestMonitorFilter.invoke(RequestMonitorFilter.java:42) at coldfusion.filter.MonitoringFilter.invoke(MonitoringFilter.java:40) at coldfusion.filter.PathFilter.invoke(PathFilter.java:153) at coldfusion.filter.ExceptionFilter.invoke(ExceptionFilter.java:94) at coldfusion.filter.ClientScopePersistenceFilter.invoke(ClientScopePersistenceFilter.java:28) at coldfusion.filter.BrowserFilter.invoke(BrowserFilter.java:38) at coldfusion.filter.NoCacheFilter.invoke(NoCacheFilter.java:58) at coldfusion.filter.GlobalsFilter.invoke(GlobalsFilter.java:38) at coldfusion.filter.DatasourceFilter.invoke(DatasourceFilter.java:22) at coldfusion.filter.CachingFilter.invoke(CachingFilter.java:62) at coldfusion.CfmServlet.service(CfmServlet.java:219) at coldfusion.bootstrap.BootstrapServlet.service(BootstrapServlet.java:89) at org.apache.catalina.core.ApplicationFilterChain.internalDoFilter(ApplicationFilterChain.java:303) at org.apache.catalina.core.ApplicationFilterChain.doFilter(ApplicationFilterChain.java:208) at coldfusion.monitor.event.MonitoringServletFilter.doFilter(MonitoringServletFilter.java:42) at coldfusion.bootstrap.BootstrapFilter.doFilter(BootstrapFilter.java:46) at org.apache.catalina.core.ApplicationFilterChain.internalDoFilter(ApplicationFilterChain.java:241) at org.apache.catalina.core.ApplicationFilterChain.doFilter(ApplicationFilterChain.java:208) at org.apache.catalina.core.StandardWrapperValve.invoke(StandardWrapperValve.java:219) at org.apache.catalina.core.StandardContextValve.invoke(StandardContextValve.java:110) at org.apache.catalina.authenticator.AuthenticatorBase.invoke(AuthenticatorBase.java:494) at org.apache.catalina.core.StandardHostValve.invoke(StandardHostValve.java:169) at org.apache.catalina.valves.ErrorReportValve.invoke(ErrorReportValve.java:104) at org.apache.catalina.core.StandardEngineValve.invoke(StandardEngineValve.java:116) at org.apache.catalina.connector.CoyoteAdapter.service(CoyoteAdapter.java:458) at org.apache.coyote.ajp.AjpProcessor.process(AjpProcessor.java:196) at org.apache.coyote.AbstractProtocol$AbstractConnectionHandler.process(AbstractProtocol.java:637) at org.apache.tomcat.util.net.JIoEndpoint$SocketProcessor.run(JIoEndpoint.java:316) at java.util.concurrent.ThreadPoolExecutor.runWorker(ThreadPoolExecutor.java:1149) at java.util.concurrent.ThreadPoolExecutor$Worker.run(ThreadPoolExecutor.java:624) at org.apache.tomcat.util.threads.TaskThread$WrappingRunnable.run(TaskThread.java:61) at java.lang.Thread.run(Thread.java:748)
Suppressed
TagContext

array
1

struct
COLUMN
0
ID
CFQUERY
LINE
220
RAW_TRACE
at cfSiteService2ecfc475411080$funcGETSITEDATA._factor4(C:\CMSContent\common\components\nps\structureddata\SiteService.cfc:220)
TEMPLATE
C:\CMSContent\common\components\nps\structureddata\SiteService.cfc
TYPE
CFML

2

struct
COLUMN
0
ID
CF_SITESERVICE
LINE
158
RAW_TRACE
at cfSiteService2ecfc475411080$funcGETSITEDATA.runFunction(C:\CMSContent\common\components\nps\structureddata\SiteService.cfc:158)
TEMPLATE
C:\CMSContent\common\components\nps\structureddata\SiteService.cfc
TYPE
CFML

3

struct
COLUMN
0
ID
CF_UDFMETHOD
LINE
44
RAW_TRACE
at cfSiteService2ecfc475411080$funcREAD._factor0(C:\CMSContent\common\components\nps\structureddata\SiteService.cfc:44)
TEMPLATE
C:\CMSContent\common\components\nps\structureddata\SiteService.cfc
TYPE
CFML

4

struct
COLUMN
0
ID
CF_SITESERVICE
LINE
41
RAW_TRACE
at cfSiteService2ecfc475411080$funcREAD.runFunction(C:\CMSContent\common\components\nps\structureddata\SiteService.cfc:41)
TEMPLATE
C:\CMSContent\common\components\nps\structureddata\SiteService.cfc
TYPE
CFML

5

struct
COLUMN
0
ID
CF_TEMPLATEPROXY
LINE
16
RAW_TRACE
at cffooter_parkFooter2ecfm1541557965.runPage(C:\CMSContent\common\commonspot\templates\includes\footer_parkFooter.cfm:16)
TEMPLATE
C:\CMSContent\common\commonspot\templates\includes\footer_parkFooter.cfm
TYPE
CFML

6

struct
COLUMN
0
ID
CFINCLUDE
LINE
69
RAW_TRACE
at cfcontentWrap_bottom2ecfm1200839389.runPage(C:\CMSContent\common\commonspot\templates\includes\contentWrap_bottom.cfm:69)
TEMPLATE
C:\CMSContent\common\commonspot\templates\includes\contentWrap_bottom.cfm
TYPE
CFML

7

struct
COLUMN
0
ID
CFINCLUDE
LINE
192
RAW_TRACE
at cftemplate2dbasepage2ecfm961847766.runPage(C:\CMSContent\common\commonspot\templates\template-basepage.cfm:192)
TEMPLATE
C:\CMSContent\common\commonspot\templates\template-basepage.cfm
TYPE
CFML

8

struct
COLUMN
0
ID
CFINCLUDE
LINE
1
RAW_TRACE
at cftemplate2dbasepage2drd2ecfm306357217.runPage(C:\CMSContent\common\commonspot\templates\template-basepage-rd.cfm:1)
TEMPLATE
C:\CMSContent\common\commonspot\templates\template-basepage-rd.cfm
TYPE
CFML

9

struct
COLUMN
0
ID
CFINCLUDE
LINE
9
RAW_TRACE
at cftemplate2dunified2dbasepage2ecfm54800924.runPage(C:\CMSContent\cms\sites\nps\templates\template-unified-basepage.cfm:9)
TEMPLATE
C:\CMSContent\cms\sites\nps\templates\template-unified-basepage.cfm
TYPE
CFML

10

struct
COLUMN
0
ID
CFINCLUDE
LINE
269
RAW_TRACE
at cfrender2dpage2dmeat2ecfm482299606.runPage(C:\commonspot\render-page-meat.cfm:269)
TEMPLATE
C:\commonspot\render-page-meat.cfm
TYPE
CFML

11

struct
COLUMN
0
ID
CFINCLUDE
LINE
36
RAW_TRACE
at cfrender2dpage2ecfm349554857.runPage(C:\commonspot\render-page.cfm:36)
TEMPLATE
C:\commonspot\render-page.cfm
TYPE
CFML

12

struct
COLUMN
0
ID
CFINCLUDE
LINE
19
RAW_TRACE
at cfmaster2drender2ecfm9544541.runPage(C:\commonspot\master-render.cfm:19)
TEMPLATE
C:\commonspot\master-render.cfm
TYPE
CFML

13

struct
COLUMN
0
ID
CFINCLUDE
LINE
222
RAW_TRACE
at cfuncached2dmaster2ecfm553419735.runPage(C:\commonspot\uncached-master.cfm:222)
TEMPLATE
C:\commonspot\uncached-master.cfm
TYPE
CFML

14

struct
COLUMN
0
ID
CFINCLUDE
LINE
245
RAW_TRACE
at cfcached2dpage2drender2ecfm1105867407.runPage(C:\commonspot\utilities\cached-page-render.cfm:245)
TEMPLATE
C:\commonspot\utilities\cached-page-render.cfm
TYPE
CFML

15

struct
COLUMN
0
ID
CFINCLUDE
LINE
287
RAW_TRACE
at cfmaster2ecfm849558361._factor24(C:\commonspot\master.cfm:287)
TEMPLATE
C:\commonspot\master.cfm
TYPE
CFML

16

struct
COLUMN
0
ID
CF_MASTER
LINE
14
RAW_TRACE
at cfmaster2ecfm849558361._factor26(C:\commonspot\master.cfm:14)
TEMPLATE
C:\commonspot\master.cfm
TYPE
CFML

17

struct
COLUMN
0
ID
CF_MASTER
LINE
1
RAW_TRACE
at cfmaster2ecfm849558361.runPage(C:\commonspot\master.cfm:1)
TEMPLATE
C:\commonspot\master.cfm
TYPE
CFML

18

struct
COLUMN
0
ID
CFINCLUDE
LINE
79
RAW_TRACE
at cfhaunting2din2dthe2dhills2dstorytelling2dfestival2ehtm432160179.runPage(C:\CMSContent\cms\sites\nps\biso\learn\news\haunting-in-the-hills-storytelling-festival.htm:79)
TEMPLATE
C:\CMSContent\cms\sites\nps\biso\learn\news\haunting-in-the-hills-storytelling-festival.htm
TYPE
CFML

Type
java.sql.SQLTransactionRollbackException

DataSource
commonspot-site-nps
Detail
[Macromedia][SQLServer JDBC Driver][SQLServer]Transaction (Process ID 172) was deadlocked on lock resources with another process and has been chosen as the deadlock victim. Rerun the transaction.
ErrorCode
40001
Exceptions

array
1

struct
class
java.sql.SQLTransactionRollbackException
message
[Macromedia][SQLServer JDBC Driver][SQLServer]Transaction (Process ID 172) was deadlocked on lock resources with another process and has been chosen as the deadlock victim. Rerun the transaction.

Message
Error Executing Database Query.
NativeErrorCode
1205
RootCause

struct
ErrorCode
1205
Message
[Macromedia][SQLServer JDBC Driver][SQLServer]Transaction (Process ID 172) was deadlocked on lock resources with another process and has been chosen as the deadlock victim. Rerun the transaction.
SQLState
40001
StackTrace
java.sql.SQLTransactionRollbackException: [Macromedia][SQLServer JDBC Driver][SQLServer]Transaction (Process ID 172) was deadlocked on lock resources with another process and has been chosen as the deadlock victim. Rerun the transaction. at macromedia.jdbc.sqlserverbase.ddcw.b(Unknown Source) at macromedia.jdbc.sqlserverbase.ddcw.a(Unknown Source) at macromedia.jdbc.sqlserverbase.ddcv.b(Unknown Source) at macromedia.jdbc.sqlserverbase.ddcv.a(Unknown Source) at macromedia.jdbc.sqlserver.tds.ddr.v(Unknown Source) at macromedia.jdbc.sqlserver.tds.ddr.a(Unknown Source) at macromedia.jdbc.sqlserver.tds.ddq.a(Unknown Source) at macromedia.jdbc.sqlserver.tds.ddr.c(Unknown Source) at macromedia.jdbc.sqlserver.dda3.m(Unknown Source) at macromedia.jdbc.sqlserverbase.dde7.e(Unknown Source) at macromedia.jdbc.sqlserverbase.dde7.a(Unknown Source) at macromedia.jdbc.sqlserverbase.ddd2.a(Unknown Source) at macromedia.jdbc.sqlserverbase.dde7.x(Unknown Source) at macromedia.jdbc.sqlserverbase.dde7.t(Unknown Source) at macromedia.jdbc.sqlserverbase.ddd2.execute(Unknown Source) at macromedia.jdbc.sqlserverbase.ddd6.execute(Unknown Source) at coldfusion.server.j2ee.sql.JRunPreparedStatement.execute(JRunPreparedStatement.java:101) at coldfusion.sql.Executive.executeQuery(Executive.java:1501) at coldfusion.sql.Executive.executeQuery(Executive.java:1235) at coldfusion.sql.Executive.executeQuery(Executive.java:1165) at coldfusion.sql.SqlImpl.execute(SqlImpl.java:406) at coldfusion.tagext.sql.QueryTag.executeQuery(QueryTag.java:1187) at coldfusion.tagext.sql.QueryTag.startQueryExecution(QueryTag.java:816) at coldfusion.tagext.sql.QueryTag.doEndTag(QueryTag.java:769) at cfSiteService2ecfc475411080$funcGETSITEDATA._factor4(C:\CMSContent\common\components\nps\structureddata\SiteService.cfc:220) at cfSiteService2ecfc475411080$funcGETSITEDATA.runFunction(C:\CMSContent\common\components\nps\structureddata\SiteService.cfc:158) at coldfusion.runtime.UDFMethod.invoke(UDFMethod.java:487) at coldfusion.filter.SilentFilter.invoke(SilentFilter.java:47) at coldfusion.runtime.UDFMethod$ReturnTypeFilter.invoke(UDFMethod.java:420) at coldfusion.runtime.UDFMethod$ArgumentCollectionFilter.invoke(UDFMethod.java:383) at coldfusion.filter.FunctionAccessFilter.invoke(FunctionAccessFilter.java:95) at coldfusion.runtime.UDFMethod.runFilterChain(UDFMethod.java:334) at coldfusion.runtime.UDFMethod.invoke(UDFMethod.java:533) at coldfusion.runtime.CfJspPage._invokeUDF(CfJspPage.java:2830) at cfSiteService2ecfc475411080$funcREAD._factor0(C:\CMSContent\common\components\nps\structureddata\SiteService.cfc:44) at cfSiteService2ecfc475411080$funcREAD.runFunction(C:\CMSContent\common\components\nps\structureddata\SiteService.cfc:41) at coldfusion.runtime.UDFMethod.invoke(UDFMethod.java:487) at coldfusion.filter.SilentFilter.invoke(SilentFilter.java:47) at coldfusion.runtime.UDFMethod$ReturnTypeFilter.invoke(UDFMethod.java:420) at coldfusion.runtime.UDFMethod$ArgumentCollectionFilter.invoke(UDFMethod.java:383) at coldfusion.filter.FunctionAccessFilter.invoke(FunctionAccessFilter.java:95) at coldfusion.runtime.UDFMethod.runFilterChain(UDFMethod.java:334) at coldfusion.runtime.UDFMethod.invoke(UDFMethod.java:533) at coldfusion.runtime.TemplateProxy.invoke(TemplateProxy.java:651) at coldfusion.runtime.TemplateProxy.invoke(TemplateProxy.java:460) at coldfusion.runtime.CfJspPage._invoke(CfJspPage.java:2430) at cffooter_parkFooter2ecfm1541557965.runPage(C:\CMSContent\common\commonspot\templates\includes\footer_parkFooter.cfm:16) at coldfusion.runtime.CfJspPage.invoke(CfJspPage.java:247) at coldfusion.tagext.lang.IncludeTag.handlePageInvoke(IncludeTag.java:736) at coldfusion.tagext.lang.IncludeTag.doStartTag(IncludeTag.java:572) at coldfusion.runtime.CfJspPage._emptyTcfTag(CfJspPage.java:3011) at cfcontentWrap_bottom2ecfm1200839389.runPage(C:\CMSContent\common\commonspot\templates\includes\contentWrap_bottom.cfm:69) at coldfusion.runtime.CfJspPage.invoke(CfJspPage.java:247) at coldfusion.tagext.lang.IncludeTag.handlePageInvoke(IncludeTag.java:736) at coldfusion.tagext.lang.IncludeTag.doStartTag(IncludeTag.java:572) at coldfusion.runtime.CfJspPage._emptyTcfTag(CfJspPage.java:3011) at cftemplate2dbasepage2ecfm961847766.runPage(C:\CMSContent\common\commonspot\templates\template-basepage.cfm:192) at coldfusion.runtime.CfJspPage.invoke(CfJspPage.java:247) at coldfusion.tagext.lang.IncludeTag.handlePageInvoke(IncludeTag.java:736) at coldfusion.tagext.lang.IncludeTag.doStartTag(IncludeTag.java:572) at coldfusion.runtime.CfJspPage._emptyTcfTag(CfJspPage.java:3011) at cftemplate2dbasepage2drd2ecfm306357217.runPage(C:\CMSContent\common\commonspot\templates\template-basepage-rd.cfm:1) at coldfusion.runtime.CfJspPage.invoke(CfJspPage.java:247) at coldfusion.tagext.lang.IncludeTag.handlePageInvoke(IncludeTag.java:736) at coldfusion.tagext.lang.IncludeTag.doStartTag(IncludeTag.java:572) at coldfusion.runtime.CfJspPage._emptyTcfTag(CfJspPage.java:3011) at cftemplate2dunified2dbasepage2ecfm54800924.runPage(C:\CMSContent\cms\sites\nps\templates\template-unified-basepage.cfm:9) at coldfusion.runtime.CfJspPage.invoke(CfJspPage.java:247) at coldfusion.tagext.lang.IncludeTag.handlePageInvoke(IncludeTag.java:736) at coldfusion.tagext.lang.IncludeTag.doStartTag(IncludeTag.java:572) at coldfusion.runtime.CfJspPage._emptyTcfTag(CfJspPage.java:3011) at cfrender2dpage2dmeat2ecfm482299606.runPage(C:\commonspot\render-page-meat.cfm:269) at coldfusion.runtime.CfJspPage.invoke(CfJspPage.java:247) at coldfusion.tagext.lang.IncludeTag.handlePageInvoke(IncludeTag.java:736) at coldfusion.tagext.lang.IncludeTag.doStartTag(IncludeTag.java:572) at coldfusion.runtime.CfJspPage._emptyTcfTag(CfJspPage.java:3011) at cfrender2dpage2ecfm349554857.runPage(C:\commonspot\render-page.cfm:36) at coldfusion.runtime.CfJspPage.invoke(CfJspPage.java:247) at coldfusion.tagext.lang.IncludeTag.handlePageInvoke(IncludeTag.java:736) at coldfusion.tagext.lang.IncludeTag.doStartTag(IncludeTag.java:572) at coldfusion.runtime.CfJspPage._emptyTcfTag(CfJspPage.java:3011) at cfmaster2drender2ecfm9544541.runPage(C:\commonspot\master-render.cfm:19) at coldfusion.runtime.CfJspPage.invoke(CfJspPage.java:247) at coldfusion.tagext.lang.IncludeTag.handlePageInvoke(IncludeTag.java:736) at coldfusion.tagext.lang.IncludeTag.doStartTag(IncludeTag.java:572) at coldfusion.runtime.CfJspPage._emptyTcfTag(CfJspPage.java:3011) at cfuncached2dmaster2ecfm553419735.runPage(C:\commonspot\uncached-master.cfm:222) at coldfusion.runtime.CfJspPage.invoke(CfJspPage.java:247) at coldfusion.tagext.lang.IncludeTag.handlePageInvoke(IncludeTag.java:736) at coldfusion.tagext.lang.IncludeTag.doStartTag(IncludeTag.java:572) at coldfusion.runtime.CfJspPage._emptyTcfTag(CfJspPage.java:3011) at cfcached2dpage2drender2ecfm1105867407.runPage(C:\commonspot\utilities\cached-page-render.cfm:245) at coldfusion.runtime.CfJspPage.invoke(CfJspPage.java:247) at coldfusion.tagext.lang.IncludeTag.handlePageInvoke(IncludeTag.java:736) at coldfusion.tagext.lang.IncludeTag.doStartTag(IncludeTag.java:572) at coldfusion.runtime.CfJspPage._emptyTcfTag(CfJspPage.java:3011) at cfmaster2ecfm849558361._factor24(C:\commonspot\master.cfm:287) at cfmaster2ecfm849558361._factor26(C:\commonspot\master.cfm:14) at cfmaster2ecfm849558361.runPage(C:\commonspot\master.cfm:1) at coldfusion.runtime.CfJspPage.invoke(CfJspPage.java:247) at coldfusion.tagext.lang.IncludeTag.handlePageInvoke(IncludeTag.java:736) at coldfusion.tagext.lang.IncludeTag.doStartTag(IncludeTag.java:572) at coldfusion.runtime.CfJspPage._emptyTcfTag(CfJspPage.java:3011) at cfhaunting2din2dthe2dhills2dstorytelling2dfestival2ehtm432160179.runPage(C:\CMSContent\cms\sites\nps\biso\learn\news\haunting-in-the-hills-storytelling-festival.htm:79) at coldfusion.runtime.CfJspPage.invoke(CfJspPage.java:247) at coldfusion.tagext.lang.IncludeTag.handlePageInvoke(IncludeTag.java:736) at coldfusion.tagext.lang.IncludeTag.doStartTag(IncludeTag.java:572) at coldfusion.filter.CfincludeFilter.invoke(CfincludeFilter.java:65) at coldfusion.filter.IpFilter.invoke(IpFilter.java:45) at coldfusion.filter.ApplicationFilter.invoke(ApplicationFilter.java:495) at coldfusion.filter.RequestMonitorFilter.invoke(RequestMonitorFilter.java:42) at coldfusion.filter.MonitoringFilter.invoke(MonitoringFilter.java:40) at coldfusion.filter.PathFilter.invoke(PathFilter.java:153) at coldfusion.filter.ExceptionFilter.invoke(ExceptionFilter.java:94) at coldfusion.filter.ClientScopePersistenceFilter.invoke(ClientScopePersistenceFilter.java:28) at coldfusion.filter.BrowserFilter.invoke(BrowserFilter.java:38) at coldfusion.filter.NoCacheFilter.invoke(NoCacheFilter.java:58) at coldfusion.filter.GlobalsFilter.invoke(GlobalsFilter.java:38) at coldfusion.filter.DatasourceFilter.invoke(DatasourceFilter.java:22) at coldfusion.filter.CachingFilter.invoke(CachingFilter.java:62) at coldfusion.CfmServlet.service(CfmServlet.java:219) at coldfusion.bootstrap.BootstrapServlet.service(BootstrapServlet.java:89) at org.apache.catalina.core.ApplicationFilterChain.internalDoFilter(ApplicationFilterChain.java:303) at org.apache.catalina.core.ApplicationFilterChain.doFilter(ApplicationFilterChain.java:208) at coldfusion.monitor.event.MonitoringServletFilter.doFilter(MonitoringServletFilter.java:42) at coldfusion.bootstrap.BootstrapFilter.doFilter(BootstrapFilter.java:46) at org.apache.catalina.core.ApplicationFilterChain.internalDoFilter(ApplicationFilterChain.java:241) at org.apache.catalina.core.ApplicationFilterChain.doFilter(ApplicationFilterChain.java:208) at org.apache.catalina.core.StandardWrapperValve.invoke(StandardWrapperValve.java:219) at org.apache.catalina.core.StandardContextValve.invoke(StandardContextValve.java:110) at org.apache.catalina.authenticator.AuthenticatorBase.invoke(AuthenticatorBase.java:494) at org.apache.catalina.core.StandardHostValve.invoke(StandardHostValve.java:169) at org.apache.catalina.valves.ErrorReportValve.invoke(ErrorReportValve.java:104) at org.apache.catalina.core.StandardEngineValve.invoke(StandardEngineValve.java:116) at org.apache.catalina.connector.CoyoteAdapter.service(CoyoteAdapter.java:458) at org.apache.coyote.ajp.AjpProcessor.process(AjpProcessor.java:196) at org.apache.coyote.AbstractProtocol$AbstractConnectionHandler.process(AbstractProtocol.java:637) at org.apache.tomcat.util.net.JIoEndpoint$SocketProcessor.run(JIoEndpoint.java:316) at java.util.concurrent.ThreadPoolExecutor.runWorker(ThreadPoolExecutor.java:1149) at java.util.concurrent.ThreadPoolExecutor$Worker.run(ThreadPoolExecutor.java:624) at org.apache.tomcat.util.threads.TaskThread$WrappingRunnable.run(TaskThread.java:61) at java.lang.Thread.run(Thread.java:748)
Suppressed
TagContext

array
1

struct
COLUMN
0
ID
CFQUERY
LINE
220
RAW_TRACE
at cfSiteService2ecfc475411080$funcGETSITEDATA._factor4(C:\CMSContent\common\components\nps\structureddata\SiteService.cfc:220)
TEMPLATE
C:\CMSContent\common\components\nps\structureddata\SiteService.cfc
TYPE
CFML

2

struct
COLUMN
0
ID
CF_SITESERVICE
LINE
158
RAW_TRACE
at cfSiteService2ecfc475411080$funcGETSITEDATA.runFunction(C:\CMSContent\common\components\nps\structureddata\SiteService.cfc:158)
TEMPLATE
C:\CMSContent\common\components\nps\structureddata\SiteService.cfc
TYPE
CFML

3

struct
COLUMN
0
ID
CF_UDFMETHOD
LINE
44
RAW_TRACE
at cfSiteService2ecfc475411080$funcREAD._factor0(C:\CMSContent\common\components\nps\structureddata\SiteService.cfc:44)
TEMPLATE
C:\CMSContent\common\components\nps\structureddata\SiteService.cfc
TYPE
CFML

4

struct
COLUMN
0
ID
CF_SITESERVICE
LINE
41
RAW_TRACE
at cfSiteService2ecfc475411080$funcREAD.runFunction(C:\CMSContent\common\components\nps\structureddata\SiteService.cfc:41)
TEMPLATE
C:\CMSContent\common\components\nps\structureddata\SiteService.cfc
TYPE
CFML

5

struct
COLUMN
0
ID
CF_TEMPLATEPROXY
LINE
16
RAW_TRACE
at cffooter_parkFooter2ecfm1541557965.runPage(C:\CMSContent\common\commonspot\templates\includes\footer_parkFooter.cfm:16)
TEMPLATE
C:\CMSContent\common\commonspot\templates\includes\footer_parkFooter.cfm
TYPE
CFML

6

struct
COLUMN
0
ID
CFINCLUDE
LINE
69
RAW_TRACE
at cfcontentWrap_bottom2ecfm1200839389.runPage(C:\CMSContent\common\commonspot\templates\includes\contentWrap_bottom.cfm:69)
TEMPLATE
C:\CMSContent\common\commonspot\templates\includes\contentWrap_bottom.cfm
TYPE
CFML

7

struct
COLUMN
0
ID
CFINCLUDE
LINE
192
RAW_TRACE
at cftemplate2dbasepage2ecfm961847766.runPage(C:\CMSContent\common\commonspot\templates\template-basepage.cfm:192)
TEMPLATE
C:\CMSContent\common\commonspot\templates\template-basepage.cfm
TYPE
CFML

8

struct
COLUMN
0
ID
CFINCLUDE
LINE
1
RAW_TRACE
at cftemplate2dbasepage2drd2ecfm306357217.runPage(C:\CMSContent\common\commonspot\templates\template-basepage-rd.cfm:1)
TEMPLATE
C:\CMSContent\common\commonspot\templates\template-basepage-rd.cfm
TYPE
CFML

9

struct
COLUMN
0
ID
CFINCLUDE
LINE
9
RAW_TRACE
at cftemplate2dunified2dbasepage2ecfm54800924.runPage(C:\CMSContent\cms\sites\nps\templates\template-unified-basepage.cfm:9)
TEMPLATE
C:\CMSContent\cms\sites\nps\templates\template-unified-basepage.cfm
TYPE
CFML

10

struct
COLUMN
0
ID
CFINCLUDE
LINE
269
RAW_TRACE
at cfrender2dpage2dmeat2ecfm482299606.runPage(C:\commonspot\render-page-meat.cfm:269)
TEMPLATE
C:\commonspot\render-page-meat.cfm
TYPE
CFML

11

struct
COLUMN
0
ID
CFINCLUDE
LINE
36
RAW_TRACE
at cfrender2dpage2ecfm349554857.runPage(C:\commonspot\render-page.cfm:36)
TEMPLATE
C:\commonspot\render-page.cfm
TYPE
CFML

12

struct
COLUMN
0
ID
CFINCLUDE
LINE
19
RAW_TRACE
at cfmaster2drender2ecfm9544541.runPage(C:\commonspot\master-render.cfm:19)
TEMPLATE
C:\commonspot\master-render.cfm
TYPE
CFML

13

struct
COLUMN
0
ID
CFINCLUDE
LINE
222
RAW_TRACE
at cfuncached2dmaster2ecfm553419735.runPage(C:\commonspot\uncached-master.cfm:222)
TEMPLATE
C:\commonspot\uncached-master.cfm
TYPE
CFML

14

struct
COLUMN
0
ID
CFINCLUDE
LINE
245
RAW_TRACE
at cfcached2dpage2drender2ecfm1105867407.runPage(C:\commonspot\utilities\cached-page-render.cfm:245)
TEMPLATE
C:\commonspot\utilities\cached-page-render.cfm
TYPE
CFML

15

struct
COLUMN
0
ID
CFINCLUDE
LINE
287
RAW_TRACE
at cfmaster2ecfm849558361._factor24(C:\commonspot\master.cfm:287)
TEMPLATE
C:\commonspot\master.cfm
TYPE
CFML

16

struct
COLUMN
0
ID
CF_MASTER
LINE
14
RAW_TRACE
at cfmaster2ecfm849558361._factor26(C:\commonspot\master.cfm:14)
TEMPLATE
C:\commonspot\master.cfm
TYPE
CFML

17

struct
COLUMN
0
ID
CF_MASTER
LINE
1
RAW_TRACE
at cfmaster2ecfm849558361.runPage(C:\commonspot\master.cfm:1)
TEMPLATE
C:\commonspot\master.cfm
TYPE
CFML

18

struct
COLUMN
0
ID
CFINCLUDE
LINE
79
RAW_TRACE
at cfhaunting2din2dthe2dhills2dstorytelling2dfestival2ehtm432160179.runPage(C:\CMSContent\cms\sites\nps\biso\learn\news\haunting-in-the-hills-storytelling-festival.htm:79)
TEMPLATE
C:\CMSContent\cms\sites\nps\biso\learn\news\haunting-in-the-hills-storytelling-festival.htm
TYPE
CFML

Type
java.sql.SQLTransactionRollbackException

SQLState
40001
Sql
DECLARE @formID bigint DECLARE @fieldID bigint SET @formID = 481810 SET @fieldID = 481813 SELECT DISTINCT P.[PageID] ,replace( P.[SubSiteURL] , '/' , '' ) AS [ParkCode] ,'https://www.nps.gov'+P.[PageURL] AS [URL] ,max(D.[FieldValue]) AS [Description] FROM [commonspot_site_nps_merge].[dbo].[Data_FieldValue] AS D WITH (NOLOCK) INNER JOIN [commonspot_site_nps_merge].[dbo].[v_subsite_page] AS P ON ( D.[PageID] = P.[PageID] ) WHERE D.[VersionState] = 2 AND D.[PageID] > 0 AND D.[FormID] = @formID AND D.[FieldID] = @fieldID AND D.[ItemID] = @fieldID AND P.[FileName] = 'index.htm' AND replace( P.[SubSiteURL] , '/' , '' ) = (param 1) GROUP BY P.[PageID] ,P.[SubsiteURL] ,P.[PageURL]
StackTrace
coldfusion.tagext.sql.QueryTag$DatabaseQueryException: Error Executing Database Query. at coldfusion.tagext.sql.QueryTag.startQueryExecution(QueryTag.java:867) at coldfusion.tagext.sql.QueryTag.doEndTag(QueryTag.java:769) at cfSiteService2ecfc475411080$funcGETSITEDATA._factor4(C:\CMSContent\common\components\nps\structureddata\SiteService.cfc:220) at cfSiteService2ecfc475411080$funcGETSITEDATA.runFunction(C:\CMSContent\common\components\nps\structureddata\SiteService.cfc:158) at coldfusion.runtime.UDFMethod.invoke(UDFMethod.java:487) at coldfusion.filter.SilentFilter.invoke(SilentFilter.java:47) at coldfusion.runtime.UDFMethod$ReturnTypeFilter.invoke(UDFMethod.java:420) at coldfusion.runtime.UDFMethod$ArgumentCollectionFilter.invoke(UDFMethod.java:383) at coldfusion.filter.FunctionAccessFilter.invoke(FunctionAccessFilter.java:95) at coldfusion.runtime.UDFMethod.runFilterChain(UDFMethod.java:334) at coldfusion.runtime.UDFMethod.invoke(UDFMethod.java:533) at coldfusion.runtime.CfJspPage._invokeUDF(CfJspPage.java:2830) at cfSiteService2ecfc475411080$funcREAD._factor0(C:\CMSContent\common\components\nps\structureddata\SiteService.cfc:44) at cfSiteService2ecfc475411080$funcREAD.runFunction(C:\CMSContent\common\components\nps\structureddata\SiteService.cfc:41) at coldfusion.runtime.UDFMethod.invoke(UDFMethod.java:487) at coldfusion.filter.SilentFilter.invoke(SilentFilter.java:47) at coldfusion.runtime.UDFMethod$ReturnTypeFilter.invoke(UDFMethod.java:420) at coldfusion.runtime.UDFMethod$ArgumentCollectionFilter.invoke(UDFMethod.java:383) at coldfusion.filter.FunctionAccessFilter.invoke(FunctionAccessFilter.java:95) at coldfusion.runtime.UDFMethod.runFilterChain(UDFMethod.java:334) at coldfusion.runtime.UDFMethod.invoke(UDFMethod.java:533) at coldfusion.runtime.TemplateProxy.invoke(TemplateProxy.java:651) at coldfusion.runtime.TemplateProxy.invoke(TemplateProxy.java:460) at coldfusion.runtime.CfJspPage._invoke(CfJspPage.java:2430) at cffooter_parkFooter2ecfm1541557965.runPage(C:\CMSContent\common\commonspot\templates\includes\footer_parkFooter.cfm:16) at coldfusion.runtime.CfJspPage.invoke(CfJspPage.java:247) at coldfusion.tagext.lang.IncludeTag.handlePageInvoke(IncludeTag.java:736) at coldfusion.tagext.lang.IncludeTag.doStartTag(IncludeTag.java:572) at coldfusion.runtime.CfJspPage._emptyTcfTag(CfJspPage.java:3011) at cfcontentWrap_bottom2ecfm1200839389.runPage(C:\CMSContent\common\commonspot\templates\includes\contentWrap_bottom.cfm:69) at coldfusion.runtime.CfJspPage.invoke(CfJspPage.java:247) at coldfusion.tagext.lang.IncludeTag.handlePageInvoke(IncludeTag.java:736) at coldfusion.tagext.lang.IncludeTag.doStartTag(IncludeTag.java:572) at coldfusion.runtime.CfJspPage._emptyTcfTag(CfJspPage.java:3011) at cftemplate2dbasepage2ecfm961847766.runPage(C:\CMSContent\common\commonspot\templates\template-basepage.cfm:192) at coldfusion.runtime.CfJspPage.invoke(CfJspPage.java:247) at coldfusion.tagext.lang.IncludeTag.handlePageInvoke(IncludeTag.java:736) at coldfusion.tagext.lang.IncludeTag.doStartTag(IncludeTag.java:572) at coldfusion.runtime.CfJspPage._emptyTcfTag(CfJspPage.java:3011) at cftemplate2dbasepage2drd2ecfm306357217.runPage(C:\CMSContent\common\commonspot\templates\template-basepage-rd.cfm:1) at coldfusion.runtime.CfJspPage.invoke(CfJspPage.java:247) at coldfusion.tagext.lang.IncludeTag.handlePageInvoke(IncludeTag.java:736) at coldfusion.tagext.lang.IncludeTag.doStartTag(IncludeTag.java:572) at coldfusion.runtime.CfJspPage._emptyTcfTag(CfJspPage.java:3011) at cftemplate2dunified2dbasepage2ecfm54800924.runPage(C:\CMSContent\cms\sites\nps\templates\template-unified-basepage.cfm:9) at coldfusion.runtime.CfJspPage.invoke(CfJspPage.java:247) at coldfusion.tagext.lang.IncludeTag.handlePageInvoke(IncludeTag.java:736) at coldfusion.tagext.lang.IncludeTag.doStartTag(IncludeTag.java:572) at coldfusion.runtime.CfJspPage._emptyTcfTag(CfJspPage.java:3011) at cfrender2dpage2dmeat2ecfm482299606.runPage(C:\commonspot\render-page-meat.cfm:269) at coldfusion.runtime.CfJspPage.invoke(CfJspPage.java:247) at coldfusion.tagext.lang.IncludeTag.handlePageInvoke(IncludeTag.java:736) at coldfusion.tagext.lang.IncludeTag.doStartTag(IncludeTag.java:572) at coldfusion.runtime.CfJspPage._emptyTcfTag(CfJspPage.java:3011) at cfrender2dpage2ecfm349554857.runPage(C:\commonspot\render-page.cfm:36) at coldfusion.runtime.CfJspPage.invoke(CfJspPage.java:247) at coldfusion.tagext.lang.IncludeTag.handlePageInvoke(IncludeTag.java:736) at coldfusion.tagext.lang.IncludeTag.doStartTag(IncludeTag.java:572) at coldfusion.runtime.CfJspPage._emptyTcfTag(CfJspPage.java:3011) at cfmaster2drender2ecfm9544541.runPage(C:\commonspot\master-render.cfm:19) at coldfusion.runtime.CfJspPage.invoke(CfJspPage.java:247) at coldfusion.tagext.lang.IncludeTag.handlePageInvoke(IncludeTag.java:736) at coldfusion.tagext.lang.IncludeTag.doStartTag(IncludeTag.java:572) at coldfusion.runtime.CfJspPage._emptyTcfTag(CfJspPage.java:3011) at cfuncached2dmaster2ecfm553419735.runPage(C:\commonspot\uncached-master.cfm:222) at coldfusion.runtime.CfJspPage.invoke(CfJspPage.java:247) at coldfusion.tagext.lang.IncludeTag.handlePageInvoke(IncludeTag.java:736) at coldfusion.tagext.lang.IncludeTag.doStartTag(IncludeTag.java:572) at coldfusion.runtime.CfJspPage._emptyTcfTag(CfJspPage.java:3011) at cfcached2dpage2drender2ecfm1105867407.runPage(C:\commonspot\utilities\cached-page-render.cfm:245) at coldfusion.runtime.CfJspPage.invoke(CfJspPage.java:247) at coldfusion.tagext.lang.IncludeTag.handlePageInvoke(IncludeTag.java:736) at coldfusion.tagext.lang.IncludeTag.doStartTag(IncludeTag.java:572) at coldfusion.runtime.CfJspPage._emptyTcfTag(CfJspPage.java:3011) at cfmaster2ecfm849558361._factor24(C:\commonspot\master.cfm:287) at cfmaster2ecfm849558361._factor26(C:\commonspot\master.cfm:14) at cfmaster2ecfm849558361.runPage(C:\commonspot\master.cfm:1) at coldfusion.runtime.CfJspPage.invoke(CfJspPage.java:247) at coldfusion.tagext.lang.IncludeTag.handlePageInvoke(IncludeTag.java:736) at coldfusion.tagext.lang.IncludeTag.doStartTag(IncludeTag.java:572) at coldfusion.runtime.CfJspPage._emptyTcfTag(CfJspPage.java:3011) at cfhaunting2din2dthe2dhills2dstorytelling2dfestival2ehtm432160179.runPage(C:\CMSContent\cms\sites\nps\biso\learn\news\haunting-in-the-hills-storytelling-festival.htm:79) at coldfusion.runtime.CfJspPage.invoke(CfJspPage.java:247) at coldfusion.tagext.lang.IncludeTag.handlePageInvoke(IncludeTag.java:736) at coldfusion.tagext.lang.IncludeTag.doStartTag(IncludeTag.java:572) at coldfusion.filter.CfincludeFilter.invoke(CfincludeFilter.java:65) at coldfusion.filter.IpFilter.invoke(IpFilter.java:45) at coldfusion.filter.ApplicationFilter.invoke(ApplicationFilter.java:495) at coldfusion.filter.RequestMonitorFilter.invoke(RequestMonitorFilter.java:42) at coldfusion.filter.MonitoringFilter.invoke(MonitoringFilter.java:40) at coldfusion.filter.PathFilter.invoke(PathFilter.java:153) at coldfusion.filter.ExceptionFilter.invoke(ExceptionFilter.java:94) at coldfusion.filter.ClientScopePersistenceFilter.invoke(ClientScopePersistenceFilter.java:28) at coldfusion.filter.BrowserFilter.invoke(BrowserFilter.java:38) at coldfusion.filter.NoCacheFilter.invoke(NoCacheFilter.java:58) at coldfusion.filter.GlobalsFilter.invoke(GlobalsFilter.java:38) at coldfusion.filter.DatasourceFilter.invoke(DatasourceFilter.java:22) at coldfusion.filter.CachingFilter.invoke(CachingFilter.java:62) at coldfusion.CfmServlet.service(CfmServlet.java:219) at coldfusion.bootstrap.BootstrapServlet.service(BootstrapServlet.java:89) at org.apache.catalina.core.ApplicationFilterChain.internalDoFilter(ApplicationFilterChain.java:303) at org.apache.catalina.core.ApplicationFilterChain.doFilter(ApplicationFilterChain.java:208) at coldfusion.monitor.event.MonitoringServletFilter.doFilter(MonitoringServletFilter.java:42) at coldfusion.bootstrap.BootstrapFilter.doFilter(BootstrapFilter.java:46) at org.apache.catalina.core.ApplicationFilterChain.internalDoFilter(ApplicationFilterChain.java:241) at org.apache.catalina.core.ApplicationFilterChain.doFilter(ApplicationFilterChain.java:208) at org.apache.catalina.core.StandardWrapperValve.invoke(StandardWrapperValve.java:219) at org.apache.catalina.core.StandardContextValve.invoke(StandardContextValve.java:110) at org.apache.catalina.authenticator.AuthenticatorBase.invoke(AuthenticatorBase.java:494) at org.apache.catalina.core.StandardHostValve.invoke(StandardHostValve.java:169) at org.apache.catalina.valves.ErrorReportValve.invoke(ErrorReportValve.java:104) at org.apache.catalina.core.StandardEngineValve.invoke(StandardEngineValve.java:116) at org.apache.catalina.connector.CoyoteAdapter.service(CoyoteAdapter.java:458) at org.apache.coyote.ajp.AjpProcessor.process(AjpProcessor.java:196) at org.apache.coyote.AbstractProtocol$AbstractConnectionHandler.process(AbstractProtocol.java:637) at org.apache.tomcat.util.net.JIoEndpoint$SocketProcessor.run(JIoEndpoint.java:316) at java.util.concurrent.ThreadPoolExecutor.runWorker(ThreadPoolExecutor.java:1149) at java.util.concurrent.ThreadPoolExecutor$Worker.run(ThreadPoolExecutor.java:624) at org.apache.tomcat.util.threads.TaskThread$WrappingRunnable.run(TaskThread.java:61) at java.lang.Thread.run(Thread.java:748) Caused by: java.sql.SQLTransactionRollbackException: [Macromedia][SQLServer JDBC Driver][SQLServer]Transaction (Process ID 172) was deadlocked on lock resources with another process and has been chosen as the deadlock victim. Rerun the transaction. at macromedia.jdbc.sqlserverbase.ddcw.b(Unknown Source) at macromedia.jdbc.sqlserverbase.ddcw.a(Unknown Source) at macromedia.jdbc.sqlserverbase.ddcv.b(Unknown Source) at macromedia.jdbc.sqlserverbase.ddcv.a(Unknown Source) at macromedia.jdbc.sqlserver.tds.ddr.v(Unknown Source) at macromedia.jdbc.sqlserver.tds.ddr.a(Unknown Source) at macromedia.jdbc.sqlserver.tds.ddq.a(Unknown Source) at macromedia.jdbc.sqlserver.tds.ddr.c(Unknown Source) at macromedia.jdbc.sqlserver.dda3.m(Unknown Source) at macromedia.jdbc.sqlserverbase.dde7.e(Unknown Source) at macromedia.jdbc.sqlserverbase.dde7.a(Unknown Source) at macromedia.jdbc.sqlserverbase.ddd2.a(Unknown Source) at macromedia.jdbc.sqlserverbase.dde7.x(Unknown Source) at macromedia.jdbc.sqlserverbase.dde7.t(Unknown Source) at macromedia.jdbc.sqlserverbase.ddd2.execute(Unknown Source) at macromedia.jdbc.sqlserverbase.ddd6.execute(Unknown Source) at coldfusion.server.j2ee.sql.JRunPreparedStatement.execute(JRunPreparedStatement.java:101) at coldfusion.sql.Executive.executeQuery(Executive.java:1501) at coldfusion.sql.Executive.executeQuery(Executive.java:1235) at coldfusion.sql.Executive.executeQuery(Executive.java:1165) at coldfusion.sql.SqlImpl.execute(SqlImpl.java:406) at coldfusion.tagext.sql.QueryTag.executeQuery(QueryTag.java:1187) at coldfusion.tagext.sql.QueryTag.startQueryExecution(QueryTag.java:816) ... 119 more
Suppressed
TagContext

array
1

struct
COLUMN
0
ID
CFQUERY
LINE
220
RAW_TRACE
at cfSiteService2ecfc475411080$funcGETSITEDATA._factor4(C:\CMSContent\common\components\nps\structureddata\SiteService.cfc:220)
TEMPLATE
C:\CMSContent\common\components\nps\structureddata\SiteService.cfc
TYPE
CFML

2

struct
COLUMN
0
ID
CF_SITESERVICE
LINE
158
RAW_TRACE
at cfSiteService2ecfc475411080$funcGETSITEDATA.runFunction(C:\CMSContent\common\components\nps\structureddata\SiteService.cfc:158)
TEMPLATE
C:\CMSContent\common\components\nps\structureddata\SiteService.cfc
TYPE
CFML

3

struct
COLUMN
0
ID
CF_UDFMETHOD
LINE
44
RAW_TRACE
at cfSiteService2ecfc475411080$funcREAD._factor0(C:\CMSContent\common\components\nps\structureddata\SiteService.cfc:44)
TEMPLATE
C:\CMSContent\common\components\nps\structureddata\SiteService.cfc
TYPE
CFML

4

struct
COLUMN
0
ID
CF_SITESERVICE
LINE
41
RAW_TRACE
at cfSiteService2ecfc475411080$funcREAD.runFunction(C:\CMSContent\common\components\nps\structureddata\SiteService.cfc:41)
TEMPLATE
C:\CMSContent\common\components\nps\structureddata\SiteService.cfc
TYPE
CFML

5

struct
COLUMN
0
ID
CF_TEMPLATEPROXY
LINE
16
RAW_TRACE
at cffooter_parkFooter2ecfm1541557965.runPage(C:\CMSContent\common\commonspot\templates\includes\footer_parkFooter.cfm:16)
TEMPLATE
C:\CMSContent\common\commonspot\templates\includes\footer_parkFooter.cfm
TYPE
CFML

6

struct
COLUMN
0
ID
CFINCLUDE
LINE
69
RAW_TRACE
at cfcontentWrap_bottom2ecfm1200839389.runPage(C:\CMSContent\common\commonspot\templates\includes\contentWrap_bottom.cfm:69)
TEMPLATE
C:\CMSContent\common\commonspot\templates\includes\contentWrap_bottom.cfm
TYPE
CFML

7

struct
COLUMN
0
ID
CFINCLUDE
LINE
192
RAW_TRACE
at cftemplate2dbasepage2ecfm961847766.runPage(C:\CMSContent\common\commonspot\templates\template-basepage.cfm:192)
TEMPLATE
C:\CMSContent\common\commonspot\templates\template-basepage.cfm
TYPE
CFML

8

struct
COLUMN
0
ID
CFINCLUDE
LINE
1
RAW_TRACE
at cftemplate2dbasepage2drd2ecfm306357217.runPage(C:\CMSContent\common\commonspot\templates\template-basepage-rd.cfm:1)
TEMPLATE
C:\CMSContent\common\commonspot\templates\template-basepage-rd.cfm
TYPE
CFML

9

struct
COLUMN
0
ID
CFINCLUDE
LINE
9
RAW_TRACE
at cftemplate2dunified2dbasepage2ecfm54800924.runPage(C:\CMSContent\cms\sites\nps\templates\template-unified-basepage.cfm:9)
TEMPLATE
C:\CMSContent\cms\sites\nps\templates\template-unified-basepage.cfm
TYPE
CFML

10

struct
COLUMN
0
ID
CFINCLUDE
LINE
269
RAW_TRACE
at cfrender2dpage2dmeat2ecfm482299606.runPage(C:\commonspot\render-page-meat.cfm:269)
TEMPLATE
C:\commonspot\render-page-meat.cfm
TYPE
CFML

11

struct
COLUMN
0
ID
CFINCLUDE
LINE
36
RAW_TRACE
at cfrender2dpage2ecfm349554857.runPage(C:\commonspot\render-page.cfm:36)
TEMPLATE
C:\commonspot\render-page.cfm
TYPE
CFML

12

struct
COLUMN
0
ID
CFINCLUDE
LINE
19
RAW_TRACE
at cfmaster2drender2ecfm9544541.runPage(C:\commonspot\master-render.cfm:19)
TEMPLATE
C:\commonspot\master-render.cfm
TYPE
CFML

13

struct
COLUMN
0
ID
CFINCLUDE
LINE
222
RAW_TRACE
at cfuncached2dmaster2ecfm553419735.runPage(C:\commonspot\uncached-master.cfm:222)
TEMPLATE
C:\commonspot\uncached-master.cfm
TYPE
CFML

14

struct
COLUMN
0
ID
CFINCLUDE
LINE
245
RAW_TRACE
at cfcached2dpage2drender2ecfm1105867407.runPage(C:\commonspot\utilities\cached-page-render.cfm:245)
TEMPLATE
C:\commonspot\utilities\cached-page-render.cfm
TYPE
CFML

15

struct
COLUMN
0
ID
CFINCLUDE
LINE
287
RAW_TRACE
at cfmaster2ecfm849558361._factor24(C:\commonspot\master.cfm:287)
TEMPLATE
C:\commonspot\master.cfm
TYPE
CFML

16

struct
COLUMN
0
ID
CF_MASTER
LINE
14
RAW_TRACE
at cfmaster2ecfm849558361._factor26(C:\commonspot\master.cfm:14)
TEMPLATE
C:\commonspot\master.cfm
TYPE
CFML

17

struct
COLUMN
0
ID
CF_MASTER
LINE
1
RAW_TRACE
at cfmaster2ecfm849558361.runPage(C:\commonspot\master.cfm:1)
TEMPLATE
C:\commonspot\master.cfm
TYPE
CFML

18

struct
COLUMN
0
ID
CFINCLUDE
LINE
79
RAW_TRACE
at cfhaunting2din2dthe2dhills2dstorytelling2dfestival2ehtm432160179.runPage(C:\CMSContent\cms\sites\nps\biso\learn\news\haunting-in-the-hills-storytelling-festival.htm:79)
TEMPLATE
C:\CMSContent\cms\sites\nps\biso\learn\news\haunting-in-the-hills-storytelling-festival.htm
TYPE
CFML

Type
Database
queryError
[Macromedia][SQLServer JDBC Driver][SQLServer]Transaction (Process ID 172) was deadlocked on lock resources with another process and has been chosen as the deadlock victim. Rerun the transaction.
where
(param 1) = [type='IN', class='java.lang.String', value='biso', sqltype='cf_sql_varchar']