Date:
October 3, 2014
Contact:
Chelsea Lauber
, 606-376-3787
Contact:
Matt Hudson
, 423-346-6294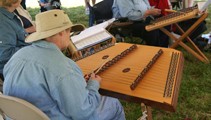 The Knoxville Area Dulcimer Club will be performing at the Blue Heron Interpretative Center for visitors on Saturday, October 18, 2014, at 12:00 p.m. ET.
The Knoxville Area Dulcimer Club is an educational, non-profit organization dedicated to teaching, sharing, and enjoying the playing of Appalachian and hammered dulcimers. They are known for playing at and participating in many activities across Tennessee.
To join in on this event you may either ride the Big South Fork Scenic Railway (http://bsfsry.com/) for a charge, or you may drive into the Blue Heron Interpretive Center free of charge. For driving directions to Blue Heron Interpretive Center, please visit the following website: https://www.nps.gov/biso/planyourvisit/directions.htm, or contact Chelsea Lauber at (606) 376-3787.
This event is wheelchair accessible. Please wear weather-appropriate clothing. Limited seating will be available; if you would like to ensure yourself a seat you may bring your own outdoor chair. Everyone is welcome.
For more information on this event, please call the Blue Heron Interpretive Center at (606) 376-3787.