Directions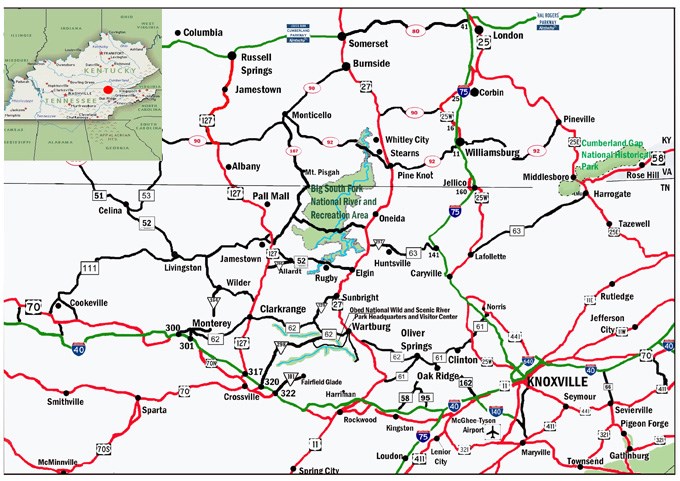 DRIVING DIRECTIONS FOR SPECIAL DELIVERIES
The following directions are recommended for any vehicle that exceeds 40 feet in length (truck and trailer combined). The recommendation is to travel from the East side of the park from Scott County. When traveling from the West side entrance via Fentress County, drivers will encounter switch backs and hair-pin curves that may be difficult to maneuver for larger vehicles.
From Hwy 27 North or South, turn onto Industrial Lane (follow signs to Big South Fork NRRA).
Turn left onto Industrial Lane and travel approximately .75 mile to another intersection.
Turn left onto Hwy 297 and travel about 4 miles and turn left.
Continue on Hwy 297 about 4 miles to the entrance of the park at the large Big South Fork sign on the right.
Continue another 3200 feet to take the third driveway to your left for the East Rim Maintenance Area.
There is no loading dock; however there are personnel and fork-lift available if needed to off-load supplies. There is also space available to turn-around and exit this location. This location is utilized for large commercial shipments (including any and all palletized shipments).
All small packages/commercial shipments via USPS, FedEx, UPS, etc. are delivered to the Park Headquarters located at 4564 Leatherwood Road, Oneida, TN.


*When driving HWY 297 through the Big South Fork River gorge, you will encounter steep grades (up to 13%) and sharp hair-pin curves. Drive slowly, use a low gear and check turns before you enter them. Similar steep road conditions also exist when driving into Blue Heron on Hwy 742.

SPECIAL NOTE: DO NOT RELY ON GPS UNITS TO GIVE CORRECT ADDRESS LOCATIONS.


Last updated: December 1, 2020