News Release
Big South Fork NRRA Reveals New All-inclusive GO BIG 2018 Challenge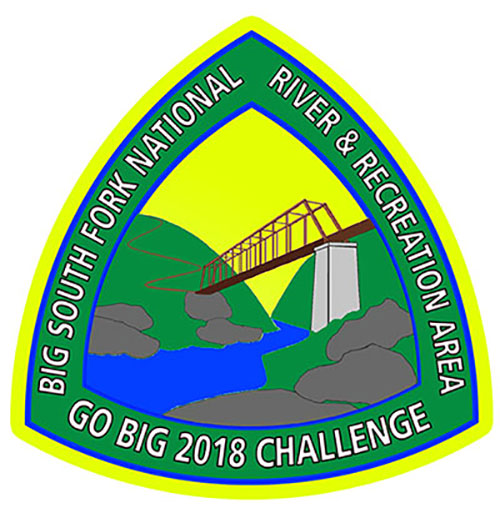 News Release Date:
January 29, 2018
Contact: Mary Grimm, (423)-286-7275
Contact: Bill Herman, (423)-286-7275
Get up and get moving in 2018! Join in the fun and participate in Big South Fork National River and Recreation Area's new all-inclusive GO BIG 2018 Challenge. This year-long self-paced challenge was designed to encourage ALL visitors to explore and experience Big South Fork while maintaining a healthy lifestyle, reducing stress, and being physically active. 
Until December 8, participants will earn points on the honor system by answering questions about the nature and history of the park that will require exploration in search of site-specific information. Points will also be given for miles hiked, biked, paddled, or equestrian-ridden. All participants who earn at least 100 points are eligible for the GO BIG 2018 Challenge patch that was specially designed for this event.  
For more information, and to download the challenge booklet, please
click here
. You can also pick up the booklet at Bandy Creek Visitor Center. The challenge booklet is broken up into five different challenge categories. Pick and choose the challenges that are right for you or choose to do them all!
The challenge will wrap up on December 8 at 10 AM (ET) with a GO BIG celebration. All visitors that participate in the challenge and are present will be recognized for their accomplishments and considered for an award in various categories.  
For more information, please call Bandy Creek Visitor Center at (423) 286-7275.  
Last updated: January 29, 2018