Off-Road Vehicle Office
The off-road vehicle permit office (located at Oasis Visitor Center) is open by apointment only.
It is strongly advised that you call before you bring your vehicle in. We may be able to save you time and extra trips with a brief conversation before your visit.
For more information contact the office at 239-695-1117. You can also email us.
Getting a permit is a 3-step process. To learn more click here.
Vehicle Inspections
Before a vehicle permit sticker can be issued, a vehicle inspection must first be performed.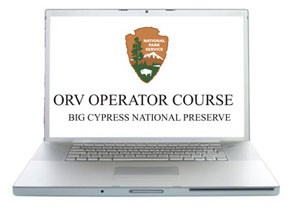 Off-Road Vehicle Operator Course
Completion of the off-road vehicle operator course is required before an off-road vehicle permit can be issued.
This free course is now available online. Please click here to launch the course.The videos currently won't play, but everything you need to pass the test is still accessible by reading the pages.
Note: You must enable pop-up windows in your browser to take this course.
Please provide input, or request further information by email.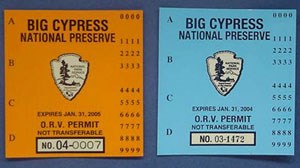 Annual Off-Road Vehicle Permit
Once you have obtained an operator permit, and your vehicle has passed the inspection and received the inspection sticker, you may then purchase the annual off-road vehicle permit.
An annual off-road vehicle permit, displayed on the inspected vehicle, is required for off-road vehicle operation along preserve trails. The fee is $100 annually per vehicle permitted.
To learn more about off-road vehicle recreation within the national preserve, please use the following links.
Last updated: May 13, 2021