News Release
Phase Two of Sandy Wildfire Evacuation Plan Initiated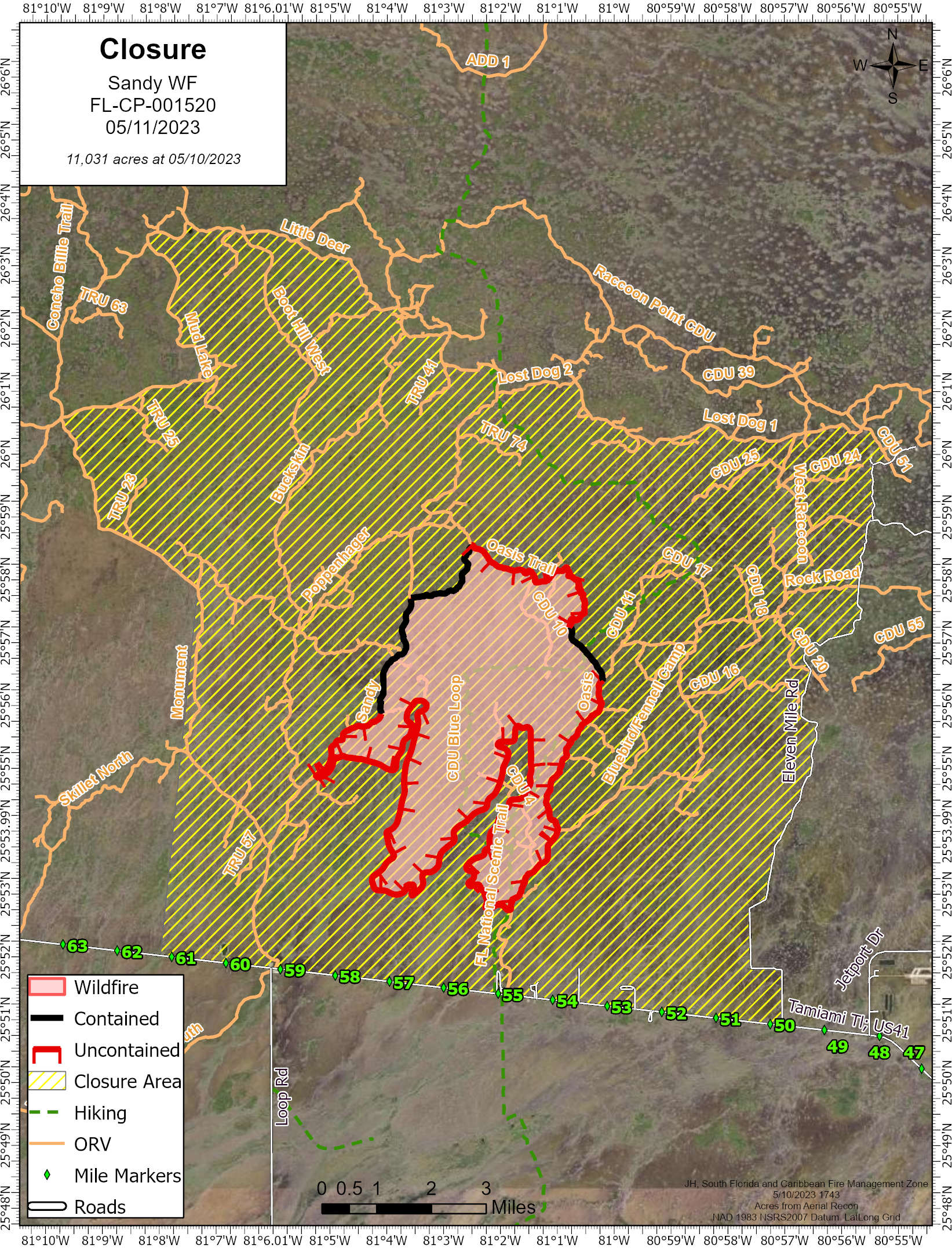 News Release Date:
May 10, 2023
Contact: Riki Hoopes, 786-886-9342
OCHOPEE, FL – Phase Two of the Sandy Wildfire Evacuation Plan has been initiated and residents within the areas of concern have been notified to prepare for potential evacuations. Residents with preexisting medical conditions have been encouraged to leave.
Fire managers will continue to monitor fire behavior, initiating the final stage of the evacuation plan if fire continues to move towards homes. The final phase of evacuation could occur when fire threat is imminent at which point all residents will be advised to leave.
Crews continued hold and improve control lines during the day, and conduct suppression burn out operations along the control lines at night. Burn out operations allow firefighters to determine when and how fire impacts the control lines. Conducting these operations in the evening and into early morning hours helps reduce the risk of spot fires across the line due to the higher relative humidity.
As the Sandy Fire continues to move south towards US41, smoke impacts along the roadways are expected. Travelers are advised to use caution and be aware of their surrounding environment.
The Sandy Fire is currently 11,031 acres and 20% contained.
Closures remain in effect west of 11 Mile Road, north of US41, east of Monument Trail, and south of Mud Lake, Little Deer, Oasis Trail and Lost Dog, including the Florida Trail from Oasis Visitor Center to I75 (MM63). This both ensures the safety of the public and allows firefighters to work without impediment.
Phase Two of the Sandy Wildfire Evacuation Plan has been initiated.
Phase One: Residents within evacuation zone are notified of potential fire impacts and advised to create defensible space around home if possible.
Phase Two: Residents within evacuation zone should be packed and ready to evacuate. Residents with preexisting health conditions will be encouraged to leave at this time.
Phase Three: Residents will be advised to leave as fire threat is imminent.
Last updated: May 11, 2023