The Paleoarctic Tradition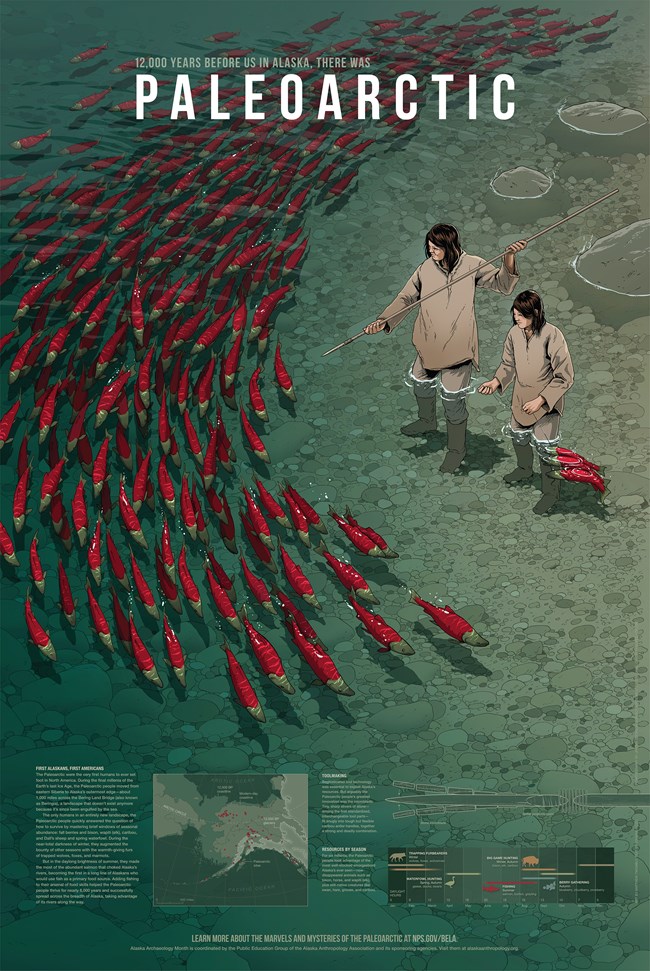 The Paleoarctic were the very first humans to ever set foot in North America. During the final millenia of the Earth's last Ice Age, the Paleoarctic people moved from eastern Siberia to Alaska's outermost edge—about 1,000 miles across the Bering Land Bridge (also known as
Beringia
), a landscape that doesn't exist anymore because it's since been engulfed by the sea. The only humans in an entirely new landscape, the Paleoarctic people quickly answered the question of how to survive by mastering brief windows of seasonal abundance: fall berries and bison, wapiti (elk), caribou, and Dall's sheep and spring waterfowl. During the near-total darkness of winter, they augmented the bounty of other seasons with the warmth-giving furs of trapped wolf, fox, and marmots. But in the day-long brightness of summer, they made the most of the abundant salmon that choked Alaska's rivers, becoming the first in a long line of Alaskans that would use fish as a primary food source. Adding fishing to their arsenal of food skills helped the Paleoarctic people thrive for nearly 6,000 years and successfully spread across the breadth of Alaska, taking advantage of its rivers along the way.
NPS TIES
Much of what we know about this early period of Alaskan prehistory, the Paleoarctic Tradition, comes from sites preserved in national parks and preserves in Alaska. Two key sites that formed the basis for the Paleoarctic concept, originally defined by archaeologist Doug Anderson in 1968, are
Onion Portage in Kobuk Valley Naitonal Preserve
and Trail Creek Caves in Bering Land Bridge National Preserve.
Last updated: April 19, 2022