Discovery of the Hunters Cache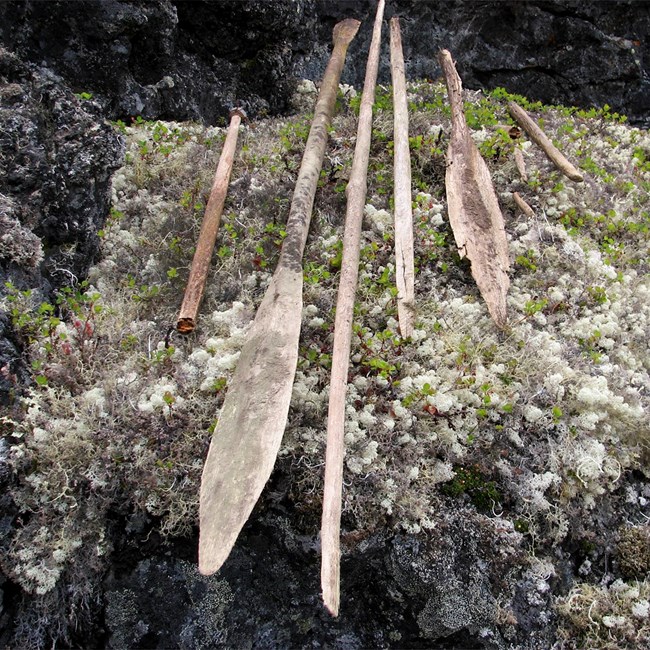 In 2010, a hunter's cache was discovered in one of many small caves formed by the jumbled and sharp terrain of the
Lost Jim Lava Flow
. Inside the small lava tube were several extremely well preserved 18th century wooden artifacts: a hand-hewn staff holding a spear bound with braided sinew, a double-blade kayak paddle and a staff being fashioned as a hunting tool.
The owners of these tools were intimately familiar with the landscape and the seasonal movement of animals. Hence, weapons and tools, like the one's found in the cave, were cached in strategic locations throughout the landscape for future use. A common and reoccurring hunting tactic involved a group of hunters cleverly exploiting the juxtaposition of the lava field and
Imuruk Lake
. While one group of hunters steered caribou towards water, an easy feat since they preferred to avoid the treacherous lava field, a second group waited in kayaks ready to seize the panicked animal. These tools add a tangible dimension to a story where landscape features, fine-tuned logistics, and hunting strategies intertwine.
Ultimately, though, in an environment where survival hinges on forethought and ecological knowledge, the items in the Lost Jim Lava cache tease us with a trace of insight into the world of 18th century Inupiat hunters while leaving a larger mystery at hand: what circumstance led to the abandonment of their weapons? Did hunting plans never come to pass? Did new weapons replace old ways? Was there a shift in migratory routes? These weapons allow us to contemplate a thousand similar hunting scenarios that took place near this area while leaving intricacies of day-to-day life solely to the imagination.
Last updated: April 4, 2017