Accessibility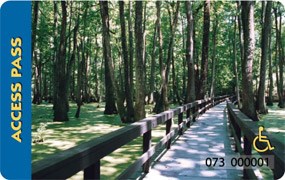 Access Pass - The Access Pass allows free entrance to federal fee areas and can be shown for some discounts on services. The pass is free for citizens or permanent residents of the U.S. who present
documentation (such as from a licensed physician, the Veteran's
Administration, or a vocational rehabilitation agency) of a
permanent medical disability. The Golden Access Passport
is still valid, but you can trade it in for the new Access Pass.

Obtain the Access Pass at the Greenbelt Park Headquarters (Route 193 Greebelt Road west off the parkway)or https://store.usgs.gov/pass.
Last updated: April 10, 2015