Stargazing in Bandelier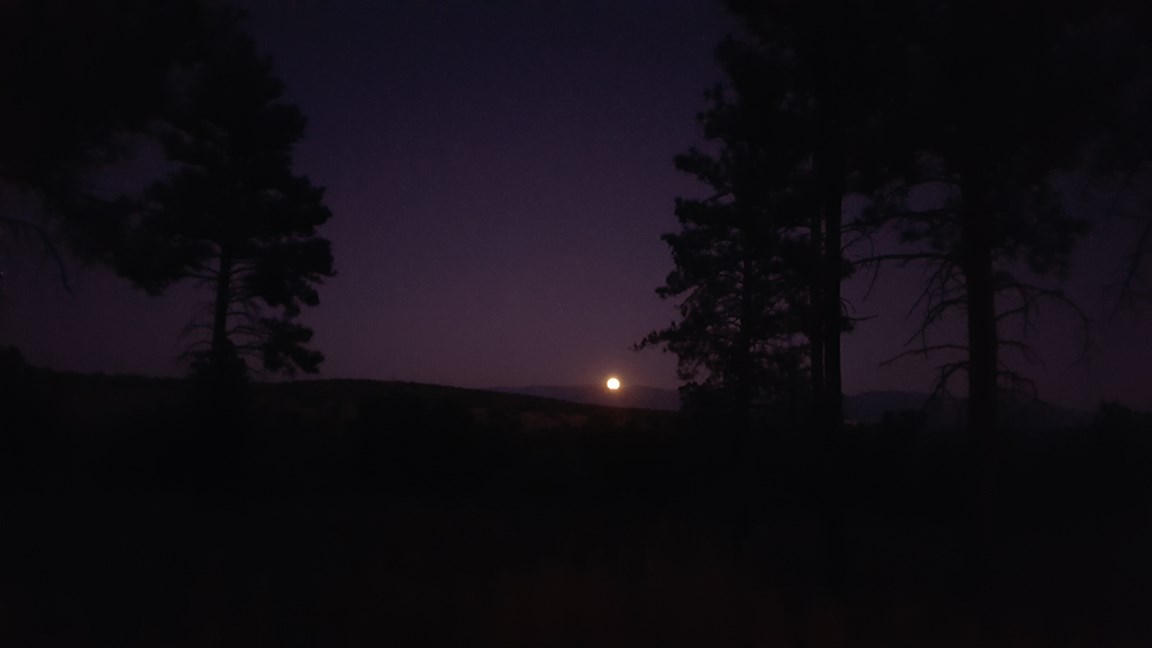 As dusk falls over the mesas and canyons of Bandelier, an entirely new landscape starts to emerge above, with thousands of stars, a brilliant moon, and—on clear, dark nights—the Milky Way. Many things have changed in the 800 years since the Ancestral Pueblo first started building here. But the night skies remain a connection to them.
Why Dark Skies Matter
At Bandelier, dark skies are an important cultural resource. There is evidence that the Ancestral Pueblo were attuned to astronomical events, and some structures within Bandelier appear to have been designed with an eye to the winter solstice. Through oral traditions, stories embedded in the stars have been passed down across generations. When we look up at the stars, we become part of a tradition that stretches back millennia, from archaic hunter-gatherers to the Ancestral Pueblo to Civilian Conservation Corps members to scientific researchers today—all staring with wonder and curiosity at the night sky.

Dark skies are also an important natural resource. Light pollution, meaning the presence of too much artificial light, affects many species of plants and animals—including us. Nocturnal animals, migrating birds, and even our own circadian rhythms all rely on an unchanged night sky.

Bandelier is committed to preserving this important resource. As of March 2022, the park is currently pursuing designation as an International Dark Sky Park by the IDA (International Dark-Sky Association). Efforts include surveying and replacing lighting fixtures, monitoring the darkness of the night skies within the park, and providing education and outreach about the importance of the night sky and the effects of light pollution. For more information about light pollution and the work of the IDA, you can visit their website.
Where to Stargaze
To protect fragile archaeological sites, Bandelier's trails are open only from dawn to dusk. However, visitors are still welcome to stargaze and observe stunning night skies when camping at the Juniper and Ponderosa Campgrounds. Ranger-led astronomy programs are sometimes offered in the summer and fall and are advertised on social media and on our website.

Some of the darkest night skies can be viewed from the backcountry. If you wish to go backpacking at Bandelier, you must secure a permit in advance; see the Backpacking Page for more information.

Bandelier's neighbor, the Valles Caldera National Preserve, is a certified International Dark Sky Park. While the Caldera is also closed in the evenings, there is great stargazing from some of the pullouts along Highway 4. For more information about stargazing, programs, and night-sky efforts at the Valles Caldera, see the Astronomy Page on their website.
Tips for Stargazing
Choose Your Time. The darker the skies, the better the visibility. This means that even the light of the moon can affect what you are able to see. Check to see what phase the moon is in, as well as when moonrise and moonset will be, to get the darkest possible skies.

Choose Your Lighting. For the best visibility, your eyes need time to adjust to the darkness. Stay outside in a dark location for at least 20-30 minutes, and you'll slowly see more and more objects appear. If you look at a white light (and yes, that includes a phone screen!), you lose that night vision. Use a red-light flashlight—or cover your white lights with red cellophane—and adjust your phone setting to red-light. When at home, you can help combat the effects of light pollution by turning off or removing lights, making sure lights are pointed only at the ground, and using warm-colored lights.
Last updated: April 17, 2023