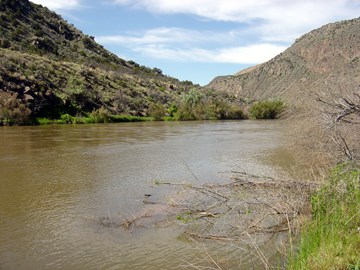 The receding waters left behind a thick layer of silt and the seeds of numerous non-native plants brought from upstream agricultural/weedy pasture areas. Rich soils high in nutrients, fine textured soils that drained poorly, and initial ample soil moisture supported rapid colonization and growth of non-native species (weeds). Native species, previously killed by the inundation, were not able to compete with the weeds in colonizing the disturbed habitat. Nearly 100% of the plants growing on the flats near the Rio Grande are non-native species.
One of the invaders is Kochia, a plant that can grow to 6 feet tall. It has coarsely toothed leaves. Contact with this plant has been known to cause a rash in some people.
Due to the risk and increased maintenance costs of high water, the trail along the Rio has had to be abandoned and may or may not be passable at any given time.