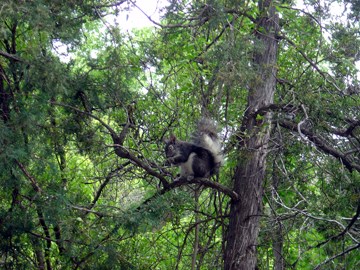 Just as plants flourish using the rich resources of the canyon, so do a wide variety of animals. Abert's squirrels with their tufted ears and white underbelly are a common sight. Mule deer are sometimes seen grazing in the quiet by the creek. The cry of a circling hawk or the mimicry of a Steller's Jay may be detected by those who listen closely. Although the canyon is rich in wildlife including bear, mountain lion, elk, and coyote, visitors will rarely see these wary inhabitants.
Signs of their presence are more easily found. You may see scat (animal droppings) left on rocks to mark an animal's territory or tracks crossing or following the trail. In winter, if you're lucky enough to hike just after a snow, even the tracks of small mammals such as mice can be clearly seen.
National parks and monuments like Bandelier are places where native plants and animals are protected by law. This is one of the reasons pets are not permitted on any of the trails. Hunting is prohibited, and other regulations are often necessary. Even with Park Service protection, the ecosystem here is not complete. Several native species, including wolves, river otters, and grizzly bears were eliminated from all of New Mexico years ago. Today the balance between prey and predator has been altered. Overpopulation of some species and the introduction of exotic plants/animals are problems facing park managers.
Complete lists of mammals, birds, reptiles, and amphibians are sold at the Visitor Center, and the Rangers appreciate reports of interesting sightings.