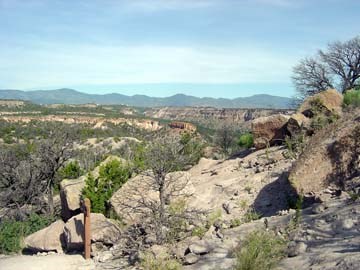 Looking west (to your left) you can see the town of Los Alamos sitting on the flanks of a volcanic mountain range known as the Jemez Mountains. A little over a million years ago this volcano erupted several times covering the surrounding area in a thick layer of volcanic ash. Once compacted, the ash formed a rock known as tuff. The thick layers of tuff created a plateau that was easily cut by streams, leaving the flat mesas and steep-walled canyons you see.
The volcanic tuff provided stone blocks for the construction of homes. The tuff was soft and small rooms (known as cavates) could be carved out using harder stone tools.
This trail crosses that same soft volcanic tuff. Generations of Ancestral Pueblo people carved routes across this landscape. Walking barefoot or in sandals along these routes from their mesa-top homes to the fields and springs in the canyons below wore even deeper impressions into the soft stone. Present-day visitors with hard-soled shoes cut the trails even deeper. Erosion adjacent to these early trails became a major problem as people avoided walking in the waist-deep trenches. A project in the late 1990's used fill material to repair the badly worn trail. Please minimize your impact by staying on the trail.
In the 1940's the United States government needed a site for top-secret scientific research. The Pajarito Plateau with its deep-cut canyons was difficult to access and easy to secure making a perfect place for a government installation during World War II.