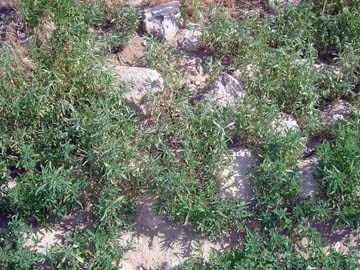 Tsankawi (saikewikwaje onwikege) means "village between two canyons at the clump of sharp, round cacti". Tsankawi is a Tewa word. Tewa is the traditional language of San Ildefonso Pueblo.
The village of Tsankawi contains about 275 ground-floor rooms (look at the Tsankawi pueblo map on this trail guide). Like Tyuonyi in Frijoles Canyon, the structures here were one to two stories high. Unlike Tyuonyi, there has been minimal excavation in this village. After the Ancestral Pueblo people moved from here the elements took their toll on the stone masonry of the pueblo. With passing time, roofs caved in and winds covered the walls with dirt. Plants, such as four-wing saltbush and snakeweed, which prefer disturbed soil, followed further obscuring the pueblo. The layers of soil, roots, and rock actually protect the buried site.
Although excavation was a technique commonly used by early archeologists, it is not used at Tsankawi and the rest of Bandelier today. Of the Bandelier's almost 3000 recorded archeological sites, very few have been excavated. Consultation with San Ildefonso Pueblo has revealed that they prefer that the homes and belongings of their ancestors remain untouched. Using new archeological technology a variety of information can be gathered from an archeological site without ever uncovering it.