Main Loop Trail Stop 8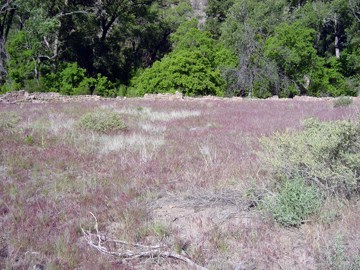 The stone walls surrounding the plaza of Tyuonyi would have been smooth- plastered with mud. The ends of rough-hewn logs or vigas used to support ceilings would be visible, marking first and second stories. Ladders leaning against structures provided access to roof-top doorways. Small canopies protruded randomly, providing shelter from the sun. Three kivas can be seen on the northeast side of the plaza. One has been excavated and stabilized while the other two have not. Smaller than the Big Kiva you saw earlier, these kivas are the more common size found in the Southwest.
Tree-ring dating shows the construction of Tyuonyi began more than six hundred years ago; the caves were occupied at the same time. The choice to live in the caves or on the canyon bottom may have been based on family, clan custom, or maybe simply preference.
Wind, rain, and snow take their daily toll on the walls of Tyuonyi. On-going consultation between the National Park Service and local pueblos assure archeological sites are treated with respect and common sense. Unlike Tyuonyi, most sites are left unexcavated. The pueblos prefer not to disturb the homes of their ancestors. Exposure of the site to the elements also accelerates the erosion of the structures, requiring stabilization work. The National Park Service has preservation crews that document and repair Tyuonyi and other high visibility structures in various parts of the park.
Last updated: February 24, 2015