Main Loop Trail Stop 9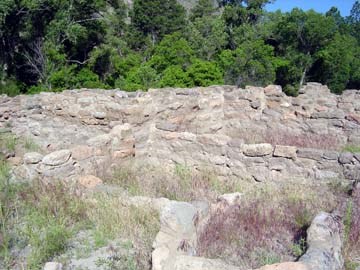 Compared with our homes, the rooms of Tyuonyi seem quite small. Most of the ground floor rooms would have been used for food storage. It was always important to store several years of harvest, enough to see the village through times of drought or crop failure. Other rooms may have served to shelter turkeys. Turkeys were raised mostly for their feathers, which could be twisted with yucca fiber and woven into blankets, socks, and other warm clothing. Imagine yourself on a cold winter's night snuggled under a warm blanket of turkey feathers. On a truly cold night the family's pet dog might even be tempted to join you. Dogs lived side by side with their human companions, much as they do today.
Notice that the cave dwellings are located along the south-facing canyon wall. In the winter, that side gets the afternoon sun and is much warmer than the north-facing wall.
Last updated: February 24, 2015