Main Loop Trail Stop 14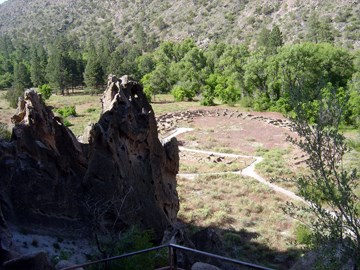 Life expectancy was about 35 years for Ancestral Pueblo people. Standing approximately five feet tall for the average woman and five feet six for the average man, hard work and the hardships of life took their toll. Arthritis and bad teeth were common ailments. Childbirth was a dangerous process, taking many women's lives. Likewise, many children did not survive to adulthood.
The earliest evidence of a collection of dense settlements within Frijoles Canyon appears during the mid-1200s. However, it is not until the mid-1300s that large-scale construction of villages like Tyuonyi takes place. During this time we see a shift in the population from the mesa tops to the canyon bottoms, which provided an increasingly desirable environment for agriculture, with renewed nutrient-bearing floods and reliable water availability. Between 1325 and1440 population in the canyon climbed from 200 to 550 people. By the early 1400s 40 percent of Bandelier's population was located within Frijoles Canyon, exceeding the density of the mesa tops by three times. Based on the number of habitation sites in Frijoles Canyon, maximum population reached an all time high of over 700 people in the late 1400s.
When you look at Talus House and the number of cavates it is easy to imagine a whole row of houses lining the canyon walls looking down on a cleared canyon floor. The voices of people coming and going from Tyuonyi and the hum of the bustle of daily life filled the densely populated canyon.
Last updated: February 24, 2015