Main Loop Trail Stop 13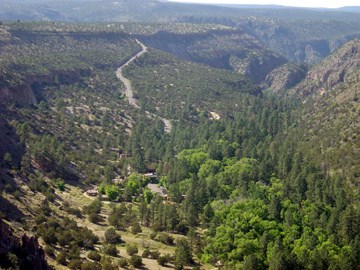 From this location you get an excellent overview of Frijoles Canyon. Look back toward the village of Tyuonyi. To your left, down canyon, Frijoles Creek drops over two waterfalls and joins the Rio Grande. In that direction the canyon narrows, making the construction of housing less than ideal. Homes can be found along this northwest wall from here to just beyond the current Park Service housing. To your right, up the canyon, Frijoles Creek originates in snow-fed springs. In that direction the south-facing canyon walls accommodated housing to an area just beyond Alcove House about ¾ of a mile away.
Turn back to the cliff face and you will find a small alcove with a soot-blackened ceiling and the remnants of rock drawings. Size and decoration suggest this structure was probably a kiva. Look closely and you will see a black zigzag design that may represent the feathered serpent known as Awanyu (uh-WAHN-you). Awanyu's association with water made it an important figure in this arid land.
Last updated: February 24, 2015