Main Loop Trail Stop 12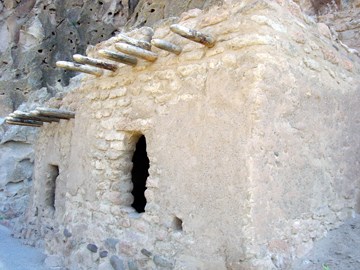 This house was reconstructed in 1920 to give visitors an idea of how some cliff homes may have looked. New archeological information suggests this reconstruction may not be completely accurate. Entry to this dwelling, as in Tyuonyi, was probably through a doorway in the roof, not in the front of the structure.
Rows of viga holes indicate the level of the roofs of the structures built in front of the cavates. These small dwellings would have had mud-plastered walls and floors that needed constant maintenance.
Last updated: February 24, 2015