Bandelier National Monument Announces Annual Pass Photo and Art Contest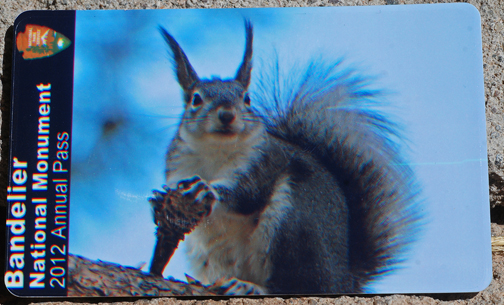 News Release Date:
March 21, 2012
Contact: Jason Lott, Superintendent, 505-672-3861, ext 502
Los Alamos, NM -- Superintendent Jason Lott invites photographers and artists to enter the 2013 Bandelier Annual Pass Photo and Art Contest. Digital images may be submitted today through April 4, 2012. "If Bandelier has inspired your creative side, here's your chance to show off your photography or artwork on the 2013 Annual Pass. The winner and two runners-up will receive free entry to all the National Parks for one year," said Superintendent Lott. The winner will also receive a personal family tour of the park and copy of the award-winning film Sky Island, narrated by Meryl Streep and N. Scott Momaday.Runners-up will also receive a copy of the film.
Photos or artwork must be submitted to us by 5pm, Wednesday, April 4, 2012. Images must be 300DPI and 3MB or less, in .jpeg, .tiff, or bitmap format.The artist's name and contact information must be included in the body of the email or in a separate digital document.Digital images may also be submitted on a CD which can be dropped off at the Entrance Station or Visitor Center, or mailed to Chief Ranger, Bandelier National Monument, 15 Entrance Road, Los Alamos, NM87544. For questions about entries, please call 505-672-3861, ext 401.
Unveiling of the winning entries will take place at Fuller Lodge at 6:30 pm on April 27.A PowerPoint presentation showing all the entries will be displayed and the top three entrants will be recognized.
Every year, Bandelier sells hundreds of the monument annual passes. The 2012 passes may be purchased at the Entrance Station on Highway 4. America the Beautiful Annual Passes, which are valid at all National Parks and Monuments may also be purchased at the Bandelier Entrance Station. Proceeds from the passes help fund special projects and programs at Bandelier.
For information about visiting Bandelier National Monument, please go to nps.gov/BAND on the web, or friend or follow BandelierNPS on Facebook or Twitter. The Visitor Center is open from 9 a.m. to 5:30 p.m. seven days per week. The Monument is open from dawn to dusk.
Last updated: February 24, 2015