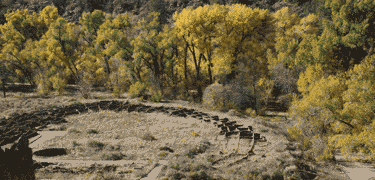 2017 Commercial Use Authorization (CUA) Information
Unclear if you need a Commercial Use Authorization? Basically: If you accept any payment to bring visitors into Bandelier National Monument, you are commercial, whether you are non-profit or for profit.

Commercial use as defined by the NPS:
Commercial services include any or all goods, activities, services, agreements or anything offered to park visitors and/or the general public for recreational purposes which use park resources, (and) is undertaken for or results in compensation, monitory gain, benefit or profit to an individual, organization, or corporation, whether or not such entity is organized for purposes recognized as non-profit under local, state or federal laws.
Guided Services CUA's
- In an effort to standardize the CUA permitting process across the country at all National Park Service units, there is a new CUA application. See link below. Please expect more changes in the coming years as the standardization process continues.
-This year, like last year, there is an administrative fee ($50) for all guided services CUA's. This is required by law, and Bandelier has made every effort to minimize this fee. There is no application fee for road based/transportation only CUA permits.
- Entrance Fees for Commercial Operators providing guided services are based on an entry fee of $10 per person, with all Inter-agency passes (Senior, Access, Military, etc.) accepted. This applies to visitors, not to tour operators owning passes. Details for this entrance fee will be provided with your 2017 CUA application.
- All tour guides that are sub-contracted by a CUA permit holder must be named specifically on the permit holder's general liability insurance certificate and be on file at Bandelier.
- CUA permit holders are responsible for making sure that their company tour guides and subcontracted tour guides carry a copy of the permit with them when visiting Bandelier and are knowledgeable of and understand the conditions associated with the permit.
- When contracting transportation services, the transportation company must also supply a copy of their vehicle liability insurance certificate to Bandelier. All insurance liability certificates must list National Park Service, as an additional insured.
Transportation CUA's
If your company is providing transportation services ONLY to and from the park (i.e., you do not offer guided services to your clients) there is another permitting option for you, it is called a Transportation CUA. A CUA permit is still required (Application downloadable below). The commercial entrance fee charged is in accordance with the standard, flat rate, National Park Service road based tour commercial fee schedule.
The road based Commercial Fee Schedule for Bandelier NM (based on vehicle capacity) is:
o Sedan (1-5 passengers) $25
o Van (1-15 passengers) $50
o Mini-bus (16-25 passengers) $60
o Motor coach (26+ passengers) $150

More information