Nature & Science
Located in southwestern South Dakota, Badlands National Park consists of 244,000 acres of sharply eroded buttes, pinnacles and spires surrounded by a mixed-grass prairie ecosystem. The mixed grass prairie is a transitional zone between the tall-grass prairie to the east and the short-grass prairie to the west. Learn about the numerous plants and animals that thrive here.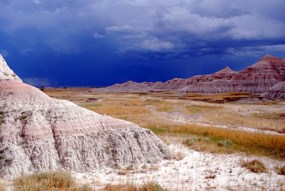 The Badlands were formed by the geologic forces of deposition and erosion. Deposition of sediments began 69 million years ago when an ancient sea stretched across what is now the Great Plains. After the sea retreated, successive land environments, including rivers and flood plains, continued to deposit sediments. Although the major period of deposition ended 28 million years ago, significant erosion of the Badlands did not begin until a mere half a million years ago. Erosion continues to carve the Badlands buttes today. Eventually, the Badlands will completely erode away.
One of the most complete fossil accumulations in North America is found within the park. The rocks and fossils preserve evidence of ancient ecosystems and give scientists clues about how early mammal species lived.
Follow the links above to learn more about the fascinating scientific resources of Badlands National Park.


Last updated: April 10, 2015