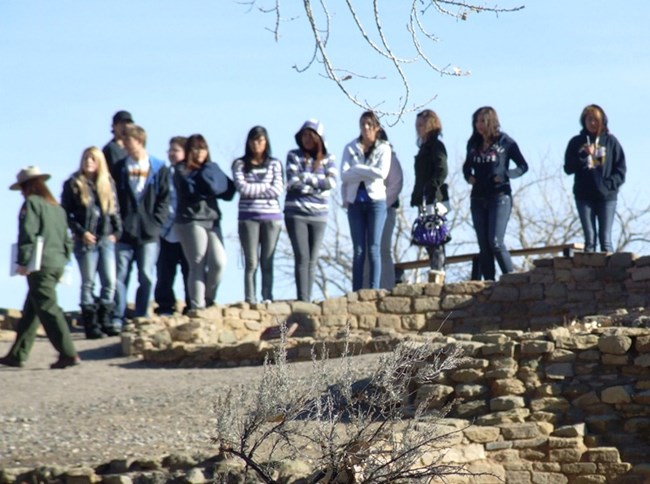 (Aztec, NM) November, 2012 - This month Aztec Ruins National Monument kicked off the service-learning component of its National Park Foundation grant with Kirtland Central High School and Miller Middle School. In the spring of 2012, the National Park Foundation, the official charity of America's national parks, announced that Aztec Ruins was among the national parks to be awarded grants as part of the 2012 Park Stewards program. Since 2009, the National Park Foundation's Park Stewards program has made it possible for high school teachers and their students across the country to build a deeper connection and sense of stewardship for their national parks through personal engagement and service learning projects. This year, University of Phoenix has partnered with the National Park Foundation making it possible for 22 high school teachers to work in parks over the summer break, creating curriculum that will then be taught to their students in the coming school year. During the summer, the teachers and park staff developed service-learning projects that will be implemented by high school students throughout the course of the school year. The projects tie to state academic standards and are meaningful to the national parks.
On Wednesday, November 14, Kirtland Central High School and Miller Middle School brought a total of 140 students into Aztec Ruins National Monument to officially begin a year of service learning with the National Park Service. In addition to taking several field trips into the park, the students will work on a park yearbook and demonstration garden field guide back at school. The program helps meet Call to Action goals meant to advance the National Park Service educational mission for the agency's centennial in 2016, including "Live and Learn" and "Ticket to Ride."
Teacher-Ranger-Teacher Sonnin Dahl worked in the Monument all summer, giving tours and talks, assisting with Junior Ranger camps, and working with park staff to plan the service learning component of her classes. Dahl transferred from Kirtland Central to Miller Middle School in Durango early in the school year, which gave Aztec Ruins the opportunity to work with both schools.
Students enrolled in the yearbook class at Kirtland Central High School worked with Lisa Lucero, their new teacher, to create a 2012 park yearbook for Aztec Ruins volunteers and staff. The project gave them practice in design and publishing software before tackling their own high school yearbook. The final product was outstanding; it was presented to volunteers at the annual appreciation dinner. The students reported that they learned a lot about the "inner workings" of a national park by creating pages for each of the Monument's divisions and activities. Most of the students had never visited Aztec Ruins before, which made the November field trip an extra special experience. "The highlights were touring the site with a ranger, playing Pueblo games, learning about traditional agriculture at the demonstration garden, and receiving a volunteer pin," said Lucero. "The students really enjoyed themselves."
The eighth graders from Miller Middle School will put together a field guide for the park's new demonstration garden. This field guide will include a description, a picture or drawing, and traditional uses of each plant. Some of the students will work on cultivated crops while others will research the wild plants that were also used by the ancestral Pueblo people. At the end of the school year, each student will receive a copy of the field guide, and many more will be printed to distribute to park visitors.
Two more field trips are planned for this school year. Students will build on their first experience by touring East Ruin, an unexcavated site normally off-limits to the public, and helping to plant the demonstration garden in the spring. In between field trips, they kids will work on their field guide and stay in touch with the park via Facebook.
"Our national parks provide an ideal physical backdrop for students to learn relevant information about the world around them," said Neil Mulholland, President and CEO of the National Park Foundation. "Simultaneously, this innovative program imparts the importance of these extraordinary places on our young people, planting the seeds of lifelong engagement with their parks."
"Connecting high school teachers and students to our national parks is a vibrant way to inspire the environmental stewards of tomorrow," said Seth Mones, VP of Sustainability for Apollo Group (the parent company of University of Phoenix). "The Park Stewards program provides a wonderful environmental and educational experience, and University of Phoenix is excited to support this excellent program."
In addition to Aztec Ruins, the 2012 Park Stewards grantees include:
Apostle Islands National Lakeshore, Wisconsin
Assateague Island National Seashore, Maryland
Badlands National Park, South Dakota
Capulin Volcano National Monument, New Mexico
Catoctin Mountain Park, Maryland
Channel Islands National Park, California
Cuyahoga Valley National Park, Ohio
Glen Canyon National Recreation Area, Arizona
Golden Gate National Recreation Area, California
Great Smoky Mountains National Park, Tennessee
Hopewell Culture National Historical Park, Ohio
Indiana Dunes National Lakeshore, Indiana
Little Rock Central High School National Historic Site, Arkansas
Marsh-Billings-Rockefeller National Historical Park, Vermont
Montezuma Castle National Monument, Arizona
Natchez Trace Parkway, Mississippi
Palo Alto Battlefield National Historic Site, Texas
Saguaro National Park, Arizona
Timpanogos Cave National Monument, Utah
For more information about the participating parks, please visit the National Park Foundation website.
For more information on the National Park Foundation or how you can support and protect America's national parks, please visit www.nationalparks.org.