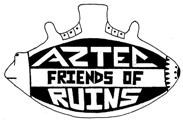 Let's Be Friends!
Aztec Ruins is grateful to many partners who help to protect the monument and share its spectacular resources.
The Friends of Aztec Ruins is a non-profit organization that works in partnership with Aztec Ruins National Monument to raise funds for special projects and educational programs. By becoming a member of Friends of Aztec Ruins, you help:
Support educational programs.
Fund facility improvements, such as construction of a Heritage Garden and campground.
Improve trails.
Members receive free entrance to Aztec Ruins. Membership options are listed below. To become a member, send your name, address, phone number, and email address along with membership dues to:
Friends of Aztec Ruins
725 Ruins Road
Aztec, NM 87410

Contact 505-334-6174 x222 with questions.