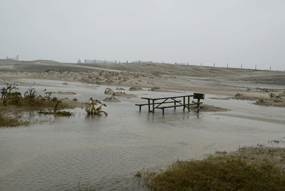 (Berlin, Maryland) – Superintendent Trish Kicklighter announced that Assateague Island National Seashore is open for visitation.
Storm photos....
The Chincoteague National Wildlife Refuge in Virginia is open. Both the Herbert H. Bateman Center and the Toms Cove Visitor Center are open. The beach is open for walking but there is limited parking along Beach road. The OSV zone is open to just north of the fish factory ruins. Call 757-336-6122 or visit www.fws.gov/northeast/chinco for further information.
The National Park Service and the U.S. Fish and Wildlife Service are coordinating repair efforts to roads, trails, parking and facilities. "We regret any inconvenience and we absolutely understand the desire to experience a barrier island after a storm. We ask for understanding and patience as we work to re-open areas as quickly as possible." stated Superintendent Kicklighter.