Backcountry Camping
Status of Backcountry sites as of July 9, 2023:
Tingles: Open
Little Levels: Open
Pine Tree: Open
Green Run: Open
Pope Bay: Open
State Line: Open
Assateague Island National Seashore has two oceanside and four bayside camping areas for visitors who wish to backpack or paddle the island. All backcountry campsites are located in Maryland; no camping is permitted in the Virginia district. The distance traveled to backcountry sites from the Ranger Station in Maryland range from 2 1/2 to 13 miles. If traveling from the Toms Cove Visitor Center in Virginia the nearest campsites are State Line and Pope Bay, each at 12 1/2 miles. Pets are prohibited in backcountry campsites.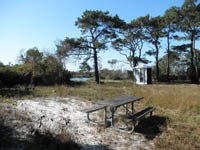 Backcountry Campsite Descriptions
No freshwater is available at any backcountry site. It must be carried in by campers along with their other camping supplies. One gallon per person per day is the recommended minimum.
Be prepared for biting insects and sun exposure.

Dial 9-1-1 in an Emergency


Cell phone service may be unavailable in the backcountry. An emergency 9-1-1 Only phone is located on the east side of the Ranger Station adjacent to Bayberry Drive.

Oceanside campsites:
(Little Levels and State Line)
are designated by boundary posts
located in the open inner-dunes
general camping area accommodates up to 25 people
a picnic table and a chemical toilet are provided
are located adjacent to the Over Sand Vehicle zone (OSV zone). While OSV users are not permitted to camp in the backcountry sites, hikers can expect to encounter OSV users on the beach, north of the MD/VA state line.
Bayside sites:
(Tingles Island, Pine Tree, Green Run and Pope Bay)
located in forested areas (except Pope Bay, where shade is limited)
some camping areas accommodate up to 25 people
a picnic table, a fire ring and a chemical toilet are provided
Backcountry Regulations
Permit is valid only for the trip leader, designated camping area, dates and number of people specified on the permit. Itineraries may not be changed after departing. No exceptions.

Backcountry camping permit holder must have the permit in possession while hiking to the site. All trip participants are responsible for knowing and obeying permit conditions.

Backcountry permit must be visible when camp is set up. Attach permit to the outside of permit holder's tent.

Pets are prohibited in backcountry camping areas.

Permit will not be issued until all parties are present.

Appropriate equipment for backcountry conditions is recommended, including drinking water, raingear and insect repellent.

Backpackers' vehicles park at North Beach; paddlers park at Old Ferry Landing or Bayside Picnic Area. In Virginia, Toms Cove Visitor Center staff will provide parking information. Vehicles must display parking tag obtained with permit.

Transportation of campers or any of their equipment by motorized boat or vehicle (including vehicles with Over-Sand Vehicle permits) is strictly prohibited.

Camp within 50 feet of fire rings at all Bayside sites. Do not move fire rings or picnic tables.

Camping is only allowed within the posted boundaries at oceanside sites. No camping on the beach or dunes. Do not move picnic tables.

Bayside fires permitted only in campsite fire rings; oceanside fires must be on the beach below the high tide line.

Only dead wood on the ground may be collected for firewood. Driftwood is scarce. Burning trash is prohibited.

Do not leave fires unattended. All fires must be completely extinguished with water. Do not cover them with sand.

Petting, feeding or approaching any wildlife, including horses, is prohibited.

Pack out all trash. Do not burn, bury or throw trash into toilets.

Glass bottles and containers are prohibited in backcountry campsites.

Entering or approaching any backcountry buildings or closed areas is prohibited.

Hunting camps are not permitted.
Obtaining a Backcountry Permit
Backcountry camping without a permit is prohibited. A 7-day backcountry permit is $10 per person (ages 16 years and older). A $25 7-day entrance fee per vehicle is also required. Fees are paid and permits may be obtained in either district of Assateague Island National Seashore: at the Ranger Station in Maryland or the Toms Cove Visitor Center in Virginia. Please note that the Toms Cove Visitor Center is closed Tuesdays through Thursdays from December through February.
Due to sudden and severe changes in weather, advance reservations are not accepted. Permits are issued on a first-come, first-served basis.
Check-In Times
Check-in times are based on the distance to the campsite from the departure points. Permits will not be issued after the times listed. Assateague sunset charts are found at the NOAA Solar Calculator website or by calling (410) 641-1441 press #1.
Please consider your level of experience and weather conditions and adjust your start time accordingly.
| | | |
| --- | --- | --- |
| Campground | Maryland Departures | Virginia Departures |
| Tingles Island | 2 hours before sunset | 8 hours before sunset |
| Little Levels | 2 hours before sunset | 8 hours before sunset |
| Pine Tree | 2 hours before sunset | 8 hours before sunset |
| Green Run | 4 hours before sunset | 6 hours before sunset |
| State Line | 4 hours before sunset | 4 hours before sunset |
| Pope Bay | 4 hours before sunset | 4 hours before sunset |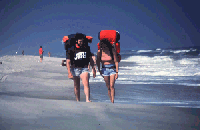 Getting There
When hiking on the beach or camping at the oceanside backcountry sites, expect to encounter up to 145 vehicles in the Maryland Over Sand Vehicle (OSV) zone, especially during the summer months. Transportation of campers and/or equipment by vehicle is prohibited.
Please check with radio, television, and the internet for up-to-date information on local weather patterns. Paddlers should obtain information from the National Weather Service regarding small craft advisories for "Coastal Waters from Fenwick Island to Chincoteague Island" or by calling (410) 641-1441 press #1.
In Maryland, canoe rentals are available on the island. Call 410-656-9453 or visit http://www.assateagueoutfitters.com/ from Memorial Day through Labor Day. In the off-season, rentals are often available in the local area. In Virginia, canoe rentals are available from several local vendors. Call the Chincoteague Chamber of Commerce at (757) 336-6161 for more information. Many outfitters will not rent canoes or kayaks during a small craft advisory.

Backcountry Camping Map
Advisories
On rare occasions the park and/or backcountry campsites will be closed due to severe weather.
During the spring and summer, oceanside sites may be closed due to bird nesting.
Bayside sites are closed during the hunting season. Please check with the Ranger Station at (410) 641-1441 press #1 for designated hunting dates.
Adverse weather conditions are common during the spring and fall. We strongly discourage paddling during small craft advisories.
Bayside campsites are known for high concentrations of biting insects anytime from April through October. Camping on the bayside during the summer months is not recommended.


Last updated: July 9, 2023