Animals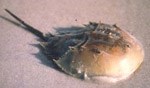 Despite the often harsh conditions that occur in a coastal environment, a wide variety of animal species have managed to find a niche on Assateague Island. Each of the island's different ecological zones provides habitat for a multitude of animals, including
birds
,
mammals
,
reptiles
, amphibians, and invertebrates. While Assateague's wild horses are perhaps the island's best-known inhabitants, other large mammals also roam the park, grazing and browsing on low-lying vegetation. These include the white-tailed deer (
Odocoileus virginianus
)and the non-native sika deer (C
ervus japonica
), a diminutive species of Asian elk introduced to Assateague during the 1920's.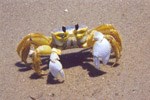 Other inhabitants are less conspicuous than the large mammals. Seven species of
frogs and toads
depend on fresh water ponds in the center of the island for breeding, and a variety of snakes, such as the black rat snake (
Elaphe obsoleta obsoleta
), can be found across the forests, dunes, and marshes preying on rodents, small birds, or toads. Numerous invertebrates such as fiddler crabs (
Uca sp.
) and mud snails (
Nassarius sp.
) play key roles in maintaining the health of the island's salt marshes. Even the seemingly barren beaches provide habitat for nocturnal ghost crabs (
Ocypode quadrata
), red fox (
Vulpes vulpes
), and raccoons (
Procyon lotor
), who scavenge the
crustaceans
, fish, and other organic matter washed in by the tides.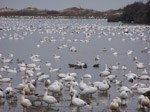 Many bird species make their home on Assateague on a seasonal basis. Shorebirds by the tens of thousands depend upon the island's protected foraging and resting areas during their twice-yearly transcontinental migrations. Each fall, large flocks of waterfowl such as snow geese (
Chen caerulescens
) begin arriving at Assateague where they will spend the winter traveling between the sheltered bay and salt marshes and fallow farm fields on the mainland.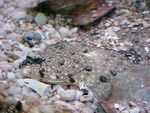 Finally, the coastal waters that surround Assateague Island teem with animal life. The sheltered, nutrient rich waters of the estuary formed by the island provide ideal breeding and spawning habitat for many aquatic species, some of which, like the blue crab (Callinectes sapidus ), are commercially important to the local area. Each spring a variety of fish, including spot (Leiostomus xanthrurus), Atlantic menhaden (Brevoortia tyrannus) and summer flounder (Paralichthys dentatus) migrate into the estuary to breed. Later, the juvenile fish provide an abundant food source for birds, marine mammals, and larger fish.


Last updated: June 9, 2021