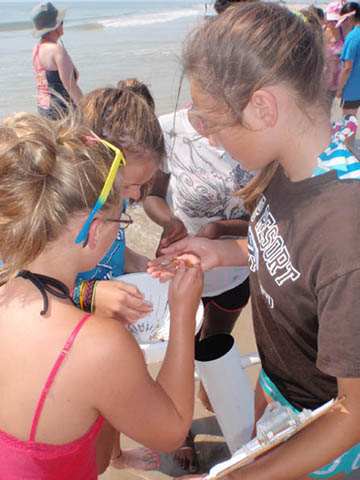 Planning a successful field trip takes good communication, time and preparation. Most of our programs are designed to be ranger led and our capacity is limited by staffing levels. We offer field trips from early September through November and from late March through May. May is our busiest month and rapidly fills up.
Our early elementary programs take place in our visitor center while the majority of the remaining programs occur in the field. Many of these field studies take place in or near water and require proper student preparation. To get the most out of the programs, students participating in bay programs and some of the beach programs should bring a change of clothing, towel and shoes that can get wet. Bay wading requires footwear other than flip flops.
The program descriptions document provides a brief overview of the activities for each grade level. Updated lesson plans for each of these activities will be added to this web site as they are completed. If you have questions about the details of the programs, please contact the park Education Office at 410-629-6077 or email the questions to our office.
To register for a Maryland district ranger-led field trip, please complete the registration form and fee waiver application then return the completed form to the park education office..