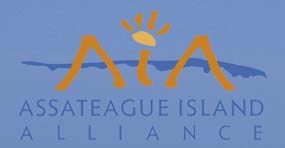 Assateague Island Alliance
Recognized as Assateague Island National Seashore's Preeminent New Partner
In the fall of 2007 a group of interested individuals met with staff from Assateague Island National Seashore to create the first and only friends group dedicated solely to the purpose of supporting the preservation, education, stewardship, and recreational opportunities of the National Seashore.
Many national parks have friends groups of this type to assist them in carrying out their mission. The Assateague Island Alliance will conduct fundraising activities, write grants, sponsor events, and create sales items for the internet and an island store. They will assist with educational programming and publications. Profits from these activities will go to the development of educational exhibits and publications, restoration and preservation of historic structures, natural resource monitoring programs and projects, capital improvements and to enhance recreational opportunities.
Members of the Alliance will enjoy opportunities to help shape Assateague's future. Joined by other committed individuals who appreciate the island and its celebrated wild horses, members will play a significant role in protecting the National Seashore for generations through their donations, volunteerism, and advocacy.
If you would like to become a member or learn more about the Assateague Island Alliance visit their website at www.assateagueislandalliance.org or email info@assateagueislandalliance.org.