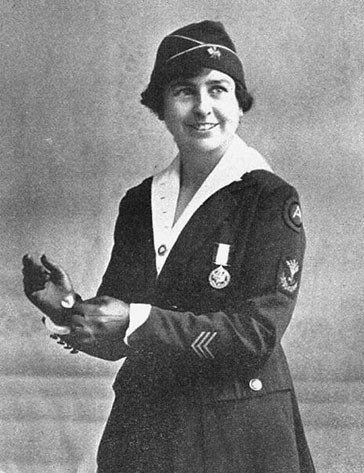 Five million men were mobilized for service in the Great War.


Over nine million women mobilized themselves.
Introduction
Here in the centenary of the First World War the contributions made by American women are largely overlooked, when the reality is that women played a crucial and defining role in America's victory. Without the efforts of women, tens of thousands of men, needed at the front, would have been tied to jobs in agriculture, industry, and homefront military, and not available for wartime service, and the success of America's military effort may have been in the balance.
1917 was a watershed year for America. Militarily and economically America was cementing its position as a world power, American industry was prospering in the run-up to the war, and American agriculture was shipping vast amounts of food to our allies in Europe.
Also in 1917 the woman's suffrage movement was on the verge of a breakthrough in attaining the right of full citizenship, through the vote, of twenty million American Women. Though by no means assured, enfranchisement of women seemed nearer than ever before.
The two primary powers in the suffrage movement were taking very different and distinct approaches to attaining the vote; the National American Woman Suffrage Association (NAWSA), led by Carrie Chapman Catt through whole-hearted support behind the war effort, seeing full participation by women as a patriotic demonstration of citizenship which may tip the balance toward women's Suffrage. Alice Paul, founder of the National Woman's Party (NWP), was less concerned with the war effort, her primary focus was suffrage and suffrage alone; If patriotic participation would lead to suffrage, she'd support it, if not, so be it. Her focus, and her priority was getting women the vote by any means necessary including picketing the White House – which was seen by many as treasonous – leading to the imprisonment of 168 NWP members.
With America's entry into the fight wartime production reached a fever pitch, hundreds of new warships were being built and outfitted, Factories were converting to war work with the manufacture of airplanes, tanks, rifles and machine guns, uniforms, and all other military hardware with which to equip the exponentially expanding armed forces. American agriculture was also in full production, now with a vast Army and Navy to feed. The treat looming over all of this ramped-up and crucial production however was the loss of manpower as men were leaving the factories, farms, and offices for military service.
Then came America's women, answering the nation's call.