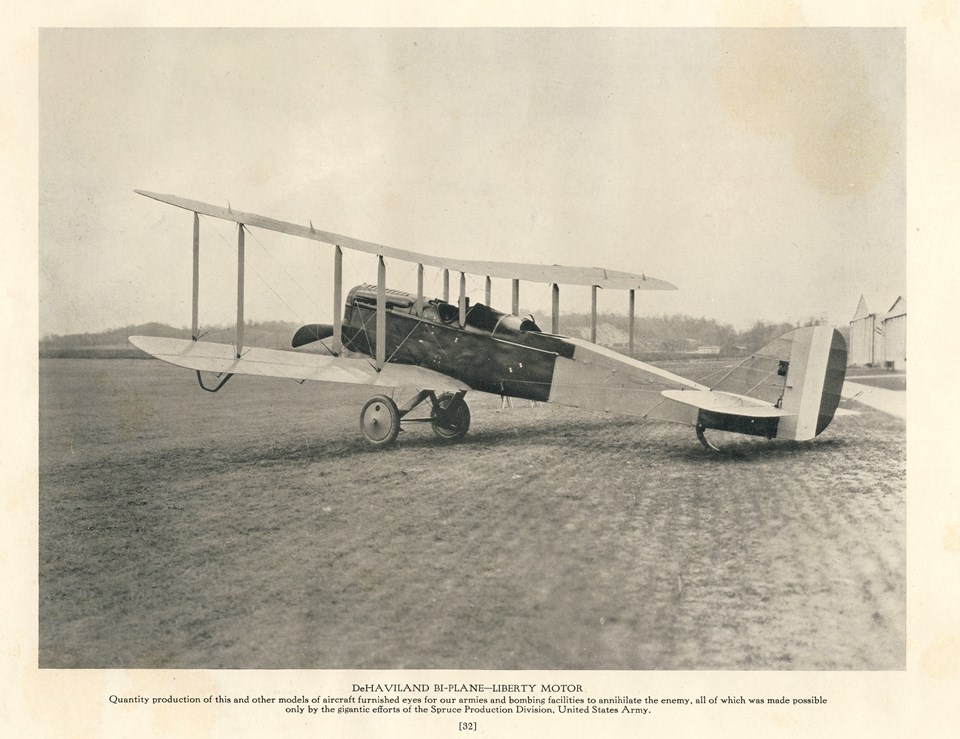 The DH-4 Liberty has the unique distinction of being the only American-built airplane to be flown into combat in World War I by American crews. This bomber, designed by famed British aviation engineer Geoffrey DeHavilland, first flew into combat with the British Royal Flying Corps in early 1917. When the United States joined the war in April of that year, an example was sent to the United States to determine if it was suitable for American production.

The American Aircraft Production Board approved the design for construction in July 1917, pairing it with an American-designed V-12 "Liberty" engine. Because of this, American DH-4 planes were known as "Liberty planes." Thanks to an incredibly fast production schedule, the first Liberty plane rolled out of an American factory on October 29, 1917.

The DH-4 biplane was a wood frame covered with fabric. Spruce was preferred for manufacturing airplanes because it was both strong and light. The need for dependable supplies of spruce drove the formation of the U.S. Army's Spruce Production Division, headquartered at Vancouver Barracks at today's Fort Vancouver National Historic Site. The nearly 30,000 soldiers of this division operated lumber camps, railroads, and three large mills (the largest of which was at Vancouver Barracks), to specifically cut Sitka spruce for aircraft production in the U.S., as well as in Great Britain, France, and Italy.

After training crews flew them in the United States, the first DH-4 Liberty planes were delivered to France on May 11, 1918. The aircraft served with distinction in the fall of 1918 during the Meuse-Argonne campaign, conducting both strategic and tactical bombing raids on German targets. By the end of the war on November 11, 1918, a total of 1,213 Liberty planes had been delivered overseas for the war effort. Between October 1917 and the war's end, 4,846 total Liberty planes had been constructed in the United States - an incredible figure in just over a year's time. After the Armistice, they became the basis of the Army Air Service's fleet of combat-ready aircraft.

The historic link between the DH-4 and Vancouver Barracks continued after the war. In 1921, the 321st Observation Squadron was formed at the post, and these pilots used DH-4 Liberty planes until 1931. On permanent exhibit at the national park's Pearson Air Museum is one of only 12 surviving American-built DH-4 Liberty planes, painted to resemble one of the 321st Observation Squadron's aircraft as it appeared around 1925.