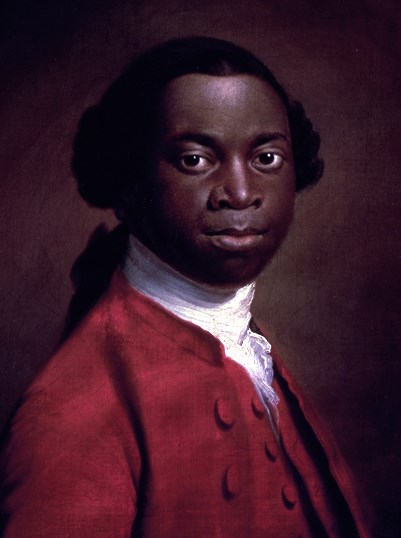 OLAUDAH EQUIANO
"The first object which saluted my eyes when I arrived on the coast was the sea, and a slave ship, which was then riding at anchor, and waiting for its cargo.These filled me with astonishment, which was soon converted into terror, which I am yet at a loss to describe, nor the feelings of my mind. When I was carried on board I was immediately handled, and tossed up, to see if I were sound, by some of the crew, and I was now persuaded that I had got into a world of bad spirits, and that they were going to kill me…When I looked round the ship too, and saw a … a multitude of black people of every description chained together, everyone of their countenances expressing dejection and sorrow, I no longer doubted of my fate, and, quite overpowered with horror and anguish, I fell motionless on the deck and fainted."
"The closeness of the place, and the heat of the climate, added to number in the ship, which was so crowded that each had scarcely room to turn himself, almost suffocated us. This produced copious perspirations, so that the air soon became unfit for respiration, from a variety of loathsome smells, and brought on a sickness among the slaves, of which many died, thus falling victims to the improvident avarice, as I may call it, of their purchasers. This wretched situation was again aggravated by the galling of the chains, now become insupportable; and the filth of the necessary tubs, into which the children often fell, and were almost suffocated. The shrieks of the women, and the groans of the dying, rendered the whole a scene of horror almost inconceivable."
Above excerpts from The Interesting Narrative of the Life of Olaudah Equiano or Gustavus Vassa, The African, Written By Himself.
ALEXANDER FALCONBRIDGE
Dr. Alexander Falconbridge served as surgeon aboard a number of slave ships in the late 1700s. He later became active in anti-slavery work. The following is excerpted from his book, An Account of the Slave Trade on the Coast of Africa.
"...The hardships and inconveniences suffered by the Negroes during the passage are scarcely to be enumerated or conceived….But the exclusion of fresh air is among the most intolerable… the Negroes' rooms soon grow intolerable hot. The confined air, rendered noxious by the effluvia exhaled from their bodies and being repeatedly breathed, soon produces fevers and fluxes which generally carries off great numbers of them…
During the voyages I made, I was frequently witness to the fatal effects of this exclusion of fresh air… The deck, that is the floor of their rooms, was so covered with the blood and mucus which had proceeded from them in consequence of the flux, that it resembled a slaughter-house. It is not in the power of the human imagination to picture a situation more dreadful or disgusting…"