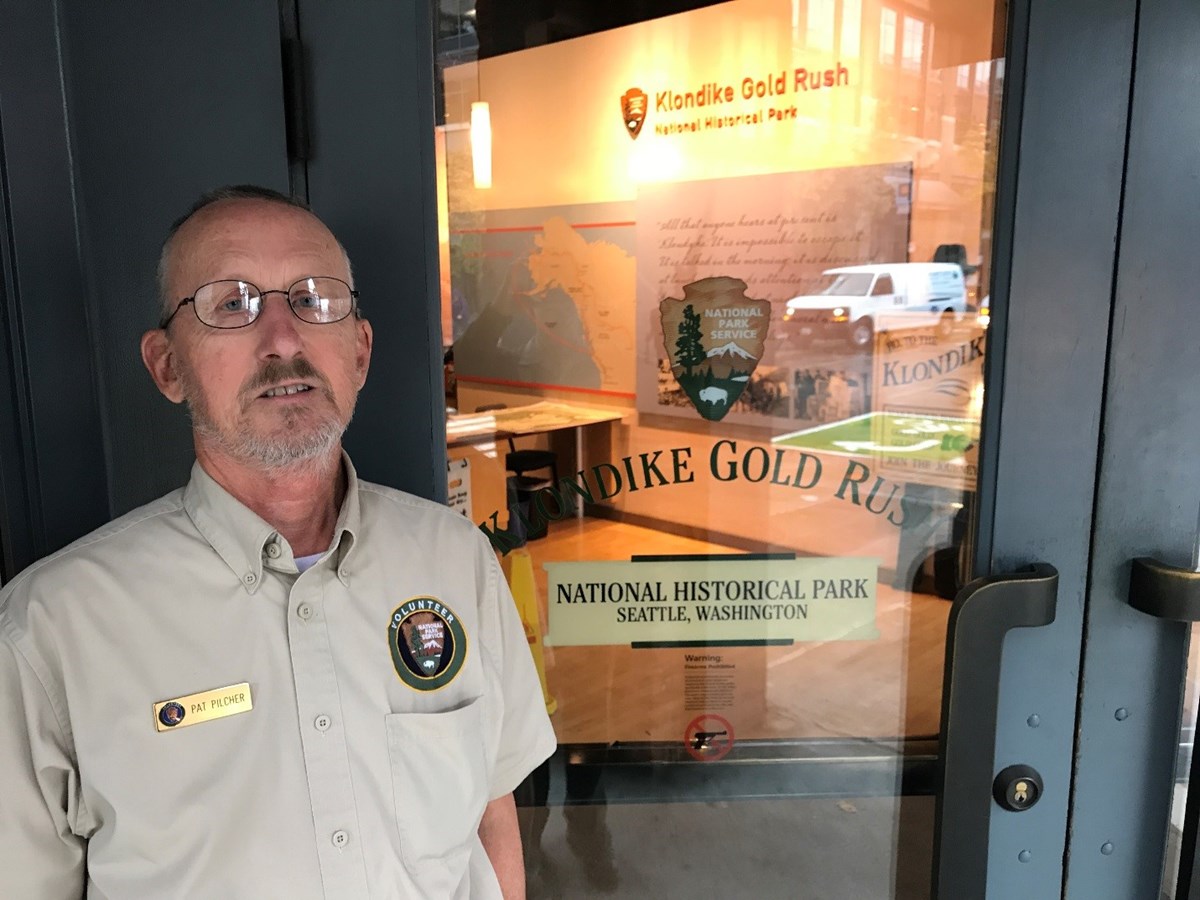 About Pat:
Petty Officer Second Class, Patrick Pilcher was drafted by the Navy to serve during the Vietnam War as a Gunner's Mate and was stationed in San Diego, California. After four years of service, he went on to transfer his skills of discipline, self-control, and initiative to preserving our public lands. Pat continued his service as a ranger for the United States Forest Service and the National Park Service for a combined 20 years. Since retirement, Pat has again returned to public service and has been a dedicated volunteer at
Klondike Gold Rush National Historical Park – Seattle Unit
since summer 2016.
In his own words:
"My military experience began three months after I graduated from high school. It was early in the Vietnam War and I was among the first draftees required to serve.
I was stationed aboard the aircraft carrier
USS Constellation
homeported in San Diego. The ship made three deployments to Vietnam where we conducted bombing raids all across what was then North Vietnam. My job as a missile technician was to maintain and operate a guided missile launching system that protected the ship from enemy aircraft.
We were stationed just twelve miles offshore from the main port city of Haiphong. The
Constellation
and several other carriers were on continuous duty off the coast and operated in twelve hour shifts all throughout the war. The story of the navy's role in the air war is seldom mentioned in relation to the broader war narrative yet it remains an essential chapter in the complicated and still controversial history of that tragic war.
Upon completion of my service, I graduated from college and began working for the US Forest Service in Oregon. This eventually led to my working for the NPS in several seasonal appointments before securing a permanent position in interpretation at
Haleakala National Park
.
I finished my career and retired at
Joshua Tree National Park
. We then relocated to Seattle to be near our kids and grandkids. For the past year I have volunteered at the Klondike Gold Rush National Historical Park's visitor center located in the city's Pioneer Square Historic District. The park commemorates the numerous stories of people and the events that unfolded in the late 1900s in the remote Yukon Territory of Canada as well as in the embryonic city of Seattle. The gold rush spurred the national economy and thrust Seattle into the 20th century as a major American city.
My military time was both stressful and dangerous but it gave me the maturity and discipline necessary in the often demanding career of public service –a career that I enjoyed immensely.
Being retired gives me ample time with my family and volunteering at the Klondike fulfills my desire to keep connected and working in service to my country."