Uniforms for the Caribbean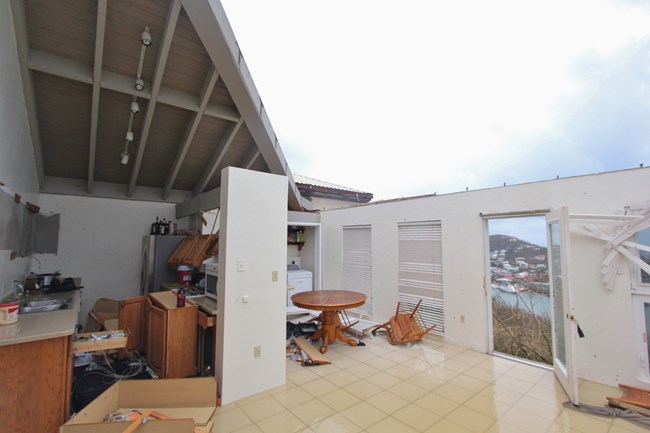 In September of 2017, Hurricane Irma, one of the strongest known hurricanes in the Atlantic, lashed the Caribbean and Florida. It was followed within days by Hurricane Maria, another devastating hurricane that also hit Puerto Rico and the US Virgin Islands, among other places. The National Park Service has several parks in these areas, including Buck Island Reef National Monument, Christiansted, Salt River Bay National Historical Park and Ecological Preserve, San Juan National Historic Site, Virgin Islands Coral Reef National Monument, and Virgin Islands National Park. The result of these two storms was extensive damage to buildings, infrastructure, and landscapes, as well as many injuries and deaths.
Kristine Brunsman, a program assistant with the State, Tribal, and Local Plans & Grants Division at the National Park Service's main headquarters in Washington, DC was visiting a friend at Virgin Islands National Park when Irma hit, passing directly over the park housing where they were staying.
"The door in the main room was ripped from its hinges... Trees fell all around the house, cars rocked back and forth, debris flew wildly, a window was sucked out of its frame, and the metal sheeting on the roof was ripped off….The hurricane was swirling inside the house….Over the next several terrifying hours, we moved from one part of the room to another, trying to figure out where was safest. Exhausted by late afternoon, we laid down on the cold, hard tile floor… As darkness fell, the storm began to subside. I sent one message, hoping it would make it through: "We're alive."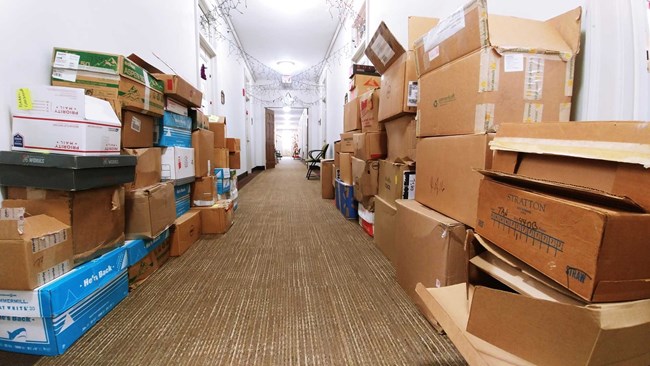 After the hurricane, NPS staff worked to find each other and clear the debris in the Virgin Islands and Puerto Rico. Damage to Park Service property was extensive, and like others on the islands, many NPS staff lost everything.
When she returned home to DC, Kristine organized a drive to collect uniform items to ship to those impacted by the hurricanes. In a few short weeks after her return, over 900 uniform items were delivered to her office from current and retired NPS employees representing over 30 parks (including Bering Land Bridge National Preserve in Alaska, the furthest park from the islands). Many of the boxes contained notes of support for their colleagues as they worked to recover from the storms.
With the help of other staff at the Washington Office, all of the uniform items were sorted by type and size, packaged up, and sent out before the Christmas holiday.
Last updated: January 17, 2018