Article
The Army's First Tank School: Camp Colt at Gettysburg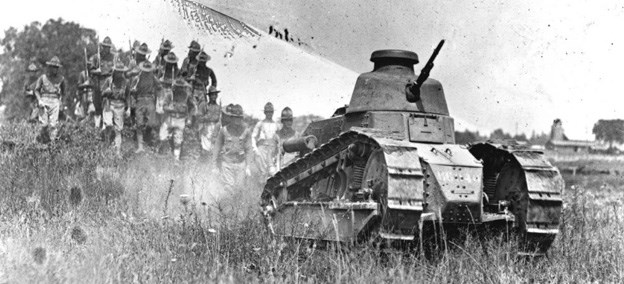 One of the first national military parks in the United States, Gettysburg was administered by the U.S War Department and had long been a training ground for National Guard units and officer training prior to America's entry into World War I. As far back as the summer of 1913 then Army Chief of Staff Major General Leonard Wood initiated camps of instruction for qualified undergraduate college students destined for Army service. Gettysburg National Military Park was selected to host the first-of-its-kind camp for students on the east coast. That summer, 159 students representing sixty three colleges and universities spent two weeks at the park studying the tactics of Lee and Meade and walking the ground still trod by a handful of Civil War veterans. That same summer was the 50th Anniversary of the Battle of Gettysburg, highlighted by the Great Reunion of Union and Confederate veterans. The hundreds of monuments and memorials on the park served not only the curious visitor with an understanding of the battle but offered soldiers a blackboard to understand tactical advantages of ground cover, defense, the importance of supporting arms, and infantry tactics.
The United States' formal entry into the war on April 6, 1917, set in motion a massive mobilization effort all across the nation. But where would America organize and train the troops necessary to fight a world war? There were simply not enough military forts and camps in the United States to house and train an Army that would grow from 200,000 to nearly 3 million by the spring of 1918. Gettysburg was one of the first national military parks to host an infantry training camp and within weeks of the declaration of war, tent cities and warehouses had appeared on park land, including a portion of the field best known as the site of "Pickett's Charge." Troop trains rolled into Gettysburg in early June and training on the historic battleground began. By the fall of 1917 four fully organized units- the 58th, 59th, 60th and 61st United States Infantry regiments were ready for assignment to newly formed infantry divisions. Though it was predicted on November 4 that it would "take better than a month to get the 12,000 or 15,000 men out of here," the last trainload of soldiers and baggage left Gettysburg two weeks later, with only a small garrison remaining to guard the camp and quartermaster stores.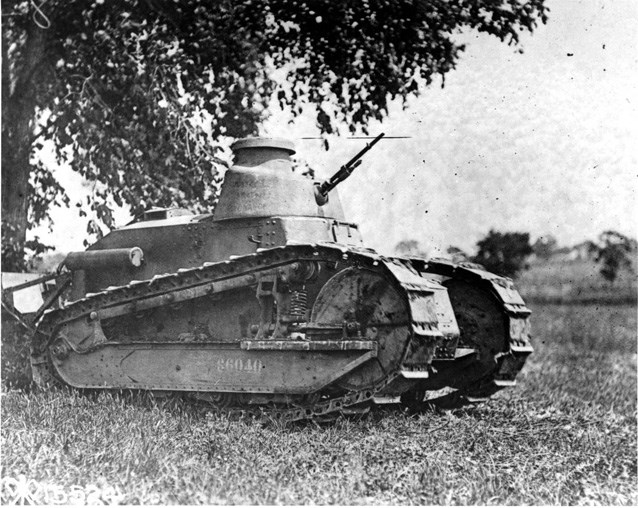 Yet the Army was not finished with Gettysburg. It was destined to become "Camp Colt," home of the newly organized Tank Corps of the United States Army, and its only Tank School in the United States. Assigned to command the fledgling tank school, Captain Dwight D. Eisenhower was a skilled administrator whose experience with this new type of weapon was invaluable to Army training. Having served at Camp Meade, Maryland, with the 301st Tank Battalion, the first heavy tank battalion in the Army, Eisenhower's attributes were considered perfect to oversee further training with the latest weapon, a lumbering iron-clad tracked vehicle that would change the nature of warfare forever. Captain Eisenhower, though, yearned to be assigned overseas duty in Europe to serve alongside his West Point classmates. Among them was Captain George S. Patton, Jr., who commanded the A.E.F.'s Light Tank School in France and would later command the 1st Light Tank Battalion in combat. Much to Eisenhower's dismay, orders sent him instead to the refurbished camp at Gettysburg to continue training tank crews.
Tanks were a technological revolution in 1916 and developing their role and usefulness in battle was a new strategy. They were so new that domestic companies had not yet begun production of an American version in 1918, so the U.S. Army relied on the British-made heavy tanks and the small French tanks referred to as the FT-17 or Renault tanks, a two man vehicle armed with a machine gun or light 37mm gun. Yet for the first three months of Camp Colt's operation, there were no tanks available and Eisenhower's men trained on a variety of car chassis made to look like tanks that were built by two innovative Brooklyn soldiers. The first of two real FT-17's arrived in June and Gettysburg turned out to watch the strange vehicle as it clanked through town raising a cloud of dust mixed with choking exhaust. Captain Eisenhower had the tank parked near Camp Colt's gate so curious residents could visit the newest military wonder. Eisenhower and his staff worked diligently to improve the army's use of tanks in coordination with infantry, ushering in a new era of warfare.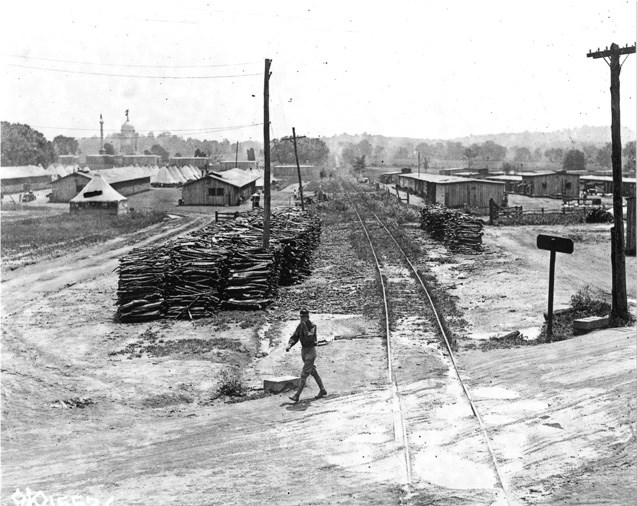 Camp Colt was a bustling installation of barracks, shops, mess halls and offices with daily routines of infantry training, tank operation, and maneuvers over the historic battlefield. Horse barns from the infantry camp were converted into barracks to house additional troops as they arrived in July and August, a foreboding of what was to come for that most revered and storied branch of the Army, the cavalry. The horse and its stalwart rider were to be replaced by a machine that moved slower than most men could walk and encased the crew in a hot and noisy iron box with limited visibility and poor ventilation. The future of warfare was not to be as glamorous as it had been prior to the start of World War I.
Unfortunately, there were accidents and some deadly. One soldier was killed and two others wounded when a machine gun malfunctioned during training in July and another was killed when he fell from a truck while returning from a social event in nearby York. Fortunately, the majority of training days only saw a handful of minor, non-fatal injuries, though nothing could have prepared the men at Camp Colt for the influenza epidemic that swept the nation in mid-September 1918. Nearly a third of Camp Colt's personnel came down with the illness, the sick housed in makeshift tent wards on the parade ground. Serious cases were taken to an isolation building at Xavier Hall in Gettysburg, where dealing with death became a daily routine. Over 150 U.S. soldiers assigned to Camp Colt died during the influenza epidemic.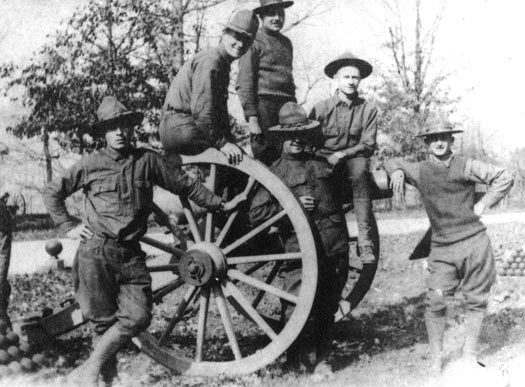 A grateful end to the weeks of sickness in November 1918 preceded the end of Camp Colt. Soldiers were selected for overseas duty and by mid-December, nearly half of the camp's personnel had been transferred. Even with the Armistice and end of fighting in Europe on November 11, there was still a need for U.S. soldiers for occupation duty and the Tank School at Gettysburg was deemed unnecessary as the Army began to reduce its active bases. Captain Eisenhower left for his new assignment at Fort Benning, Georgia, followed by the last of his soldiers soon after. Camp Colt officially closed in March 1919 and by the end of the year, the barracks, shops, offices and tents were gone with only some of the training trenches and unfilled pits remaining.
Veterans of the Tank Corps who trained at Gettysburg returned in 1954 to plant an evergreen tree at the site of Camp Colt along with a bronze tablet to commemorate the birth of the Tank Corps and honor its commander, Dwight D. Eisenhower- general, president and statesman. Though vandals tried to cut the tree down within a few months of its planting, it was saved thanks to efforts by the National Park Service and Gettysburg residents. The tree survives today, overlooking the spot where Camp Colt once thrived and trained the first tankers of the United States Army. Likewise, Eisenhower never forgot the pleasant atmosphere of the Gettysburg area and chose it as his retirement home, having purchased a farm near the battlefield park two years prior to his retirement from active duty and election as president in 1952. Eisenhower National Historic Site not only commemorates the retirement of one of the country's finest generals and presidents, it also reminds visitors of his personal tie with the battlefield park and the site of his first major command - the Tank School at Camp Colt.
Last updated: December 7, 2022