Article
Teaching with Historic Places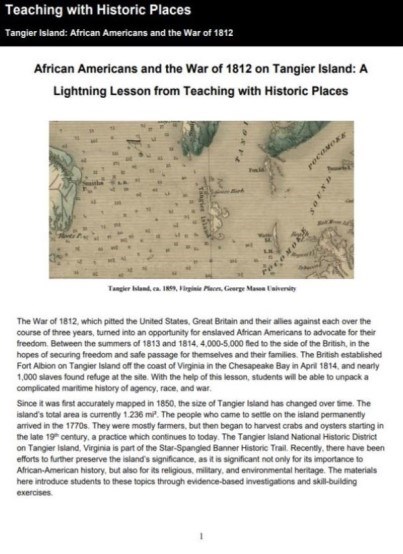 Teaching with Historic Places (TwHP) is a series of lesson plans and place-based learning resources produced by the National Park Service. Initially created in collaboration with the National Trust for Historic Preservation, TwHP grew out of a desire by both organizations to expand educational outreach. Coinciding with a widespread review of American education in the late 1980s, this interest led to consultation with a wide range of educators, resulting in the launch of the Teaching with Historic Places program in 1991.

Over the years TwHP has developed a variety of services. These include a series of lesson plans; guidance on using places to teach; information encouraging educators, historians, preservationists, site interpreters, and others to work together effectively; and professional development publications and training courses.

TwHP offers nearly two dozen lesson plans about African American history and culture, many of which focus on the African American struggle for equality during the civil rights movement. The Brown v. Board: Five Communities That Changed America lesson plan teaches students about the landmark U.S. Supreme Court case that declared segregation in public schools unconstitutional. The Selma to Montgomery Voting Rights March: Shaking the Conscience of the Nation teaches students about the historic 1965 march from Selma to Montgomery Alabama, and the fight to end the unconstitutional denial of voting rights to African Americans in the South. Lesson plans like these offer students, particularly middle and high schools students, the opportunity to broaden their understanding of the civil rights movement and the people, places, and events that shaped it.

Teaching with Historic Places is managed by the National Park Service's Cultural Resources Office of Interpretation and Education. It was chosen for inclusion in the African American Civil Rights Network in October 2019.

The African American Civil Rights Network recognizes the civil rights movement in the United States and the sacrifices made by those who fought against discrimination and segregation. Created by the African American Civil Rights Act of 2017, and coordinated by the National Park Service, the Network tells the stories of the people, places, and events of the modern U.S. civil rights movement from 1939 -1968 through a collection of public and private elements.
Article
Teaching with Historic Places
Last updated: May 4, 2021