Structural Fire Protection Internships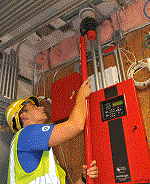 Fire protection interns help protect our nation's most treasured sites.
Interns will be asked to complete a thorough structural fire protection review of a historic structure or a building with historic collections to assess the building's actual risks from fire and provide recommendations to help alleviate the risks.
Interns may also have the opportunity to:
Develop a fire inspection program by identifying target hazard buildings.
Develop evacuation plans.
Assist with the development of inspection, testing, and maintenance (ITM) plans for fire protection systems.
Conduct training classes on portable fire extinguishers.
Establish a hydrant inspection and flow test program.
Establish a hot work permit program.
Review plans for new construction.
Additional tasks will be specific to each work site, making this a unique opportunity.
A few locations in which previous fire protection interns have worked include:
Internship Benefits and Eligibility
Eligible students have completed their second year of fire protection engineering or fire administration studies or have entered a master's program in either discipline.
Interns will have a chance to take their classroom knowledge and skills to a unique workplace with irreplaceable historic structures.
Throughout the summer, interns will have the support of a supervisor and a regional structural fire manager to review their work and provide subject matter expertise.
Additionally, interns will have access to fire protection engineers who will provide mentoring and advice.
Depending on the recruitment method used, interns may receive a salary or a stipend, be provided housing at little to no cost, receive a travel reimbursement, or be eligible for a scholarship. Details will be provided when the internship offer is made.
How Do I Apply?
Students can apply through the Student Conservation Association (SCA), an organization committed to developing the next generation of conservation leaders.

If selected through SCA, interns will receive a $200 weekly stipend, housing at no cost, and a $650 round trip travel allowance. Students will also be eligible for a $1,200 Segal AmeriCorps Education Award.
Need More Information?
Last updated: November 25, 2019