Article
Redwood Creek Salmon Habitat Enhancement Project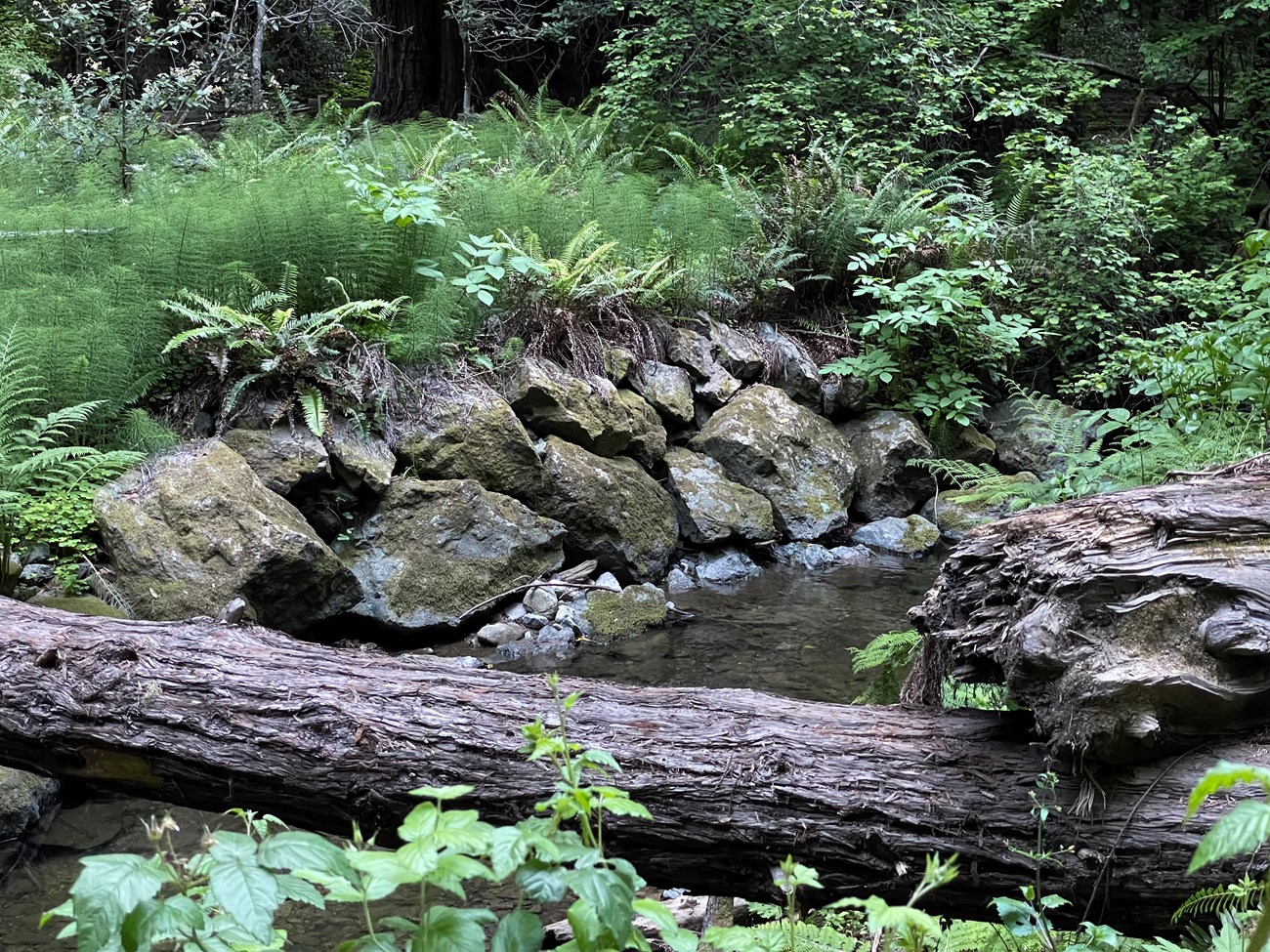 What is happening in Redwood Creek this summer?
Redwood Renewal is a sweeping, multi-year effort to help protect the health of Muir Woods. This summer is a particularly exciting time, as we begin to repair a century of damage to parts of Redwood Creek and bring back vital habitat for the endangered coho salmon that live here. Between July and November 2023, we will remove a portion of the rock walls, or "riprap," that line the creek banks, and install trees and logs in creek to create fish habitat. In 2019, we completed part of this work in the upstream half of Muir Woods. Over time, the natural movement of water will finish the job of transforming Redwood Creek from its current hardened state to a more complex, natural, and healthy stream ecosystem with lots of deep pools and cover for young coho salmon.
For the fish…
Decades of research have taught us that the biggest threat to the survival of Redwood Creek's coho is a lack of good stream habitat for young fish. Part of the problem is that in the 1930s, some of the creek was lined with rock to stabilize its banks. Large swaths of the forest understory were also cleared to provide people with better views of the biggest trees, and fallen trees were removed if they fell in the creek. Since then, we have gained a better understanding of how streams and forests work. After turning the meandering stream into a straight channel, we learned that riprap in fact makes the water flow faster. Meanwhile, fish – especially young salmon – need bends, pools with slow flow, and logs with pile-ups of small branches in which to shelter and feed. While we used to value the big trees above all else, we are learning of the importance of balance in the ecosystem.
…and for the forest
Removing the rock walls will benefit not only coho, but also other plants and wildlife and even insects that depend upon a healthier stream and forest ecosystem. Slowing down the creek's flow and creating still pools may help increase groundwater levels in the creek and nearby forest. This will be especially important during times of drought as our climate changes. This collaborative effort among agencies, nonprofits, youth corps, and volunteers will also help manage weeds and restore native plants.
Project Timeline
Work will only happen between July and November to limit disturbance to wildlife like nesting birds and spawning salmon. That means visitors who come before July 2023 or after November 2023 can still experience a more typical Muir Woods forest. However, visitors to the woods between July and November 2023 will witness restoration and science in action.

Because this project is happening in phases, you may see different things depending on when you are in the woods. There will be heavy equipment working in the creek, but a long list of protections are also employed to prevent injury to wildlife or trees. The heavy equipment is necessary to help undo actions that have been harmful to the creek and salmon habitat. The impacts of heavy equipment are temporary, but its benefits will be long-lasting. Coho and other aquatic life will be collected and moved to another section of creek before each dewatering and work phase begins.
2023 Project Schedule
July:
Project Set-up in Entrance Plaza.
Heavy equipment arrives at Muir Woods.

Stream dewatering and fish removal in first work zone next to Plaza.
August:
Stream dewatering and fish removal in second work zone (upstream of Bridge 1).
Heavy equipment work in creek to remove riprap, remove an asphalt trail at the top of bank and place fallen trees in the creek.
Stream dewatering and fish removal in third work zone (upstream of Bridge 2).
Late August through October:
Rock wall riprap removal upstream of Bridge 2.
Large logs and branches placed in and along the creek to create fish habitat.
Some bank grading.
Rock wall riprap removal next to visitor plaza.
Digging a new terrace on creek bank next to plaza.
Placing large logs as structure for habitat in creek next to plaza.
Planting native species along the streambanks.
Consult the "alerts" section on www.nps.gov/muwo to learn about current conditions and closures.
Related Links and Resources
Redwood Creek Salmon Habitat Enhancement Project FAQs
Learn more about this project in our Frequently Asked Questions below:
Last updated: October 4, 2023