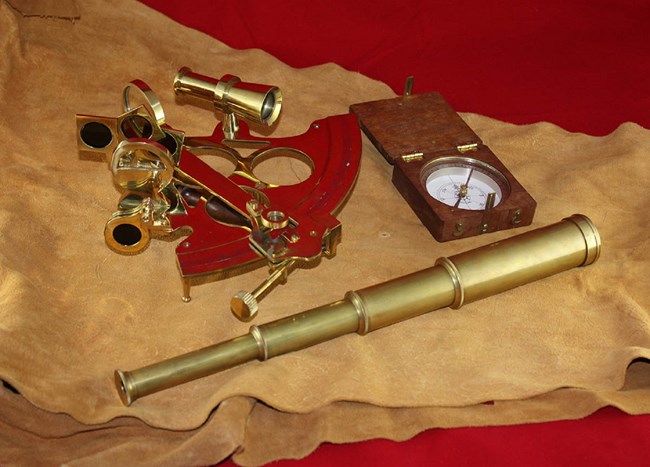 Thomas Jefferson knew
Meriwether Lewis
from Virginia. Lewis's family had lived close to
Monticello
, and Meriwether may have known Jefferson long before he worked for him. Lewis had volunteered to lead another expedition that Jefferson had proposed years earlier. When Jefferson was elected President in 1801, he asked the 29-year-old Lewis to serve as his personal secretary (assistant). Some believe that Jefferson was grooming Lewis to lead the new expedition he was proposing.
On January 18, 1803, President Thomas Jefferson
sent a message to Congress requesting an expedition of the West. He framed it as an economic and diplomatic journey, believing that an expedition could open profitable American trade opportunities with various Indian tribes. Knowing that Congress would be primarily interested the commercial opportunities the expedition might yield, he barely touched upon the journey's elements of scientific discovery. He requested $2,500, a figure based on estimates prepared by the expedition's leader, Meriwether Lewis.
In 1803, Lewis traveled to
Harpers Ferry, Virginia
(today's West Virginia) and Philadelphia to begin securing supplies. He also began studying several disciplines, such as astronomy, botany, mathematics, medicine, anatomy, and surveying. He learned what was required to be the expedition's leader, as well as how to compile scientific data on every aspect of the terrain through which the group would pass.
In June 1803, while in Washington, D.C. to meet with Jefferson, Lewis wrote a letter to his friend,
William Clark
. He asked Clark to be co-leader of the expedition and requested he recruit men to join them. A short time later, on July 3, 1803, official news arrived that the U.S. had purchased sovereignty over the Louisiana Territory from France. Clark agreed to join the expedition about a week after.
On August 31, 1803, Lewis started down the Ohio River to meet Clark and his crew. Along the way he encountered Adena burial mounds, now
Grave Creek Mound Archaeological Complex
in West Virginia. He also met with Dr. William Goforth who was excavating fossilized remains of a mastodon at the
Big Bone Lick
in Kentucky. Lewis went to Big Bone Lick and sent specimens to President Jefferson with a detailed letter describing Goforth's finds.
Lewis arrived in Clarksville, Indiana on October 4 where he met some members of the crew, known as the Corps of Discovery
("the Corps"). Clark had recruited 9 frontiersmen for the Corps of Discovery. A tenth member of the Corps was
York
- an enslaved man who was the property of William Clark. He wouldn't receive his freedom until after 1815.
The Corps arrived at
Fort Massac
in Illinois by November 11. George Drouillard ("Drewyer") was French-Canadian and Shawnee, and was hired as an interpreter. Two additional men were added to the Corps, and they left Fort Massac on November 13.
On November 29, they arrived at Fort Kaskaskia
, Illinois, the furthest north and west U.S. Army post at the time. The Corps of Discovery gained 12 men here. The Corps left Kaskaskia on December 3, leaving Lewis behind to meet with locals and finish paperwork. Lewis and the Corps reunited at
Cahokia
on December 7.
In December 1803, they established Camp River Dubois
in Illinois. Clark trained the men to build log forts and cabins. They practiced marching in formation, using their weapons, and shooting targets. He tried to instill respect for military authority and the importance of following orders. Lewis spent most of his time collecting supplies in nearby
St. Louis
. He also talked with fur traders who had been up the Missouri River, and gathered any maps he could.
On May 14, 1804, the Corps of Discovery left Camp River Dubois and started up the Missouri River in three boats. The expedition was officially underway.
This is an updated excerpt from
Preparing for the Trip West
, which was published by Jefferson National Expansion Memorial.