Place
Old Cahokia Courthouse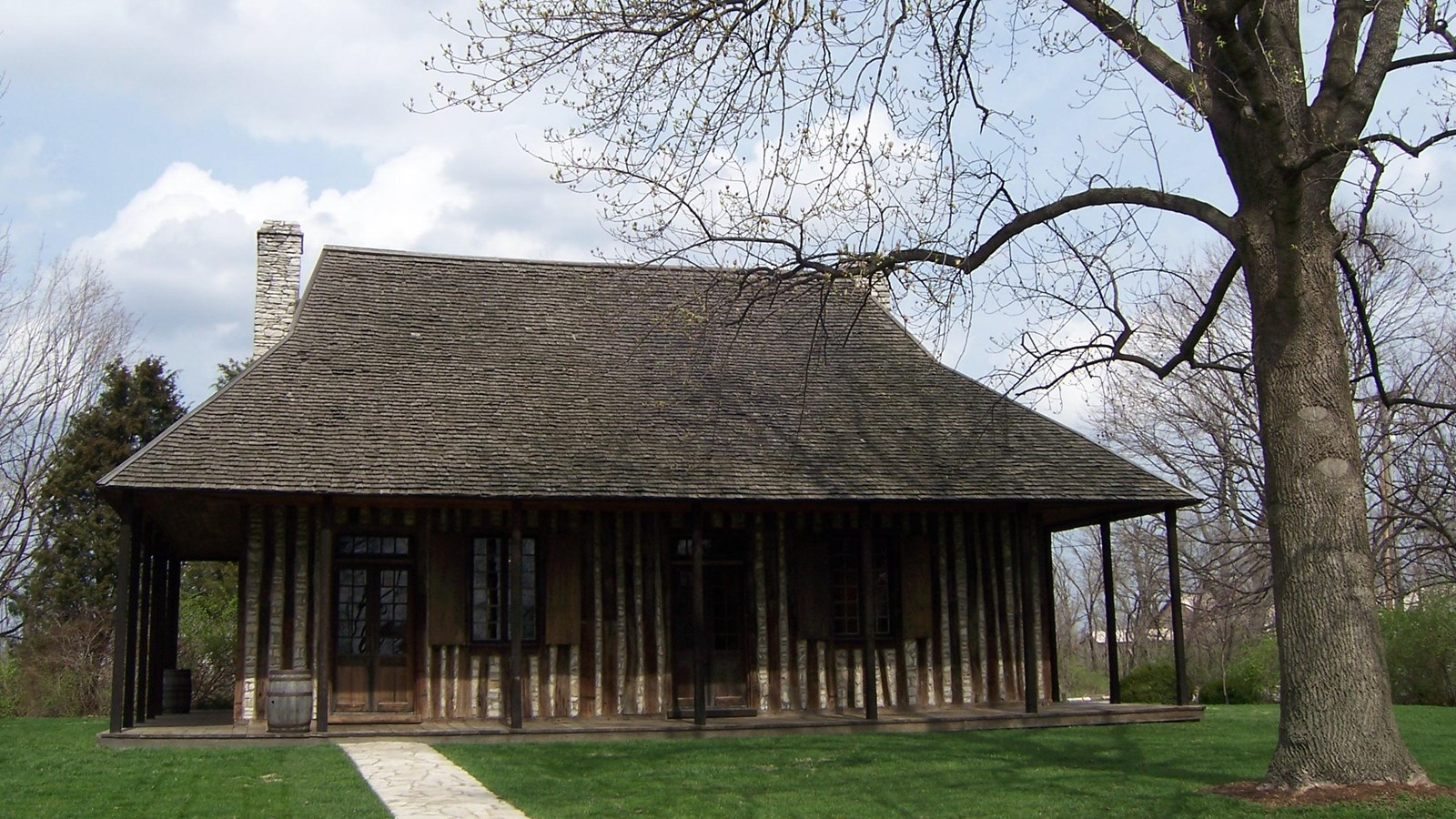 Location:
107 Elm Street, Cahokia IL
Significance:
Headquarters of Lewis & Clark from winter 1803 to spring 1804
Designation:
National Register of Historic Places
Lewis and Clark NHT Visitor Centers and Museums
Visitor Centers and Museums along the Lewis and Clark National Historic Trail
The Cahokia Courthouse was originally built as a French dwelling around 1740. In 1793 it became a courthouse, and for 20 years it served as a center of political activity in the Old Northwest Territory.
From December 1803 until the spring of 1804, Lewis and Clark used the courthouse as a headquarters. From there they collected information, met with territorial leaders, gathered supplies and corresponded with President Thomas Jefferson. During that time the Corps of Discovery camped at nearby Camp River Dubois.
During their encampment near Cahokia, the Corps of Discovery planned the Expedition. They compiled geographic information and prepared gifts for tribes they would meet. They left the area in May 1804, and continued on to St. Louis, then St. Charles to begin the Expedition.
The courthouse was dismantled in 1901. It was moved to St. Louis for the 1904 World's Fair, and then to Chicago in 1906. Cahokia residents were able to have the courthouse returned and reconstructed on its original site in 1939.

The courthouse is a High Potential Historic Site on the Lewis and Clark National Historic Trail.
 
Members of the Corps of Discovery first arrived at the village of Cahokia on December 7, 1803. Clark wrote that he "came to at 3 oClock at the Kohokia Landing, which is at the mouth of Kohokia Creek ¾ of a mile from the Town, and in view of St Louis which is about 2 ½ miles distant." While encamped at nearby Wood River into May 1804, Lewis and Clark used the Cahokia Courthouse as a headquarters for collecting infor­mation, meeting with territorial leaders, gathering supplies, and corresponding with President Thomas Jefferson through Postmaster John Hay. The courthouse greatly facilitated their ability to comprehensively plan the expedition.
The courthouse, initially built as a dwelling in the 1730s, is a unique remnant of the French presence in Illinois. Converted to a courthouse in 1793, for the next 20 years it served as a center of political activity in the Northwest Territory. It was dismantled in 1901, re-erected twice, and reconstructed on its original site in 1939. The structure is an excellent example of early French log construction known as poteaux-sur-solle. Upright hewn logs are seated on a horizontal log sill; the spaces between logs are filled with stone and mortar chinking. The building rests on its original stone foundation and contains four rooms that originally functioned as a courtroom, a schoolroom, and legal offices. It is open to the public as part of the Colonial Cahokia State Historic Sites complex.
Last updated: November 25, 2020