Article
Catching Fossil Fever: A Paleontology Project at Grand Canyon National Park

Article by Diana Boudreau, Grand Canyon National Park
Paleontological resources from the lands now part of Grand Canyon National Park have been documented since 1861, when John Strong Newberry published an occurrence of marine fossils during the first expedition on the Colorado River. Since then, numerous paleontologists, such as Charles Walcott, David White, and Edwin McKee, have continued to unearth fantastic fossil discoveries, building momentum for a large paleontology project in progress this year. In 2019, Science and Resource Management and Interpretation staff at Grand Canyon National Park, paleontologists from the Washington D.C. National Park Service office, paleontology interns, and numerous outside partners came together to conduct a paleontology project as large as the Grand Canyon itself.

Paleontology Resources Inventory Report
One third of Earth's history is exposed at Grand Canyon, the layers exposed like chapters in a book just waiting to be read. Deep within the inner canyon, 1.2 billion-year-old stromatolites start the Grand Canyon's story of life on Earth. The layers of Grand Canyon continue telling their story for another 930 million years until reaching the 270 million-year-old marine invertebrates of the Kaibab Limestone exposed at the rim of the canyon. Fossil ferns, ancient vertebrate trackways, and preserved sloth dung boluses tell of times when the Grand Canyon region was much different than it is today. Despite this rich paleontological record, a comprehensive paleontological resources inventory report has never been compiled.
Therefore, in 2019, a dedicated team of paleontologists are collaborating to publish the largest NPS paleontological resources inventory report to date. Consisting of 13 chapters, this monograph will be a comprehensive look at what paleontologists currently understand about Grand Canyon's fossil record. Each chapter is being researched and written by expert paleontologists and reviewed by a group of their peers. This report will not only benefit researchers interested in studying fossils from Grand Canyon, but will also provide interpretation and outreach staff with current information to share with the public. Access to this report can be found in the open-access journal Geology of the Intermountain West published by the Utah Geological Association later this year.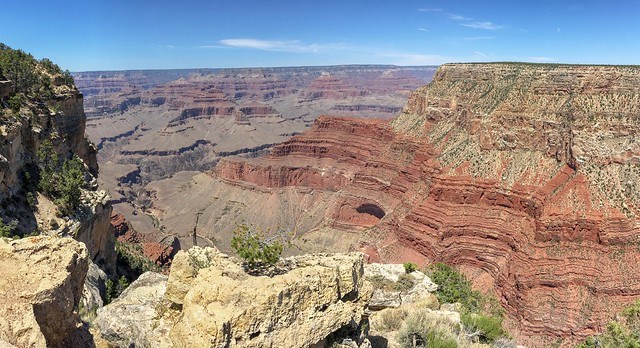 Grand Canyon PaleoBlitz
Containing almost 2,000 square miles of rugged terrain and over a mile of vertical exposures, Grand Canyon National Park protects some of the most challenging landscapes in the country. Only a small portion of the park has been surveyed for paleontological resources due to the difficult terrain and limited staffing. Therefore, backed by funding and a capable staff, 2019 was the ideal year to plan the second ever PaleoBlitz event; the first being in 2016 at Chickasaw National Recreation Area in Oklahoma.
Grand Canyon's PaleoBlitz involves a partnership between park paleontology staff and outside experts to conduct focused paleontology surveys of the canyon. Slope models, a paleontology GIS database, and information gathered from the paleontology inventory report aided in determining accessible and potentially fossiliferous units to focus these PaleoBlitz efforts. This year, systematic surveys of the Moenkopi Formation, Chinle Formation, Coconino Sandstone, and Kaibab Formation have been conducted. From this effort, many previously unknown paleontological localities have been added to the paleontology GIS database.
Aside from documenting new paleontology localities, park staff have also been redeveloping methodologies for collecting data in the field. Since 2017, the paleontology geodatabase has been undergoing updates to better maintain data on paleontological resources. In conjunction with this update, new field forms were created and a GIS data collector system was deployed to expedite collecting information in the field. With more PaleoBlitz activities still to come this year, the number of fossil localities is expected to continue to grow.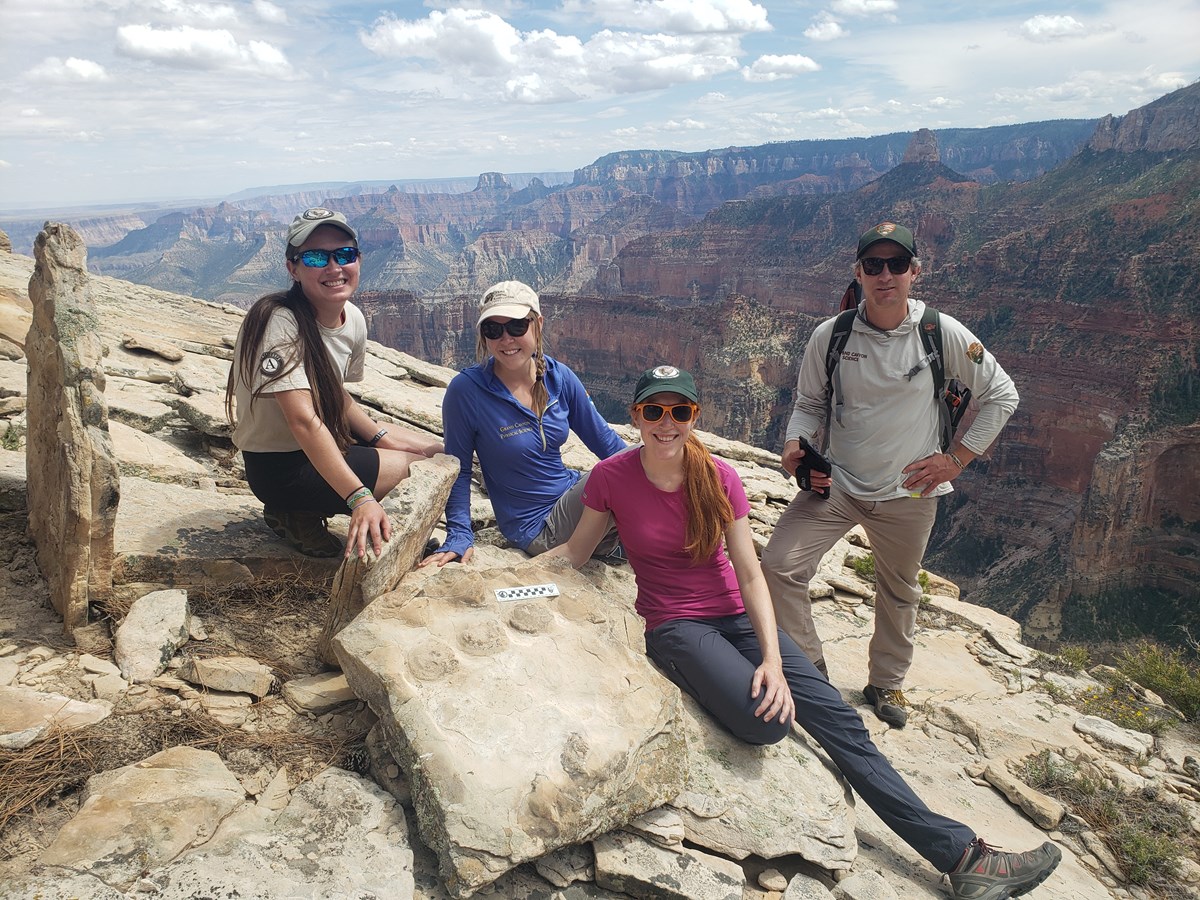 National Fossil Day Celebration
Grand Canyon National Park has many reasons to celebrate in 2019. It is the 100th anniversary of GRCA's designation as a National Park, the 150th anniversary of John Wesley Powell's first voyage down the great unknown on the Colorado River, and the 10th anniversary of National Fossil Day. In honor of these shared anniversaries, the 2019 National Fossil Day logo recreates a scene from one of the parks most iconic fossil localities, Rampart Cave. The logo depicts a Shasta Ground Sloth, Nothrotheriops shastensis, walking across the sloth dung covered floor of Rampart Cave 11,000 years ago. A vampire bat, Desmodus stocki, hangs from the ceiling, waiting until dusk to forage for food.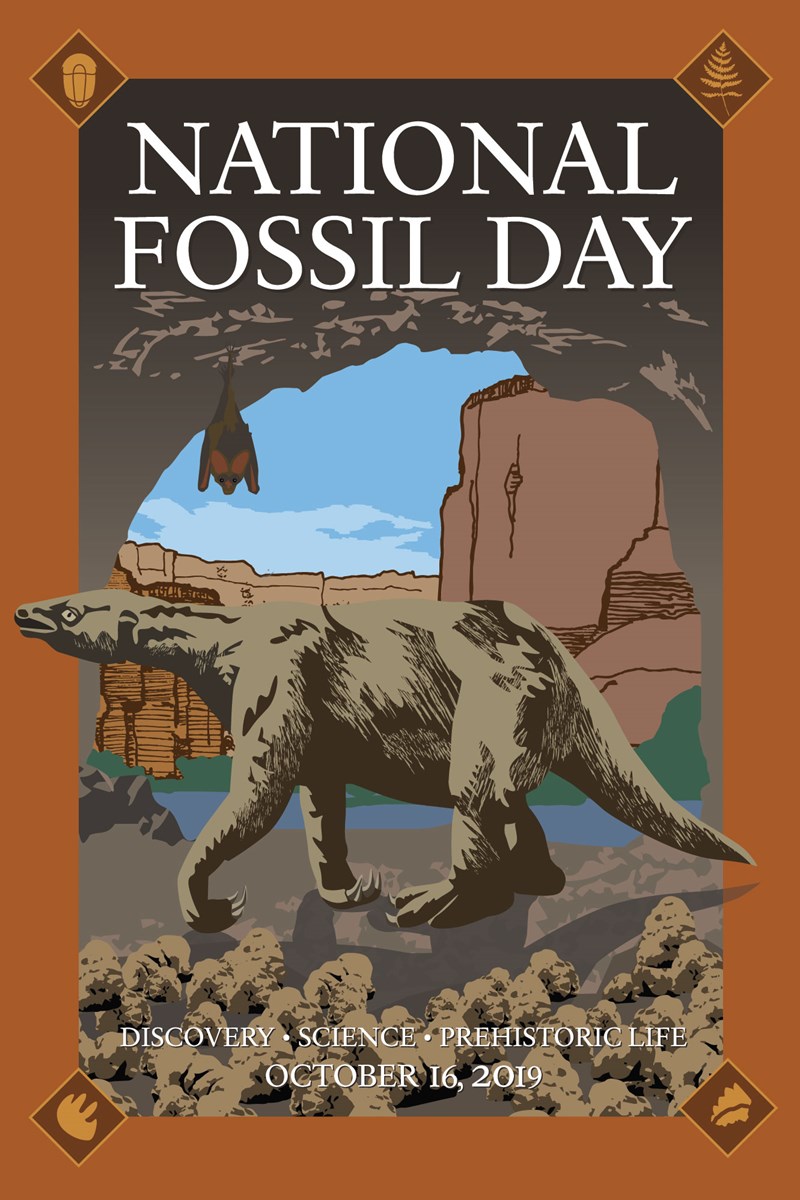 The culmination of so many historic milestones provided the perfect opportunity to host the 2019 National Fossil Day Celebration at Grand Canyon's South Rim. Previously hosted in Washington, D.C. on the National Mall, this year National Fossil Day's main event was held at Grand Canyon National Park during a special two-day celebration on September 27 and 28. The event kicked off on September 27th with a mini Paleontology Symposium. Four guest speakers highlighted some of GRCA's fossil treasures such as fossil sharks, invertebrate fossils, cave fossils, and vertebrate tracks and traces. The following day, September 28th, provided visitors and fossil enthusiasts many ways to engage with the paleontological resources at the park. A ranger-led program in the morning took visitors to the 270-million-year-old marine fossils exposed along the Rim Trail. An interactive photo booth, arts & crafts, Q&A sessions with paleontologists, opportunities to visit with state and national partner organizations, a formal welcome ceremony, and other fossil-themed activities were hosted at the Yavapai Geology Museum and Grand Canyon Visitor Center Plaza. Those unable to be at Grand Canyon joined the celebration through scheduled social media live events. The celebration ended with a special paleontology evening program given by National Park Service Paleontology Program Coordinator, Vincent Santucci.
This National Fossil Day event was a celebration of the spectacular fossil resources known from Grand Canyon, as well as a number of innovative interpretive techniques. A portable Grand Canyon paleontology interpretive exhibit, designed to engage multiple users while unstaffed, was unveiled during this celebration, as well as a set of collectable Grand Canyon fossil-themed trading cards. Interpretative staff also brought unique fossils to the public via photogrammetry, a process of converting 2D images into interactive 3D models. Seventeen fossil specimen from the GRCA museum and Smithsonian Institute were digitized using photogrammetry methods and made available online for the public. Interpretive products such as these, ensure that these rich paleontological resources will continue to be preserved and protected for the benefit and enjoyment of future generations.
From the tiniest trilobites in the Bright Angel Shale to the Megactenopetalus shark teeth of the Kaibab limestone, fossils of Grand Canyon National Park capture the imagination of visitors and scientists alike. The projects developed and executed during 2019 are just the beginning for the next 100+ years of paleontological exploration and discovery at Grand Canyon National Park.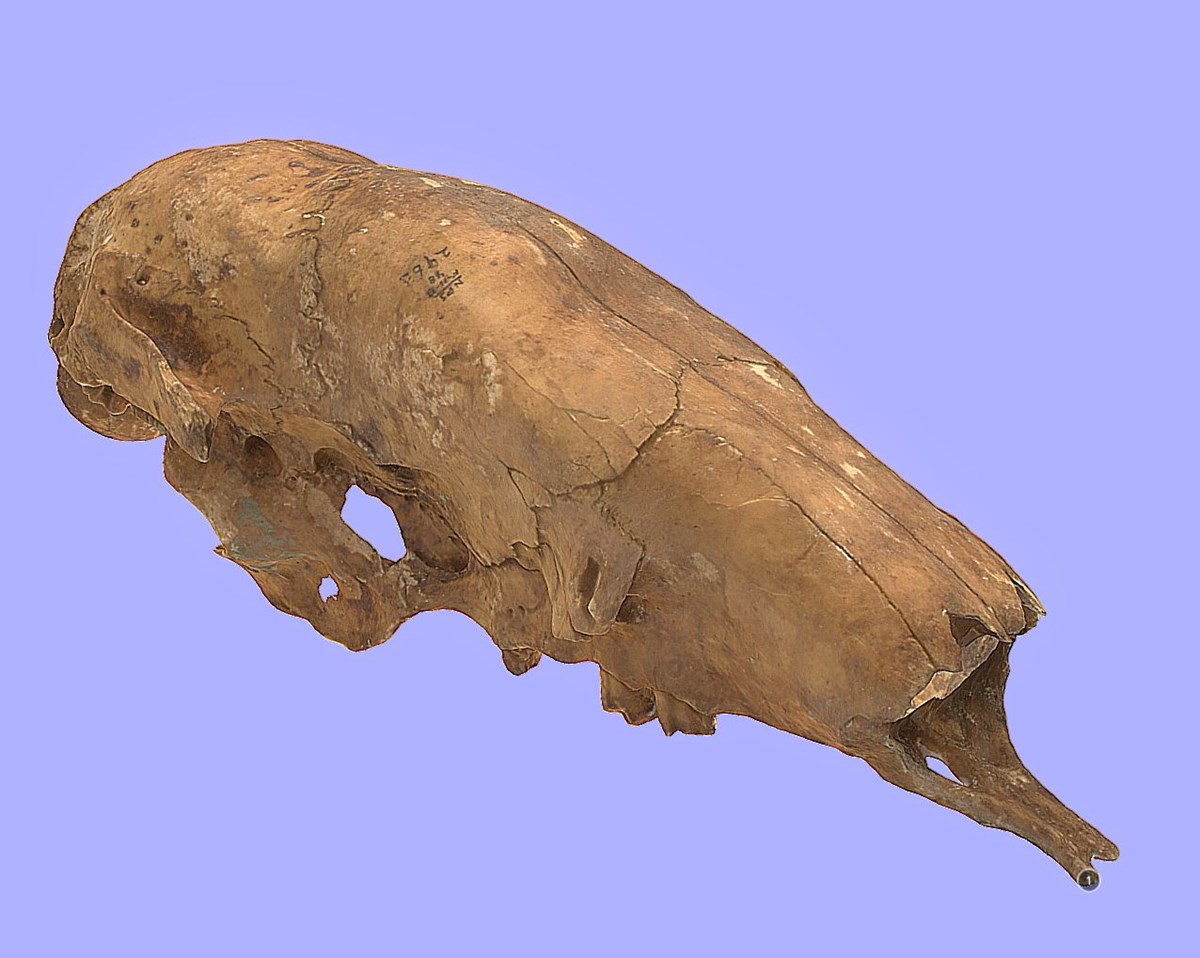 Series: Park Paleontology News - Vol. 11, No. 2, Fall 2019
Last updated: October 4, 2019