Article
NPS Geodiversity Atlas—Haleakalā National Park, Hawai'i
Geodiversity refers to the full variety of natural geologic (rocks, minerals, sediments, fossils, landforms, and physical processes) and soil resources and processes that occur in the park. A product of the Geologic Resources Inventory, the NPS Geodiversity Atlas delivers information in support of education, Geoconservation, and integrated management of living (biotic) and non-living (abiotic) components of the ecosystem.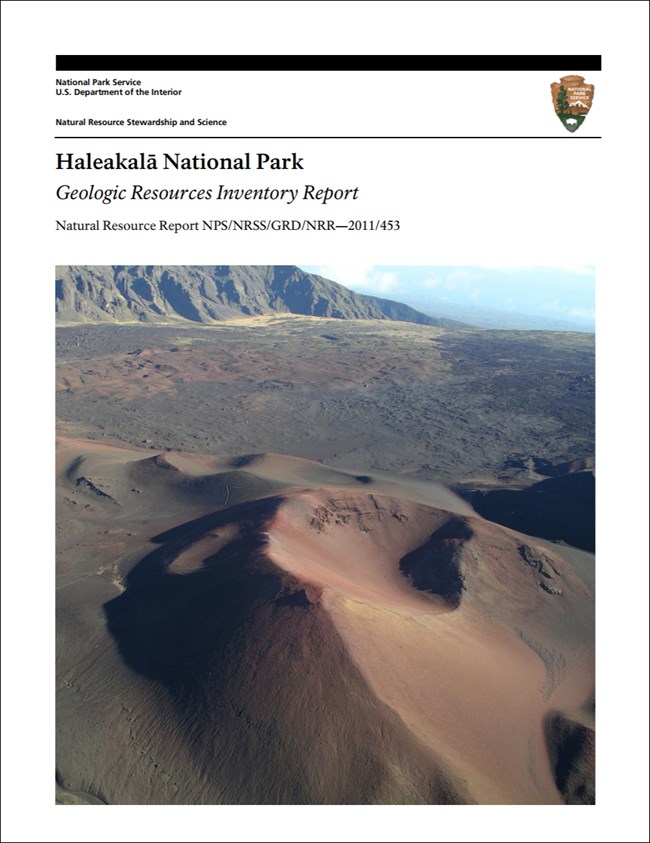 Geologic Features and Processes
Volcanic
Haleakalā Crater is a 10,023-foot cooled remnant of the volcanic history of a once-very active volcano on the island of Maui. There is considerable debate as to the last date of eruption, with some estimates putting it in the late 1700's. As part of the Hawaiian Ridge -Emperor Seamount Chain, Maui is the second largest and second youngest of the seven Hawaiian Islands. This chain of volcanoes is the result of hot-spot volcanism where a tectonic plate moves over a relatively stationary spot of intense heat in the mantle. Haleakalā National Park is on the southeastern side of Maui and contains the Haleakalā volcanic mass. This volcanic mass is the larger of the two volcanic masses present on Maui. Growth of Hawaiian volcanoes generally occur over four stages: pre-shield, shield, post-shield, and rejuvenated. Haleakalā is thought to be in the post-shield stage.

The lava exposed on Haleakalā includes lower viscosity "ropy flows" (also called pāhoehoe) and the higher viscosity "rough and jagged flows" (also called ʻaʻā). Interlayered with these flows are thin tephra deposits (Thornberry-Ehrlich 2011). The volcanic rocks exposed at Haleakalā were produced by three phases of volcanic activity- the Honomanū (age ranges from 1.1 to 0.97 million years), Kula (age ranges from 930,000 to 150,000 years), and Hāna (potentially still active) phases.
Paleontological Resources
Paleontological resources were found in two lava tubes at Haleakalā between 1984 and 1988. The fossils discovered in the caves range in age from Pleistocene to recent and are of extinct and extant avifauna. These fossil resources increase the endemic terrestrial bird fauna on the island of Maui from 10 to at least 29 species (Hunt et al. 2007).

All NPS fossil resources are protected under the Paleontological Resources Preservation Act of 2009 (Public Law 111-11, Title VI, Subtitle D; 16 U.S.C. §§ 470aaa - 470aaa-11).
Cave and Karst
There are at least 24 known lava tube caves in the Park.

Park caves contain at least two endemic troglobitic ground beetles, an earthworm that is a new family record for the Hawaiian Islands, and a millipede and collembola that are undescribed. Fossils of birds were collected from lava tubes, sinkholes, and sand dunes and are mentioned under paleontological resources.

All NPS cave resources are protected under the the Federal Cave Resources Protection Act of 1988 (FCRPA)(16 U.S.C. § 4301 et seq.).
Coastal
Haleakalā National Park protects about 5 km (3 mi) of coastal environments on the eastern side of Maui (Thornberry-Ehrlich 2011).
Geothermal
As part of the Geothermal Steam Act of 1970 (as amended in 1988) Haleakalā National Park is required to have an inventory of significant geothermal features. Three major rift zones were examined at Haleakalā in 1985 for inclusion as a Potential Geothermal Resource Area (PGRA). Geophysical soundings indicated that thermal groundwater may be present at less than 3 m depth for some of Maui (Thomas 1985, 1986; Thornberry-Ehrlich 2011).
Glacial
Haleakalā National Park retains evidence of Pleistocene glaciation and shows the volcano may have experienced as many as 10 glacial advances. The first glaciation of Haleakalā began approximately 800,000 years ago when the summit was above the snowline and continued for 400,000 years (Thornberry-Ehrlich 2011).
Geology Field Notes
Students and teachers of college-level (or AP) introductory geology or earth science teaching courses will find that each park's Geologic Resource Inventory report includes the Geologic History, Geologic Setting, and Geologic Features & Processes for the park which provides a useful summary of their overall geologic story. See Maps and Reports, below.
The
Geologic Resources Inventory
produces digital geologic maps and reports for more than 270
natural resource parks
. The products listed below are currently available for this park, check back often for updates as many maps, reports, and posters are still in progress.
Scoping summaries are records of scoping meetings where NPS staff and local geologists determined the park's geologic mapping plan and what content should be included in the report.
Digital geologic maps include files for viewing in GIS software, a guide to using the data, and a document with ancillary map information. Newer products also include data viewable in Google Earth and online map services.
Reports use the maps to discuss the park's setting and significance, notable geologic features and processes, geologic resource management issues, and geologic history.
Posters are a static view of the GIS data in PDF format. Newer posters include aerial imagery or shaded relief and other park information. They are also included with the reports.
Projects list basic information about the program and all products available for a park.
Related Articles
Haleakalā National Park
National Park Service Geodiversity Atlas
The servicewide Geodiversity Atlas provides information on
geoheritage
and
geodiversity
resources and values within the National Park System. This information supports science-based
geoconservation
and interpretation in the NPS, as well as STEM education in schools, museums, and field camps. The
NPS Geologic Resources Division
and many parks work with National and International geoconservation communities to ensure that NPS abiotic resources are managed using the highest standards and best practices available.
For more information on the NPS Geodiversity Atlas,
contact us
.
Last updated: February 10, 2022