Geologic Formations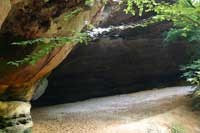 Along the south face of Cumberland Mountain, in Virginia, are over 30 caves varying from 20 feet to over sixteen miles in length. These caves occur in the Greenbrier Limestone formation. Some of the caves contain vertical shafts up to 125 feet deep as well as small, tight, crawl-ways large enough for a small person or child to enter. The caves are rich in wildlife including numerous species of bats, salamanders, aquatic invertebrates, cave crickets, and small rodents. Most of the caves in the park are closed to the publlic, however, ranger guided tours of spectacular Gap Cave are offered throughout the year.
Sand Cave, a natural scenic area in Kentucky, is a half-domed chamber, 250 feet across in front (open). The floor slopes from back to front and is 1.25 acres of fine, colorful sand.
At the east end of the park are 500-foot cliffs known as White Rocks. These cliffs rise above the surrounding wooded slopes and offer the visitor a 360-degree view of the surrounding area.


Last updated: April 14, 2015