Geodiversity refers to the full variety of natural geologic (rocks, minerals, sediments, fossils, landforms, and physical processes) and soil resources and processes that occur in the park. A product of the Geologic Resources Inventory, the NPS Geodiversity Atlas delivers information in support of education, Geoconservation, and integrated management of living (biotic) and non-living (abiotic) components of the ecosystem.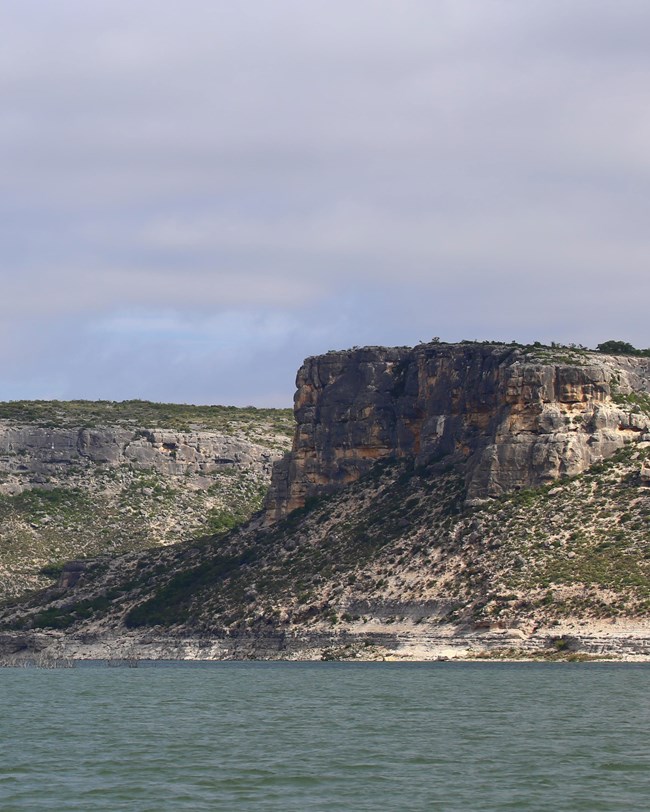 Geologic Features and Processes
[Site Under Development]
Located between the arid plains of western Texas and northern Mexico, and close to the tropical influence of the Gulf of Mexico, the Amistad region frequently experiences cycles of drought and flood. In order to provide flood control, a stable water supply, and recreational opportunities, the International Boundary and Water Commission (ICBW) joined with its Mexican counterpart—the Comisión Internacional de Límites Y Aguas (CILA)—to harness the Rio Grande. Named in 1969 for the Spanish word for "friendship," Amistad Dam created the reservoir at the confluence of the Rio Grande, Pecos River, and Devils River. The reservoir extends 117 km (73 mi) up the Rio Grande, 40 km (25 mi) up the Devils River, and 23 km (14 mi) up the Pecos River. Collecting and storing water from both U.S. and Mexican tributaries, the amount each country contributes to the reservoir determines its water rights. The elevation boundary of the national recreation area is 1144.3 feet regardless of normal pool level; most of the 23,675 ha (58,500 ac) managed by the National Park Service are submerged.

Enjoyed annually by 1.7 million visitors, including many "winter Texans," Amistad National Recreation Area hosts excellent year-round, water-based recreation such as boating and fishing, as well as land-based camping and picnicking. The reservoir's clear waters—an outcome of the area's limestone foundation—also make it ideal for swimming and SCUBA diving. In addition to recreational opportunities, Amistad protects some of the world's best examples of prehistoric art, notably pictographs. According to a wayside display, "these remarkable assemblages of costumed figures, animals, geometric designs, and other difficult-to identify objects that are found in rock shelters along the Pecos, Rio Grande, and Devils rivers are truly unique." Carbon-14 dating revealed that the oldest pictographs at Amistad are 4,000 years old, from the Lower Pecos River style, but archaeologists surmise that human habitation in the region extends as far back as 10,000 years ago.
Paleontological Resources
Amistad National Recreation Area has a rich paleontological record that remains relatively unexplored (Visaggi et al. 2008). Steep canyons of Cretaceous limestone (Salmon Peak Limestone) surround the reservoir; Devils River Limestone, Del Rio Clay, Buda Limestone, and Boquillas Formation are also exposed within the national recreation area. Of the Cretaceous marine fauna fossilized at Amistad, the most interesting are probably rudistid reef builders, which are quite distinct from the coral reefs of modern oceans.
Regional Geology
Amistad National Recreation Area is a part of the Great Plains Physiographic Province and shares its geologic history and some characteristic geologic formations with a region that extends well beyond park boundaries.
The
Geologic Resources Inventory
produces digital geologic maps and reports for more than 270
natural resource parks
. The products listed below are currently available for this park, check back often for updates as many maps, reports, and posters are still in progress.
Scoping summaries are records of scoping meetings where NPS staff and local geologists determined the park's geologic mapping plan and what content should be included in the report.
Digital geologic maps include files for viewing in GIS software, a guide to using the data, and a document with ancillary map information. Newer products also include data viewable in Google Earth and online map services.
Reports use the maps to discuss the park's setting and significance, notable geologic features and processes, geologic resource management issues, and geologic history.
Posters are a static view of the GIS data in PDF format. Newer posters include aerial imagery or shaded relief and other park information. They are also included with the reports.
Projects list basic information about the program and all products available for a park.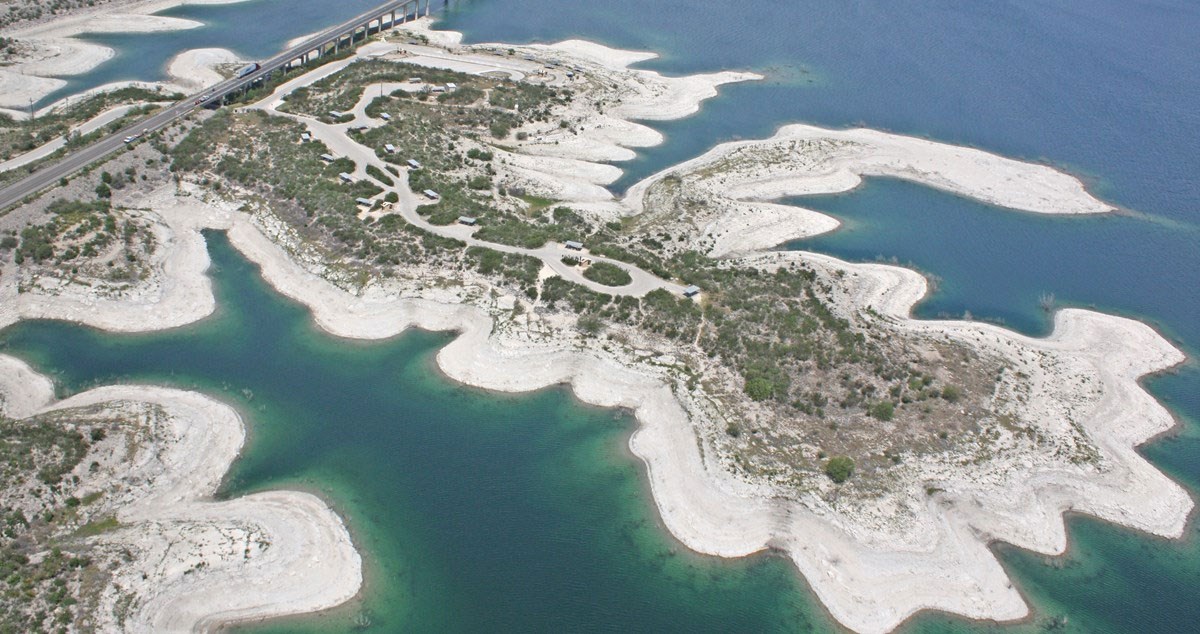 Related Links
Related Articles
Amistad National Recreation Area
National Park Service Geodiversity Atlas
The servicewide
Geodiversity Atlas
provides information on
geoheritage
and
geodiversity
resources and values within the National Park System. This information supports science-based
geoconservation
and interpretation in the NPS, as well as STEM education in schools, museums, and field camps. The
NPS Geologic Resources Division
and many parks work with National and International geoconservation communities to ensure that NPS abiotic resources are managed using the highest standards and best practices available.
For more information on the NPS Geodiversity Atlas,
contact us
.