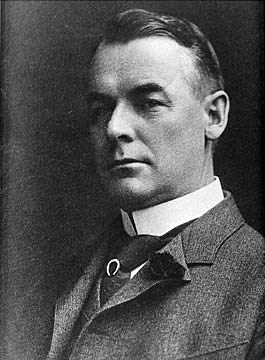 The Klondike Gold Rush (1897-1898) was one of the last major gold rushes in North America. The discovery of gold along the Rabbit Creek sparked an influx of fortune seekers to the interior of Canada. Pierre Berton's Klondike Fever estimates that 100,000 transient men and women made their way to the fields through Dyea and Skagway, Alaska, over the Chilkoot and White Pass trails.
A trail, road, and tramway were developed in a span of a year to ease the congestion of people and pack animals that attempted this journey. All of these transportation systems failed; however, a successful transportation route was developed thanks to the ingenuity and expertise of Michael J. Heney, the "Irish Prince."

Michael J. Heney was born in 1864 to Irish immigrant farmers in Ontario, Canada. At the young age of 14, he ran away from the family farm to work for the Canadian Pacific Railway (CPR) in British Columbia, Canada. An older brother found him and brought him home. He stayed in Ontario working on the farm until he was 17, when he left again to work for the CPR. Heney started working as a mule-skinner before he progressed to laying rails.

In 1883, he started working on a surveying crew in Frasier River, B.C., which he worked with for the next two years. His ultimate goal was to learn as much about the construction of railroads as possible. When the railroad was complete, he made the decision to pursue a degree in engineering so that he could become an independent contractor. After finishing school, he went back to work for the CPR. In 1896, he came to Alaska to work on a project at Anchor Point (located on the Kenai Peninsula), sparking his interest in the north.