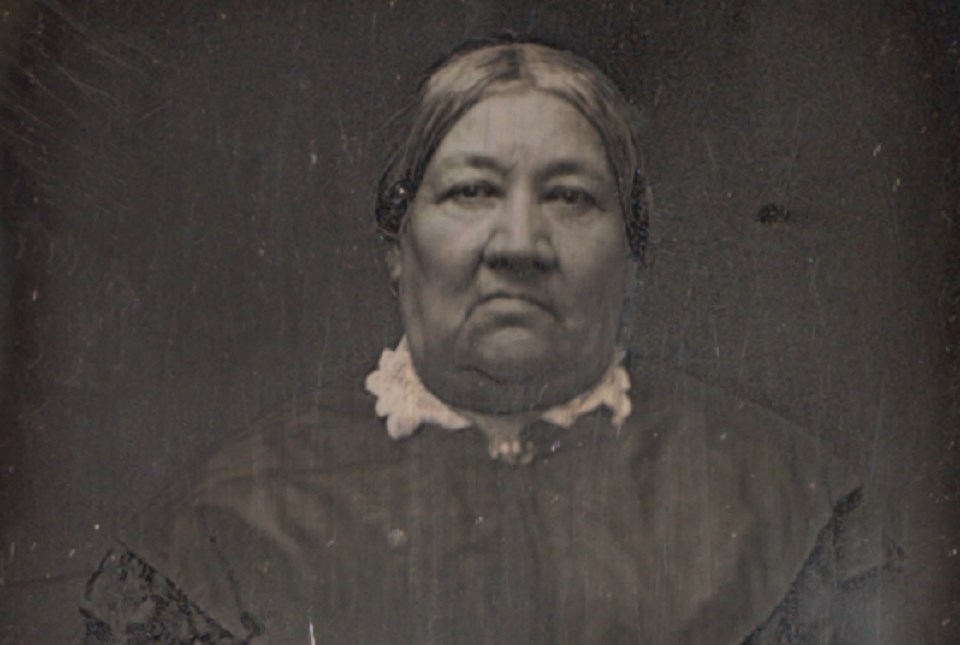 By Tracy Hill
To most 21st-century women, sewing is a hobby, productive and fulfilling, but not essential to daily survival. Until the middle of the 19th century, only the wealthiest women could afford
not
to sew, though many upper class ladies embroidered and did fine needlework for amusement and decoration. For most women, sewing, mending, and knitting were necessary to ensure that one's family was warmly and properly dressed. In addition, working class women were sometimes employed to produce clothing and other handmade items for more affluent households.
The Industrial Revolution of the mid-1800s brought many sweeping changes to society, including the growth of the middle class. Many women now had time to spend on new activities – time they were expected to use productively, but not engaged in work that was considered below their station. Working outside the home was generally considered unacceptable, so what could they do to occupy themselves? Sewing, needlework, and crafts of all sorts were the answer! There was a virtual explosion in the publishing of "how-to" books and patterns, and a wider variety of affordable materials was available than ever before. "Fancy work" became clearly distinguished from "plain sewing" and "plain knitting" – one elegant and refined, the other a necessary chore. Sewing was an important element in the education of girls.
For the women who left their homes to travel west, needlework was more than a routine task. It brought something familiar and comforting to their lives in a new territory, and provided a connection to women of differing backgrounds and cultures. Women wrote in diaries about meeting women in neighboring wagon trains, and having a wonderful time exchanging patterns (Butruille 1993: 98-99; Macdonald 1988: 84-85; Schlissel 1982: 99). It likely reminded them of the friends and homes they left behind.
Marguerite McLoughlin
traveled to the Pacific Northwest in 1824 with her husband,
Dr. John McLoughlin
, and their two youngest children,
Eloisa
and David. Dr. McLoughlin had accepted the position of Chief Factor at
Fort Vancouver.
The Vancouver post was the headquarters for the Hudson's Bay Company's fur trade operations in the Columbia Department, a vast territory that stretched from California to Alaska, and from the Rocky Mountains to the Pacific Ocean.
Fur trade society incorporated elements of many cultures, from the British background of the officers to the French-Canadian
engagés
, to the many American Indian tribes whose members lived in the village outside the Fort's walls. Most of the women were either American Indian or Métis (of mixed ethnicity), and they were often married to men whose backgrounds were very different from their own. Within the unique fur trade culture, these women created a home life that fused their husbands' expectations with the American Indian traditions they had learned from their mothers. For example, they adopted British style clothing, but shortened the skirts so their beaded leggings and moccasins would show. Their dwellings housed a striking mix of handmade items such as baskets and tule mats, with English china and glassware.
Marguerite McLoughlin, similar to many of her contemporaries, was the child of an Ojibwe woman and a European fur trader, who spent her entire life at trading posts. Multilingual, well traveled, hospitable, and adaptable to many diverse situations, she could be considered the quintessential fur trade woman. Her domestic skills would have reflected her diverse background. Marguerite was one of the most important women in her society, and mentored young women in sewing and beadwork. There is no evidence that she did spinning or weaving, but she was a skillful seamstress. According to one historical account, Dr. McLoughlin offered Mrs. McLoughlin's and her daughter Eloisa's sewing services to Dr. Tolmie, who sent "calico & tartan" to be made into clothes for him (Morrison 1999: 195).
In the early 1840s while still at Fort Vancouver, Mrs. McLoughlin received a very handsome gift, a Chinese Chippendale-style sewing cabinet which was filled with dainty, delicately carved sewing tools designed to make an everyday task a pleasure. It was common in that era for even the most ordinary, functional tools to be decorated with pretty ornamentation. Most of the Chinese sewing boxes were fairly small, lap-sized containers that could easily be taken to a friend's house for an afternoon of sewing and chatting. More elaborate were the sewing tables, which were usually long and narrow, with a silk bag suspended beneath to hold knitting or other works in progress. Grandest of all were the sewing cabinets like Mrs. McLoughlin's – a cabinet, table, and portable workbox combined into one elegant piece of furniture with black lacquer and gilt. Any lady would have been thrilled to receive such a marvelous present! According to family lore, it was given to Mrs. McLoughlin by Dugald McTavish, a clerk at Fort Vancouver.
Mrs. McLoughlin brought the cabinet to her new home in Oregon City when her husband retired from the Hudson's Bay Company in 1846. As Dr. McLoughlin participated in the civic life of the territory, Mrs. McLoughlin offered hospitality at their home and made the McLoughlin House a social center for the community. After her death in 1860, Mrs. McLoughlin's sewing cabinet was passed down in the family, donated to the McLoughlin House museum in 1947 by her great-granddaughter's estate, and is now part of the Fort Vancouver National Historic Site museum collection. Mrs. McLoughlin's sewing cabinet is a highlight of the collection, one of very few objects associated with this fascinating woman to have survived.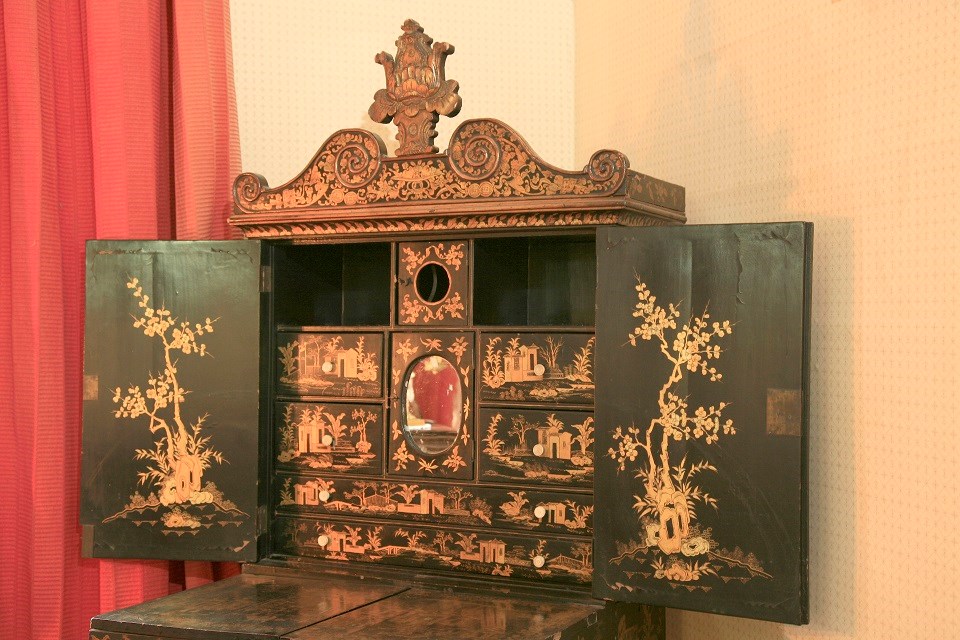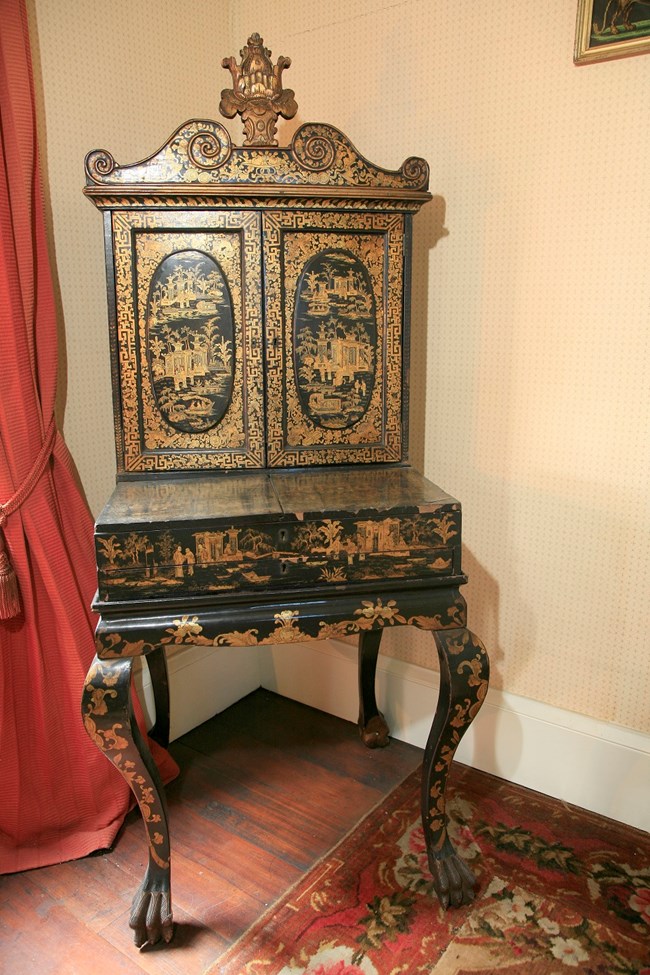 The Sewing Cabinet
This cabinet was made in China around 1840, specifically for export to Europe or the United States. Furniture, dishes, and other pieces from China were very fashionable during the 1800s. In fact, they were so popular that many English potteries and textile shops began to produce wares with Asian-inspired decoration.
The cabinet has an upright cupboard on the top, with drawers and storage alcoves. An oval mirror is centered in the case, and above is a small compartment designed to hold a pocket watch so that it can be viewed while working at the table. The lower part of the cabinet consists of a large work-box that can be lifted off for portability, which opens to reveal small compartments for tools. Separate latticework pieces, made of ivory, would once have fitted into the compartments to hold thread barrels and other tools securely in their places.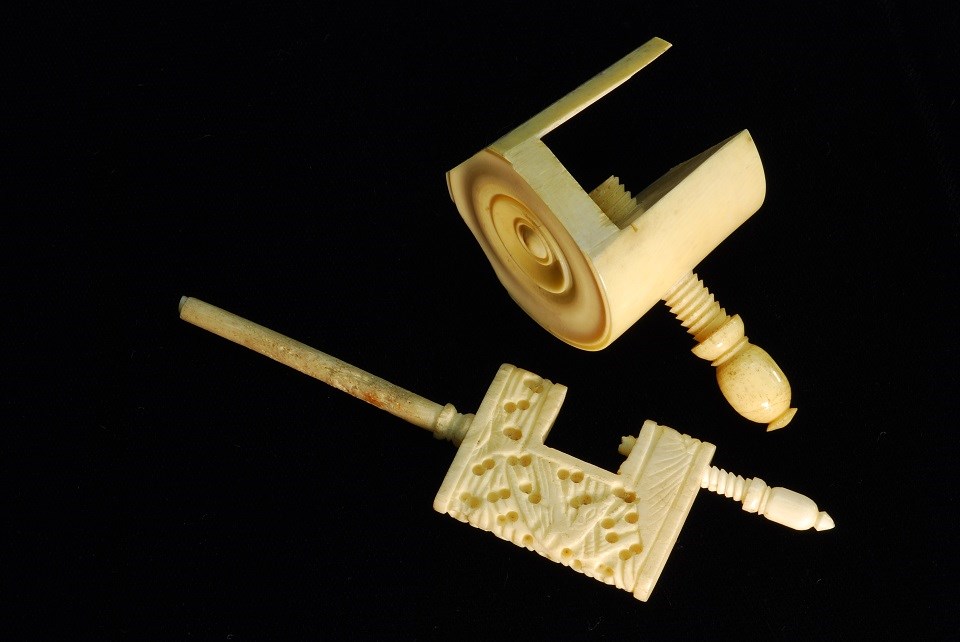 Clamps

The ivory pincushion clamp (above) would originally have had a stuffed, fabric-covered pincushion glued to the top. It could be used as a "third hand" for sewing, by clamping the fabric to be seamed between the table and the clamp while pins and extra needles were kept in the pincushion.

Winding clamps (below) were used in pairs to hold a skein of thread and prevent it from tangling while the thread was wound onto thread winders, the spindle of thread barrels or thread spools. Originally a "cage top" would have fitted loosely on the clamp's spindle, allowing it to turn gently as the skein was unwound. This one is made of carved bone.

The winding clamp measures 4.01 inches in length and 1.04 inches in width. The pincushion clamp is 2.32 inches in length and 1.38 inches wide.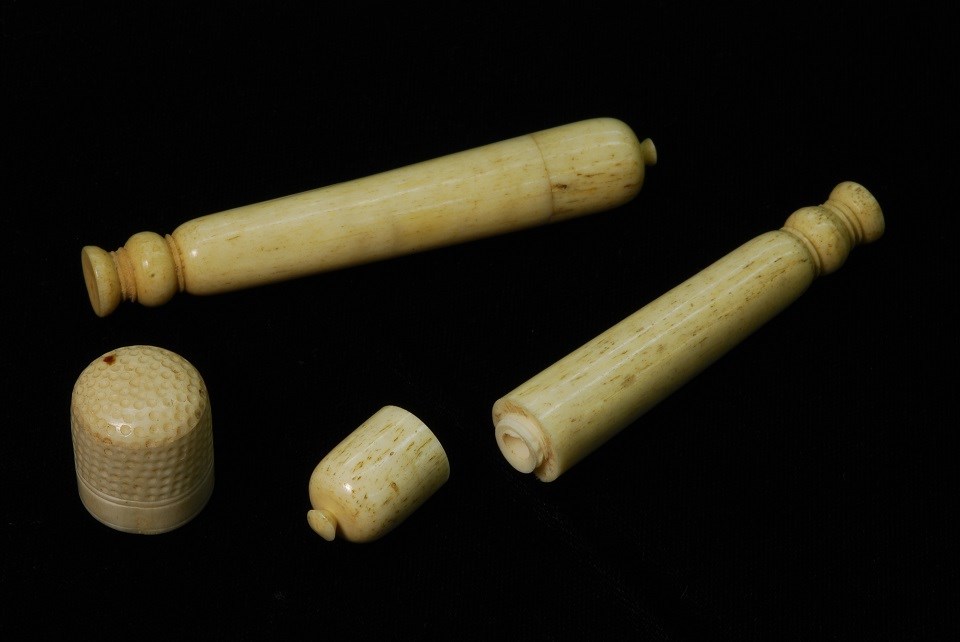 Thimble and Needle Cases

Needles and pins were very precious commodities until the mid-1800s, when mass production made them more available and affordable. However, on the frontier, where access to goods was more difficult, a lady's needles and pins were often still prized possessions. Needle cases were a practical way to store and protect one's needles. Some were plain, while others were very whimsical, made in the shape of everything from umbrellas to fish. These needle cases are carved from bone, with a screw-on cap.

Thimbles are very ancient tools. They have been made of humble materials such as wood or base metals, and even silver and gold for the wealthy. They may be plain or highly ornamented, adult- or child-sized, functional or merely a collectible trinket. This thimble is made of bone, with a simple decoration.

The thimble is 0.84 inches high and 0.72 inches in diameter; the needle cases are 3.23 inches in length and 0.52 inches in maximum diameter.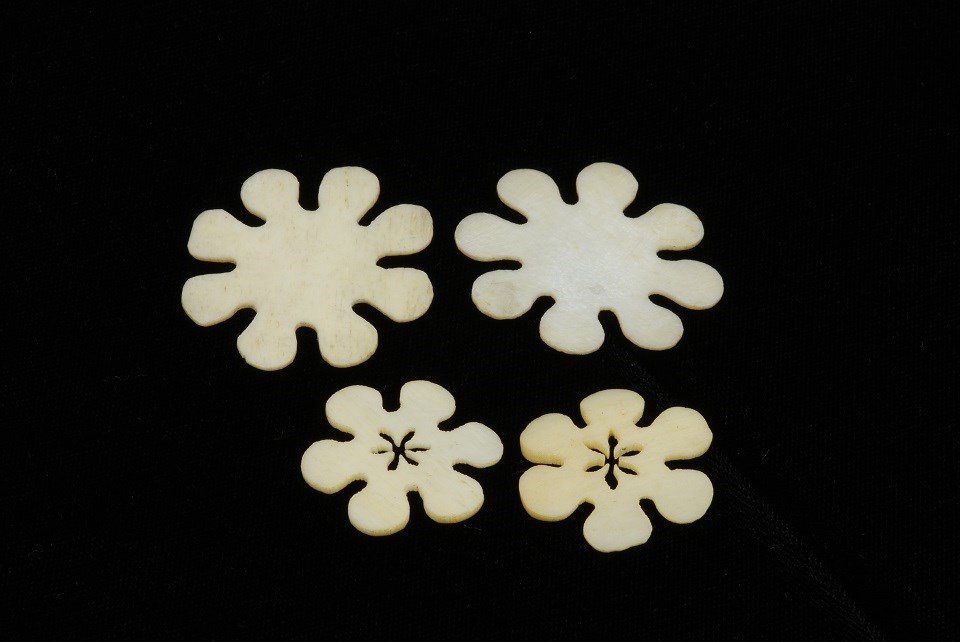 Thread Winders

Thread sold on a spool has been available since the 1820s, but throughout the 1800s thread was often sold in skeins or hanks. To keep it from tangling, several different kinds of storage devices were used.

These thread winders are carved from bone. The thread would be wound around the holder for storage, and unwound and cut off as needed. Thread winders were available in a variety of shapes and sizes, and were made of bone, ivory, shell, wood, silver, other metals, glass, paper, or cardboard. Paper or cardboard thread winders were sometimes made at home, either to save money or as a a craft project.

These range in size from 1.40 to 1.07 inches in diameter.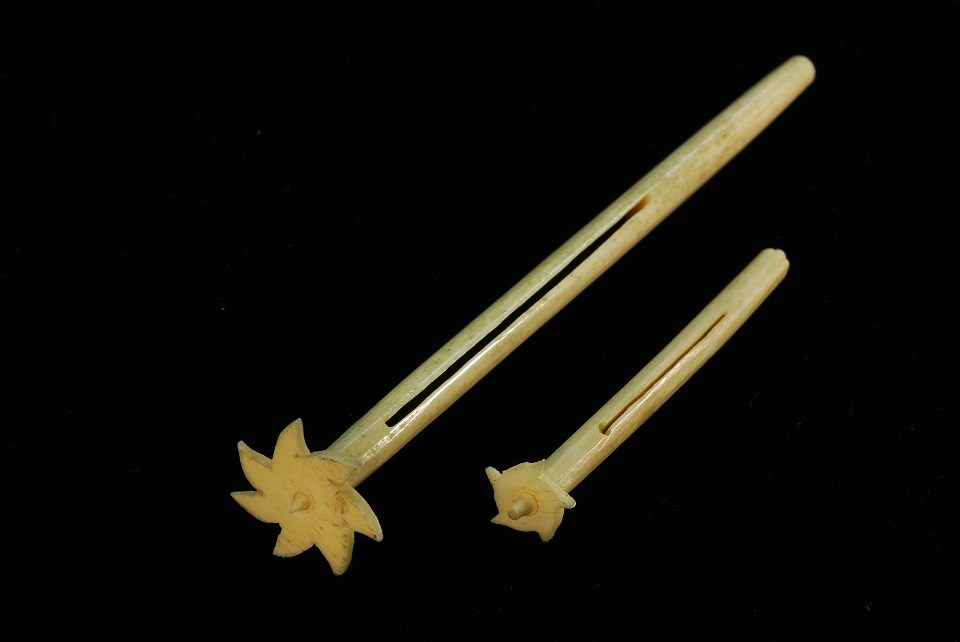 Netting Roller and Ratchet

Netting is a knotting technique that was used to make everything from coarse fishing nets to fine gloves, purses, and other fashionable accessories. The work is fastened to a fixed object so that tension can be maintained. One of the tools used to provide the necessary "third hand" was a netting roller, which fitted into a special compartment in the sewing box. The ratchet allowed the roller to turn only in one direction, so that the user could pull against it while netting.

These range in length from 6.50 inches to 3.51 inches.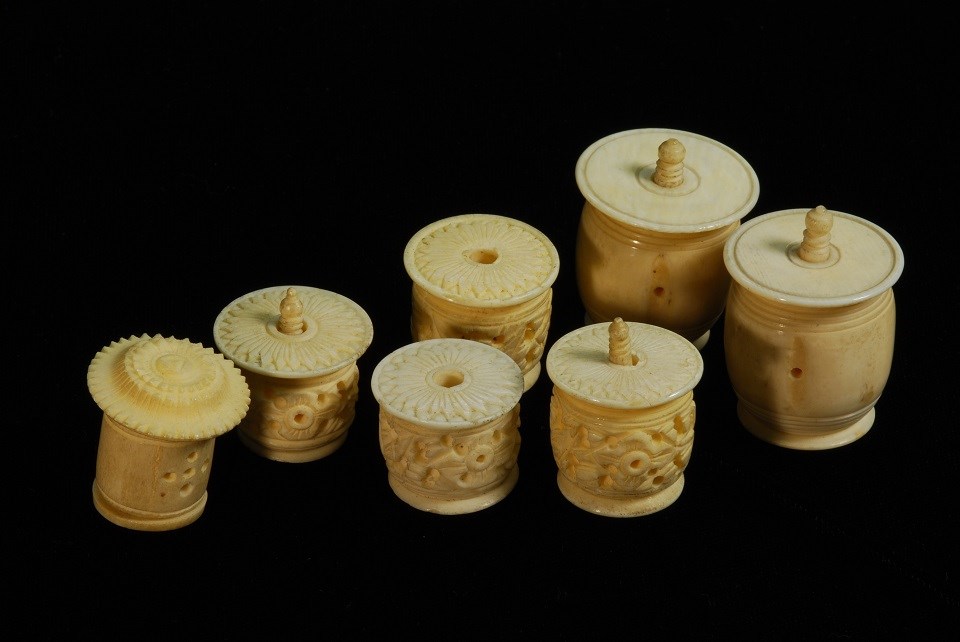 Thread Barrels

Most Chinese sewing boxes included thread barrels (sometimes called "cotton barrels"), which were usually made of bone or ivory. Thread was wound on the spindle, which fit inside the barrel, then the top screwed on to keep the thread clean and tidy. A small hole in the side of the barrel allowed the thread to be pulled out for use.

Sometimes the barrels were carved by craftsmen who did not understand their function. They would make the barrel with no hole in the side, which made it very difficult to use!

Over the years, the small, delicate tools that came in sewing boxes were often broken or lost, and were replaced by similar tools that did not match the original set. Mrs. McLoughlin's cabinet contains more than one style of thread barrel. The container on the far left of the above photograph may have had another function, since there is no hole in the lid to accommodate a spindle.

These barrels range from 0.67 inches in height and 0.61 inches in diameter, to 1.01 inches in height and 0.93 inches in diameter.
Spool Holder and Tatting Shuttle

Spool holders were designed to hold ready-wound spools of thread. This one has a carved mother-of-pearl cap, a metal shank, and a bone base. They often came in matched sets as part of the contents of a sewing box.

Tatting is a form of knotted lace-making that was very popular in the 1840s and 1850s. Tatting shuttles were made of silver, other metals, wood, horn, tortoiseshell, mother-of-pearl, ivory, and bone. Mrs. McLoughlin's shuttle is carved from bone.

The spool holder is 1.73 inches in height and 1.23 inches in diameter. The shuttle is 2.36 inches in length and 0.95 inches in maximum width.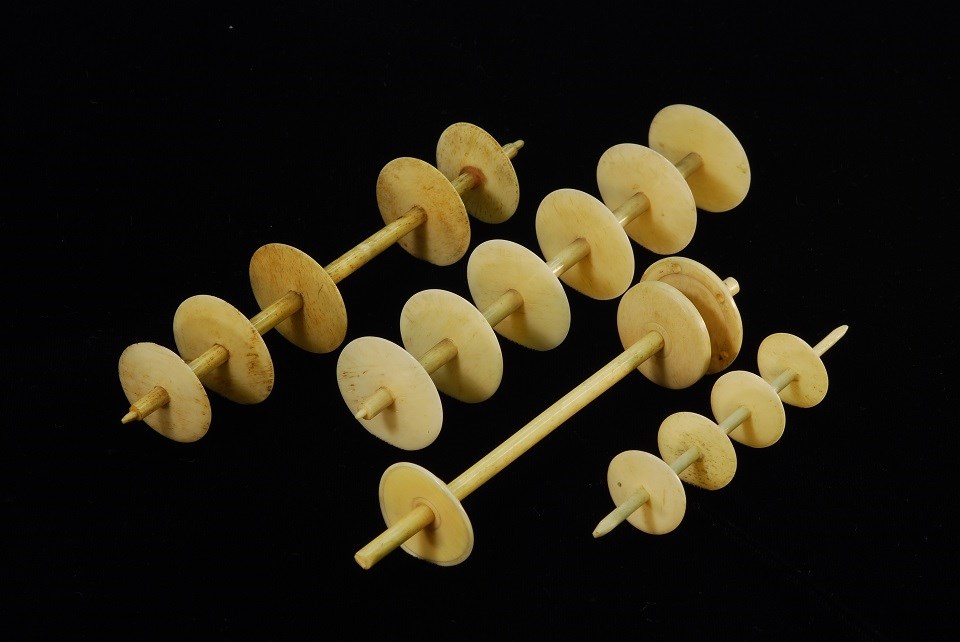 Thread Spools

Thread spools were used for storage of thread, similar to thread winders and thread barrels. They were made to fit into special compartments in the sewing box, so that thread could be unwound from them as it was needed. These spools are made of bone.

Thread spools range in length from 4.25 inches to 5.66 inches.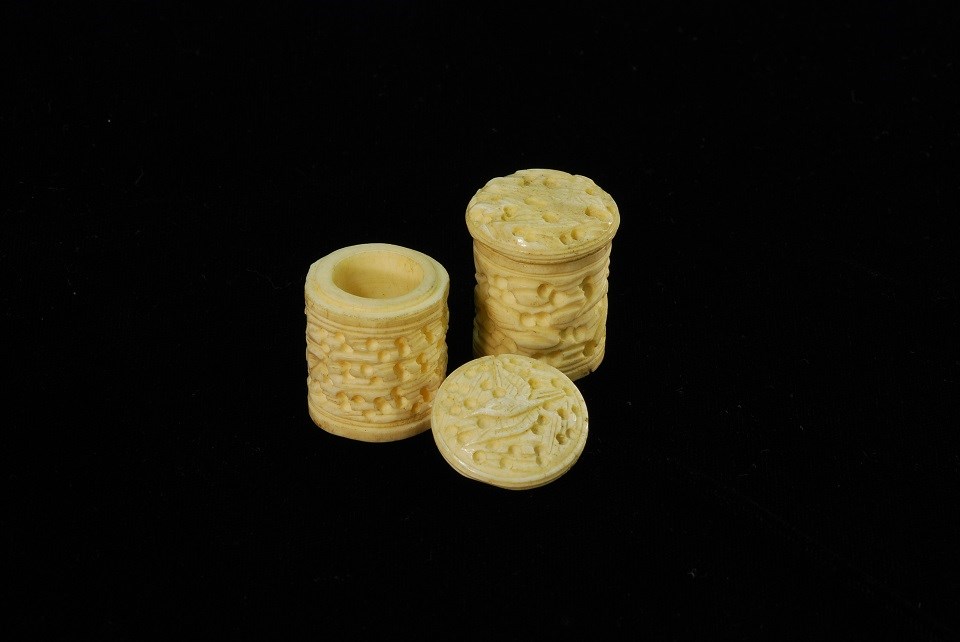 Containers

These bone containers may have been used to store small objects such as beads.

These containers are 1.13 inches in height and 0.88 inches in diameter.
---
Bibliography

Andere, Mary. Old Needlework Boxes and Tools. New York: Drake Publishers Ltd., 1971.

Butruille, Susan G. Women's Voices from the Oregon Trail. Boise, Idaho: Tamarack Books, Inc., 1993.

Gaussen, Elaine. Miller's Sewing Accessories: A Collector's Guide. London: Octopus Publishing Group Ltd., 2001.

Macdonald, Anne L. No Idle Hands: The Social History of American Knitting. New York: Ballantine Books, 1988.

McConnel, Bridget. The Story of Antique Needlework Tools. Pennsylvania: Schiffer Publishing Ltd., 1999.

Morrison, Dorothy. Outpost: John McLoughlin and the Far Northwest. Portland, Oregon: Oregon Historical Society, 1999.

Proctor, Molly. Needlework Tools and Accessories. London: B.T. Batsford Limited, 1990.

Rogers, Gay Ann. An Illustrated History of Needlework Tools. London: John Murray Publishers, Ltd., 1983.

Schlissel, Lillian. Women's Diaries of the Westward Journey. New York: Shocken Books, Inc., 1982.

Taunton, Nerylla. Antique Needlework Tools and Embroideries. Suffolk: Antique Collectors' Club Ltd., 1997.

Whiting, Gertrude. Old-Time Tools & Toys of Needlework. New York: Dover Publications, Inc., 1971.