Person
Dr. John McLoughlin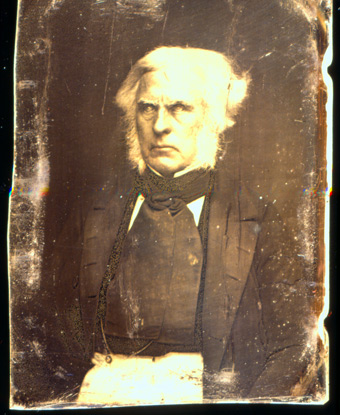 Significance:
Chief Factor of Fort Vancouver, "Father of Oregon"
Place of Birth:
Riviere-du-Loup, Quebec
Date of Birth:
October 19, 1784
Place of Death:
Oregon City, Oregon
Date of Death:
September 3, 1857
Place of Burial:
Oregon City, Oregon
Cemetery Name:
McLoughlin House Unit of Fort Vancouver National Historic Site
As a young man, John McLoughlin studied medicine in Quebec, but after an altercation with a British soldier, he was forced to either face the consequences of his actions or leave town. McLoughlin hastily signed a five-year contract with the North West Company (NWC), a fur trading enterprise, and was sent to Fort Kaministiquia (later Fort William) on the northern side of Lake Superior.
In 1811 at Fort William, he met Marguerite Wadin McKay, the daughter of a Swiss fur trader and a Cree mother, and the two became lifelong companions, eventually having four children together.
The North West Company's chief rival was the Hudson's Bay Company (HBC). McLoughlin joined a splinter group within the NWC who wished to work with the HBC to create a more profitable environment for all. Representing the interests of this group, McLoughlin traveled to London in 1820 to meet with the HBC along with other NWC representatives. Negotiations between the two companies continued until 1821, when they were merged under the name of the Hudson's Bay Company. McLoughlin returned to North America as the new Chief Factor of the HBC's Rainy Lake District, where he stayed for the next two years.
In 1824, McLoughlin received a new assignment that would change his life forever. George Simpson, Governor of the HBC's North American operations, assigned McLoughlin with establishing a headquarters for the company's Columbia District - a huge swath of land that encompassed much of the Pacific Northwest. This headquarters was established at Fort Vancouver, located on the north bank of the Columbia River.
Under McLoughlin's leadership, Fort Vancouver flourished, becoming a center for the fur trade, agriculture, commerce, and society in the region. Fort Vancouver was also a destination for Oregon Trail emigrants. Though McLoughlin had been ordered by the HBC to discourage and turn away American settlers, he instead offered them credit at the fort's shops. His persistence in assisting American settlers and missionaries would later become the cause of increasing strife in his relationship with the HBC.
In the late 1830s and early 1840s, McLoughlin's relationship with Simpson and the HBC's leadership sharply deteriorated. The HBC disapproved of his courtesy towards encroaching American settlers, his management of an unsuccessful new post in San Francisco, and his ownership of a controversial piece of property in the predominantly American town of Oregon City.
Additionally, McLoughlin's son, John, Jr., had been assigned as Clerk in Charge at Alaska's Fort Stikine, but was murdered by his men in 1842. A cursory investigation by George Simpson determined that John, Jr., had been abusive towards his men, and that the homicide was justifiable. The conclusion, and the lack of justice for his son, left McLoughlin outraged and heartbroken.
In 1845, McLoughlin built a home on his property near Oregon City's Willamette Falls and retired there in 1846. McLoughlin became an American citizen in 1851, and was active in Oregon City as a businessman, merchant, and mill owner.
In 1957, 100 years after his death, McLoughlin was officially named the "Father of Oregon" because of the aid he provided to American settlers.
Last updated: March 21, 2019